Josh Hart took the opportunity to shed labels, but Lakers lose to playoff-bound Jazz
There is certainly a market in the NBA for the type of player labeled as the "three-and-D player," but Josh Hart doesn't see himself like that.
"I think I do a lot more things than that," Hart said. "I think I can defend some of the best players , I can rebound, I can push it, I can make plays off the dribble and that kind of thing. I don't label myself a three and D guy because I'm not going to sell myself short."
On Sunday afternoon against the Utah Jazz, Hart showed off how much his game has grown since the start of his rookie year. He led the Lakers with 25 points, making 10 of 18 field goals, only two of them three-pointers. The Lakers lost to the Jazz 112-97 in a game they never led. They fell to 34-46. The Jazz, meanwhile, clinched a spot in the playoffs, that could be as high as the third seed in the Western Conference. They improved to 47-33.
Jazz rookie guard Donovan Mitchell Jr. led all scorers with 28 points, adding nine rebounds and eight assists. Forward Joe Ingles scored 22 with 10 assists for the Jazz. In addition to Hart, Tyler Ennis helped keep the Lakers in the game with 22 points off the bench, a career high.
"[Ennis] did a great job of coming in and controlling the pace, being aggressive and scoring," said Julius Randle, who scored 17 points for the Lakers. "Josh Hart, too. Back cuts, getting out in transition, threes, attacking closeouts, all that stuff, so they were great tonight."
Hart played 41 minutes for the shorthanded Lakers, who were without Lonzo Ball, Kyle Kuzma and Brandon Ingram, in addition to Isaiah Thomas who had surgery in March. It was the most playing time Hart's had all season, and much more than Lakers coach Luke Walton likes to play his rookies.
Part of Hart's responsibility on Sunday was guarding Mitchell, just as he's had to guard opponents' best players often this year.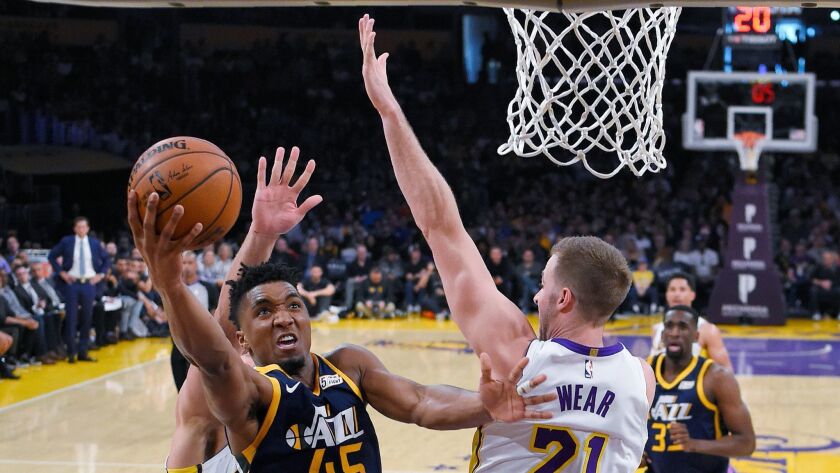 "I guarded DeMar DeRozan, James Harden, Donovan Mitchell, LeBron [James]," Hart said. "It's hard, don't get me wrong, but I think the biggest thing I learned is I can make it tough on those guys. I think that's the biggest thing. You can say certain techniques and all that defensively but at the end of the day, my mindset coming out of most of those games — besides James Harden flaming me down there — [is] I can compete with those guys."
Defense was what got Hart more playing time at the NBA level to begin with. Early in the season, the Lakers sent the 30th pick in the 2017 draft down to the South Bay Lakers on a G-League assignment. When he returned, he worked to become more aggressive offensively.
"At the beginning of the year I was timid offensively," Hart said. "I just tried to make my name on defense. But now, offensively, I feel a lot more comfortable."
That diversification of his skills started to make Hart more valuable to the Lakers especially as they needed more bodies due to injuries.
In the 10 games before Hart broke his hand at the end of February, he scored in double figures in eight, and notched double doubles in six. Since his return 10 days ago, Hart has had two double doubles and he has scored 20 or more points in back-to-back games.
"Just aggressiveness, shooting the ball, he's a great finisher around the rim," Randle said of Hart. "So whenever you can get into transition or drive and kicks, he's been good."
As for that three-and-D label, Hart isn't the only one who doesn't like the constraints it presents.
"Every time he gets the opportunity to play big minutes or have a bigger role, he plays pretty good for us," Walton said. "He's one of our best finishers. He's one of our best rebounders, he can push it in transition. I would agree with you. Saying that he's a three-and-D guy is kind of limiting what his potential is as a player."
Follow Tania Ganguli on Twitter @taniaganguli
---
All things Lakers, all the time.
Get all the Lakers news you need in Dan Woike's weekly newsletter.
You may occasionally receive promotional content from the Los Angeles Times.