The only one of Jerry Buss' kids who's in charge of a winner? Joey Buss, who runs minor league D-Fenders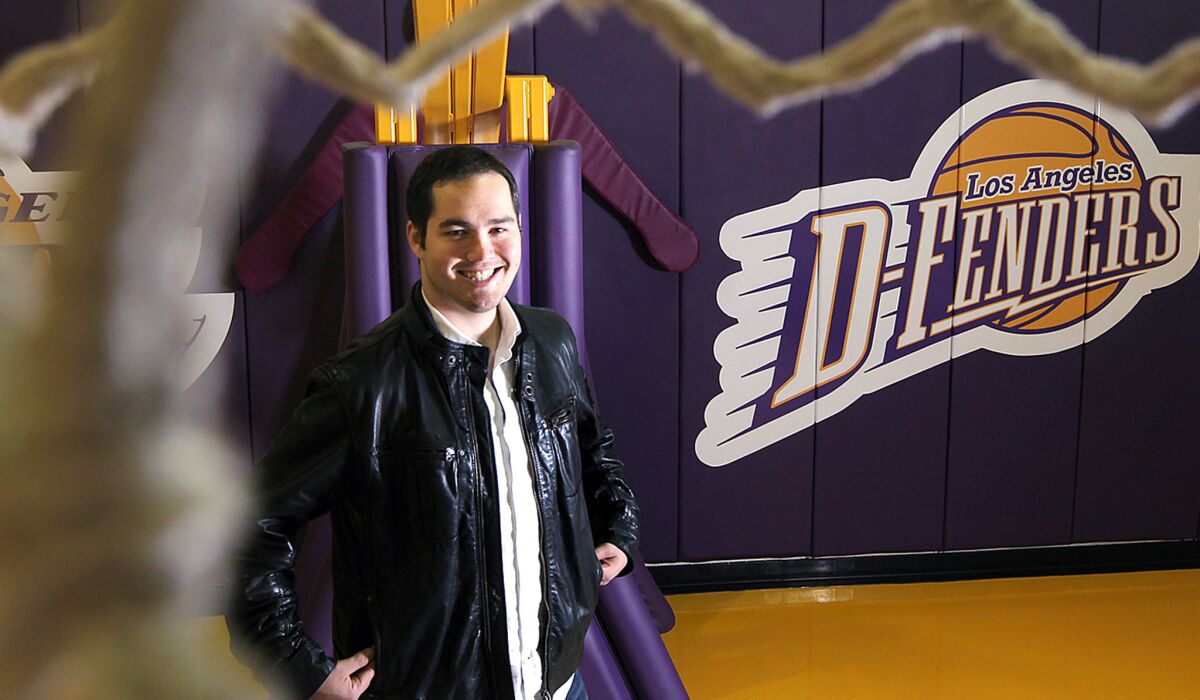 Not everything connected with the Lakers is filled with staggering numbers in the loss column and draft lottery percentages.
The Los Angeles D-Fenders, the Lakers' Development League affiliate, have won a team-record 14 consecutive home games and are among the best of the NBA's minor league system.
The last name of the team president would be recognizable even to the most casual Lakers fan.
Joey Buss is the second-youngest of the six siblings who inherited the Lakers when their father, Jerry, died in February 2013. Joey owns 11% of the Lakers, the same as his brothers and sisters, and five years ago was put in charge of the D-Fenders, also now owned by the Buss family.
He straddles two uniquely different worlds — hoping games against the Fort Wayne Mad Ants don't go awry but also sitting in on family meetings to discuss the future of the Lakers.
Of the latter, yeah, he's sad about a 14-55 record and another apparent trek to "worst season ever" status, which the Lakers appeared to have hit last year with only 21 victories.
How sad?
"On a scale of one to 10? Ten. It's been very difficult to watch the team struggle," he said in an interview with The Times. "These last couple years have been tough.
"With that said, I think the draft picks are coming along — the [Julius] Randle, [Jordan] Clarkson and [D'Angelo] Russell combination. From the beginning of the season, Russell's really kind of changed. Hopefully he keeps doing that. If you see that progression, I think that relieves some of it."
There's another order or two of Lakers business before talking more about running a team with D-League-imposed maximum salaries of $25,000 per player — or 1/1000 of Kobe Bryant's earnings this season.
Buss, 31, said his family members were "absolutely" committed to keeping the Lakers, who were purchased by his father in 1979, along with the Forum, the NHL's Kings (who were later sold), and a Sierra Nevada ranch for $67.5 million. The Lakers were recently valued at $2.7 billion by Forbes magazine, thanks in part to a lucrative TV deal with Time Warner Cable.
"We're not going to sell the team," Buss said. "I can speak for myself mostly, but I think my dad's legacy is so strong with the basketball world. When you think of the Lakers, you think of Dr. Buss. We want to keep that forever. That's the goal."
Players in the Development League have a goal of making it to the NBA. Buss has similar aspirations but is in no hurry. The D-League keeps him plenty busy.
Things are a little less, what's the right word, predictable at this level?
He's fielded late-night phone calls when the D-Fenders have been stranded on the road because of snow, unable to take a four-hour bus ride to the next city. He attended the news conference for a coach he hired (Mark Madsen) who would never work a D-Fenders game because he was plucked away a few weeks later for the Lakers' coaching staff.
Then there was the promotion over which he presided a few years back.
We've all agreed at this point to let Jim do the basketball and Jeanie's going to do the business. Right now, Jimmy's under that timeline or whatever that he self-imposed.
— Joey Buss, on the Buss family's running of the Lakers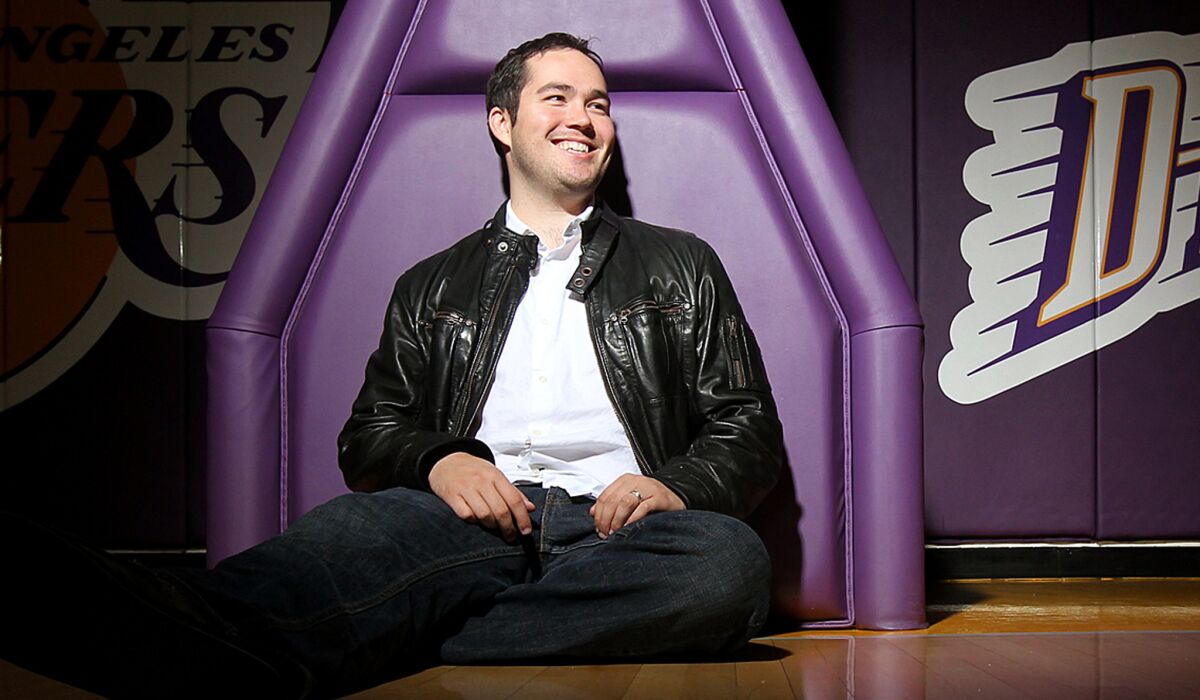 It was a Lakers-branded 3-on-3 summer tournament, and to promote the D-Fenders, the winners were allowed to take part in team tryouts.
The best player from the tournament champion was a 7-footer but he couldn't make it to the D-Fenders tryouts. So instead the 40-soemthing "coach" of the team showed up to play. It was . . . entertaining.
Not even a carefully constructed résumé could prepare Buss for some of this.
After he graduated from USC with a degree in business administration, Buss served as a "coaching associate" for the Lakers during the 2006-07 season. He attended daily meetings, went to all road games and sometimes gave input to Coach Phil Jackson and assistants Kurt Rambis, Brian Shaw, Frank Hamblen and Jim Cleamons.
"That was a great year to get into a coach's mind-set, to see the game from their perspective," Buss said.
The Lakers lost to Phoenix in the first round of the playoffs and then Buss was assigned to the business part of the franchise, as per his father's wishes.
He spent the 2007-08 season sitting in on corporate-sponsorship meetings and studying ticketing concepts. He also absorbed the bigger-picture aspects of NBA finances, including revenue-sharing among teams and the all-important merchandising concepts.
His father sensed the versatility of the younger Buss.
"I owe everything I have to him," said Joey, who said he still thinks "all the time" of his father. "Especially now that I have two kids. He barely was able to meet my first-born. He was in the hospital at the time. I had to sneak him in. Obviously, my son's not going to remember that experience because he was a few months old but I've got a picture of them kind of touching fingers.
"I have pictures of him in my house, from my wedding and different times. I try to educate the kids that that's their grandfather."
When Jerry Buss passed away, daughter Jeanie, now 54, was given control of the Lakers' business interests and son Jim, now 56, was put in charge of the franchise's basketball personnel.
Joey would remain president of the D-Fenders, who this year feature former NBA veteran Ryan Gomes and two players who had brief Lakers stints last season — Jabari Brown and Vander Blue. They are second in the Western Conference with the playoffs a few weeks away.
What's next for Buss down the road? Good question.
"Who knows? I'm happy what I'm doing right now," he said, but, hold on a sec, doesn't everybody in the D-League eventually want that NBA promotion?
"We've all agreed at this point to let Jim do the basketball and Jeanie's going to do the business," he said. "Right now, Jimmy's under that timeline or whatever that he self-imposed. We'll discuss what happens after that point when it comes. To say anything now, I think would be undermining Jim."
Jim Buss, in an interview with The Times two years ago, said he would step down in "three to four years" if the Lakers weren't at least contending for the Western Conference championship.
Said Joey: "If any opportunities [appear], not just on the basketball side, but on the business side as well, I'm kind of versatile. I think that's my biggest strength. I can slot in to different spots. There may be a position that doesn't exist right now that may exist in a few years that we can't really anticipate."
Then he paused, knowing time was on his side, before adding, "I'm not going anywhere any time soon."
Follow Mike Bresnahan on Twitter: @Mike_Bresnahan
---
All things Lakers, all the time.
Get all the Lakers news you need in Dan Woike's weekly newsletter.
You may occasionally receive promotional content from the Los Angeles Times.