Julius Randle: From bully on the court to gentle giant at home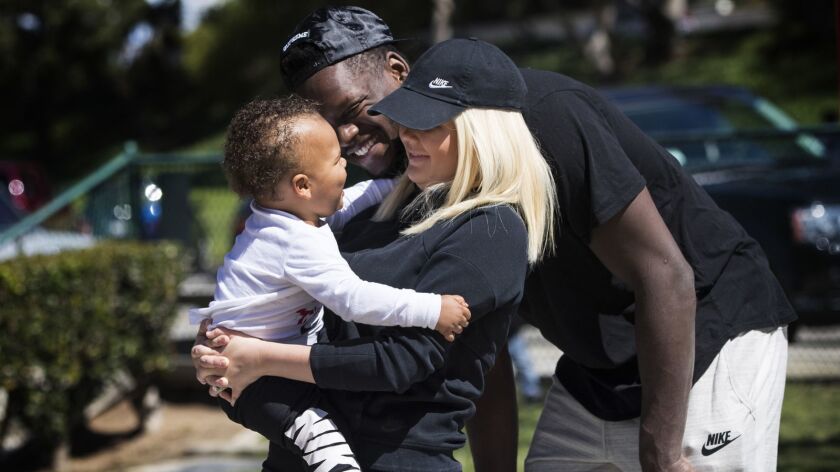 Nick Young and Jordan Clarkson were not scheduled to speak at Julius Randle's wedding. It was an elegant affair, bathed in white roses to celebrate a love that began almost instantly when Randle met Kendra Shaw at a friend's party in college.
The friend who introduced them spoke at the reception. A coach who grew to be like a brother to Randle spoke. So did some childhood friends.
Then Young and Clarkson, lubricated by wedding wine and the firm belief that the wedding guests expected their shenanigans, got an idea. They loved Randle. The people needed to hear them, they presumed.
Together, they took the microphone.
Clarkson, then Randle's teammate with the Lakers, declared he couldn't stand Randle when they first met. Randle's punishing style of play in high school irked Clarkson's friends who played against him back in Texas. Just as Randle's mother reared up to protect her sweet baby boy, Clarkson finished, saying as he got to know Randle as part of the same Lakers rookie class in 2014, he learned Randle would do anything for his friends and loved ones.
Then Young told a love story in a way only he could. He'd never seen a rookie so head over heels, he told the guests who hadn't started filtering out. He cited one example in particular.
"There were times when me and Jordan were saying we were trying to take him to a strip club," Young said, recalling his speech this week. "And he didn't go."
The crowd laughed.
"He was a good one."
Eventually, Randle wrested the microphone from the two jesters. Former Lakers Larry Nance Jr. and Tarik Black also spoke.
"They gave more mature speeches," Randle said, laughing at the memory last week.
Young and Clarkson take almost nothing seriously, but their speeches, perhaps inadvertently, highlighted two parts of Randle's personality that live in harmony.
He is the Lakers' enforcer, a 6-foot-9 power forward and bully on the court. Someone who might give up size but never toughness to any opponent. At 23, he is also a devoted husband, father, friend and son, someone who decided as a child that he needed to be the man of the house, even though he was the smallest member of the household.
Randle's mother gets emotional talking about her sweet-natured child.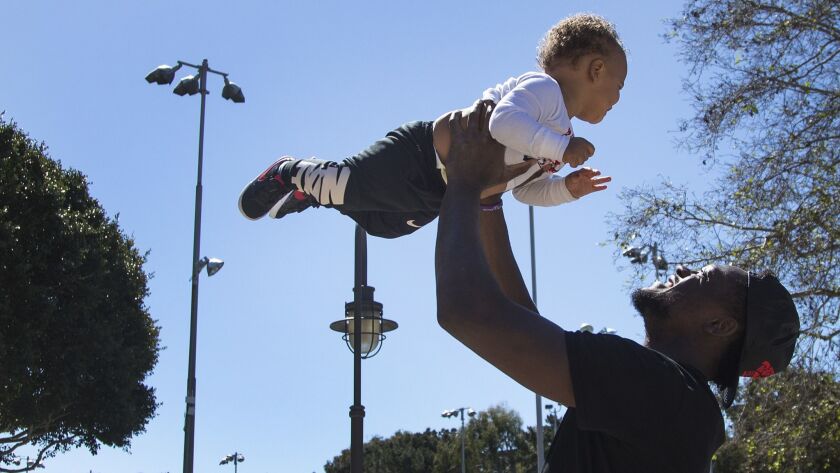 He is always all about protecting his people.
That's what fueled him through the summer. It's what helped him push through adversity early in the season to become a force for the Lakers and garner notice around the league. In the last few months, Randle has shown the league who he can be and probably earned millions in his next contract.
"He's still only, in my opinion, at the very beginning of what kind of player he's going to be in this league," Lakers coach Luke Walton said.
Randle is also showing what's always been true about him: Cross his teammates, family or friends at your peril.
::
In December 2016, Randle sat in the lobby of a four-star hotel in Miami sharing the lessons he'd learned from different coaches.
"You put an extreme amount of hard work in and things don't always go perfect," Randle said that day. "I think that's when people get the most disappointed. Things don't go as perfect as they want it to go and they feel like they've done everything up to that point to prepare for it and that's just life. That's how it is. Everything's not perfect. What do you do in those situations?"
In the coming months, that question would test him more than he could have known.
The 2016-17 season was actually the first season of Randle's NBA career that the Lakers could focus on his growth. He broke his leg in the first game he played as a rookie in the fall of 2014 after being the seventh overall pick in the draft out of Kentucky. He missed the rest of that season. Then 2015-16 was dedicated to saying goodbye to Kobe Bryant and put all of the young Lakers' development on hold. A coaching change in 2016 reset the clock.
After a roller-coaster first season under Walton, Randle's future remained uncertain. The Lakers asked him to cut his body fat, so he attacked that with the help of a trainer, a nutritionist and his wife, who made sure all his meals were ready after each workout. He changed his shape dramatically, proudly posting photos of his new chiseled physique on social media.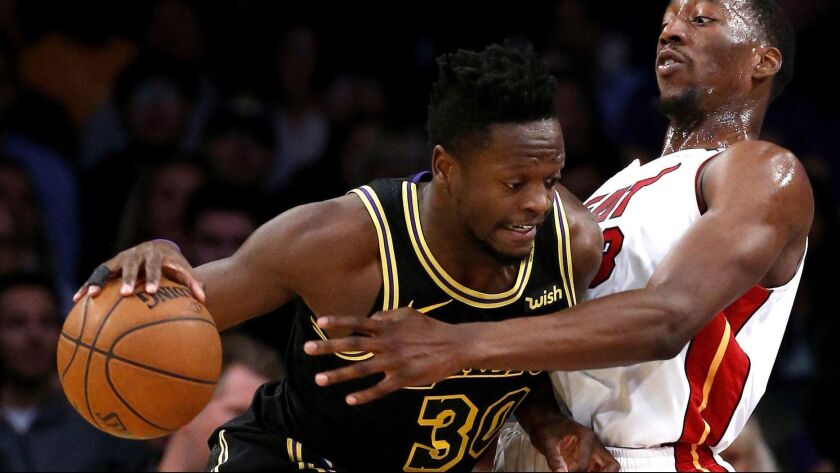 After all that hard work, he didn't get a contract extension. Then he lost his starting job, a decision that pained Walton to make because of his personal affection for Randle. Nance started at power forward instead.
"He had to get past it. You gotta look at it like this, because you're talking about a kid from the time he played in kindergarten and was playing [with older kids], he started," said Carolyn Kyles, Randle's mother. "He's never ever not started in his whole life."
Trade rumors intensified. Randle grew distant at times during games. Some people felt he was pouting. Some felt the Lakers were trying to push him out. Kyles remembers then-Lakers veteran Corey Brewer telling her he wasn't going to let Randle give up.
Walton and Randle spoke constantly, engaging in debate that could only have one winner. One night Randle called Walton. He told Walton that he still didn't agree with him, but he wanted to put his anger behind him.
"From that point on he started dominating the second-unit centers," Walton said.
It was just an appetizer.
::
Through it all, Walton kept challenging Randle as he had no other player. He demanded toughness. He told Randle he needed him to be the Lakers' enforcer, to set the tone physically, indirectly questioning whether Randle could do it.
Walton didn't know if it would work, but he stirred Randle's sense of responsibility.
"Anybody who has that type of personality would love to feel that ownership as far as being, 'Look I'm gonna make sure no one else on any other team tries to punk us,'" Walton said. "It's like anything else, when you feel part of something you play better, you contribute more."
Said Randle: "I'm protective kind of aggressive, a caring personality. I guess it's just kind of who I am naturally, once I get to really know somebody."
It makes perfect sense to Kyles. Randle decided young that he wanted to serve as the family's protector, looking out for his mother and older sister Nastassia. Upon meeting his wife, Randle quickly felt the same way about her.
Kyles raised Randle and his sister as a single parent in Dallas while working for a mattress company in sales and marketing, then accounting. She lived frugally and worked hard in order to be able to buy a house so her children could have a backyard.
Randle saw how hard she worked, not just to provide her family the basics but extras too. She gave Julius $50 a week as an allowance for lunches or food after school. Rather than spend it, Randle squirreled away the money. When Randle was in eighth or ninth grade, Kyles discovered a shoe box filled with about $800. Her son wanted to be able to help with bills in case she needed it.
"He was such a sweet son," Kyles said. "He never gave me any problems. You hear these horror stories sometimes even from two-parent homes, and I said God blessed me. He knew just give me some good kids."
When Randle started making his own money, he wanted to buy Kyles a house. She resisted, but he did it anyway. He wanted her to live in a gated community where he knew she'd be safe.
::
Nick Young's affection for Randle grew from the moment they met. He saw the beginning of his career and is proud of him.
"I think this summer's going to be good for him," said Young, who is now with the Golden State Warriors. "When you know what somebody's been going through and you see the adversity he's going through — he's a good dude — when you overcome all that, can't help but cheer for him. When you hear the talks of being traded, they want somebody else, you don't feel like you're part of the team. He stayed focused.
"He was getting ready. He lost a lot of weight. In the weight room. He stayed with it. You can't knock the man. They gotta pay him. Somebody's gotta pay him."
The Lakers are chasing two stars who would garner maximum contracts, but they don't have the salary cap space to sign both and bring back Randle unless they make other moves.
Trading Luol Deng, who is owed $36.8 million over the next two years, would alleviate the financial crisis, but any team that takes on Deng's contract probably would want a first-round draft pick as well.
Randle might now draw a multi-year contract at between $13 million and $16 million a year, his price having spiked this season right along with the Lakers' interest in paying him. Playing improved defense, shooting 58.6% and averaging 16 points a game, both career highs, he's also become a fan favorite.
"I enjoy it a lot, especially when I'm at the game and people, they know I'm Julius' mom, they sit around me and we're high-fiving," Kyles said. "Or they want to call him a bully, well, we're going to bully right on in and get those two points. Bully ball is back."
She didn't mean "bully" in an unkind sense, like bullying on a playground. She started hearing the term when Randle was in grade school, playing with kids older than him because he was bigger than them. The referees wouldn't give him foul calls — he had to earn them.
So he did.
::
The little person who brings out Randle's softer side has just learned how to kiss. So when Randle sits on a playset at a Manhattan Beach park on a chilly afternoon and asks for a kiss, baby Kyden acquiesces with an exaggerated "Muah!"
The night before, Randle was ramming his shoulder into men even bigger than him, jarring them off their center of gravity before retreating to shoot, dunking over others ferociously. Earlier in the week, he had chafed at an opponent's theatrics, declaring "This is my team and I'm not going to let the antics fly." He's been playing through a broken finger that was fractured in January.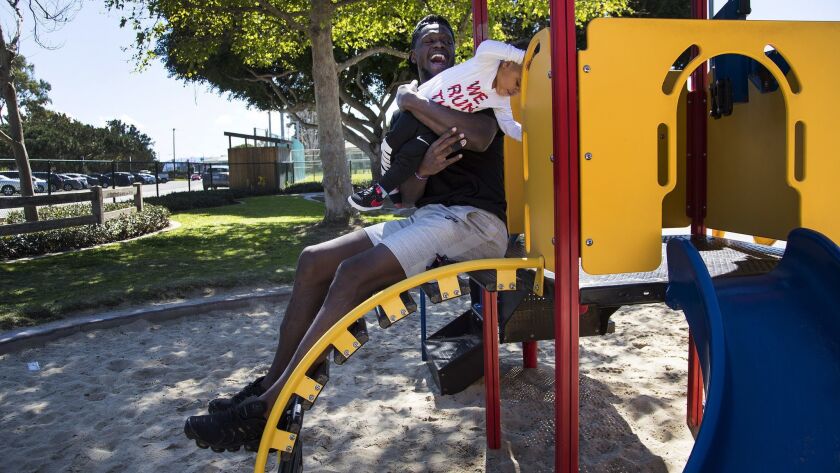 Today he waits in the "Tot Lot," while his wife, Kendra, helps their 15-month-old son climb up the slide. Kyden tries to crawl away and Randle uses one powerful arm to gently save him from an imaginary kidnapper.
"Nooooo," Randle bellows, playfully. "Don't take my Mr. Kyden!"
Randle has often said his family is part of what helped him through difficult days this season. Whenever he said trade rumors didn't motivate him, he said his family did. He met Kendra at a birthday party in college, drawn to her beauty and independence.
"As soon as we started hanging out, I knew," Randle said. "That was my girl."
He always wanted to be a father and be there for a child in the way his father wasn't.
"You can't really know what to expect," Randle said. "For me it's been absolutely amazing. The highlight of my day, every day, whether I'm with him or not. Just seeing his face, seeing his smile. Seeing that he's happy in every way."
This park is half a mile from their home and Kyden's favorite thing to do here is eat the sand. During the season, Julius will meet Kyden and Kendra here a few times a week if the Lakers' schedule allows. In the summers he tries to go every day.
On their way here today, Kyden, high above the sidewalk in his dad's arms, noticed a yellow Labrador walking by some tennis courts. He leaned over to see. Randle tried to give him a closer look, but Kyden, suddenly scared, clung to his dad instead.
He's safe there. Randle will make sure of it.
Follow Tania Ganguli on Twitter @taniaganguli
---
All things Lakers, all the time.
Get all the Lakers news you need in Dan Woike's weekly newsletter.
You may occasionally receive promotional content from the Los Angeles Times.