Forget the Ball vs. Fox hype because Lakers can't keep pace with Kings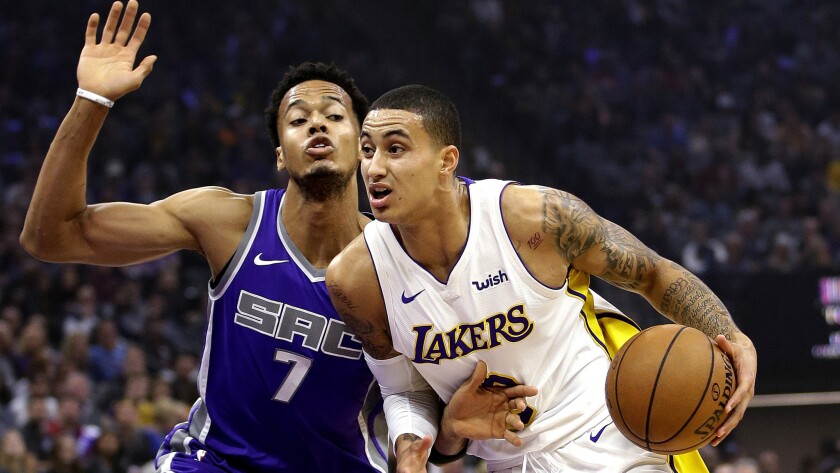 Reporting from Sacramento —
Put aside the sensational, the perceived ill will and what everyone else wants this to be.
At the heart of the rivalry between De'Aaron Fox and Lonzo Ball are two players, born two months apart, who have known each other since high school, understand each other and who want to beat each other because that's the point of basketball.
"The expectations are out of this world for him," Fox said. "I couldn't imagine it."
Fox went from an elite college program to a small-market NBA team where the Sacramento Kings eased him into the role of starting point guard after drafting him fifth overall. But when Fox's teams play against Ball, the mania that follows Ball enters Fox's orbit. On Wednesday, after two false starts, they finally faced each other in NBA jerseys.
The Kings beat the Lakers 113-102. While the Lakers fell to 8-11, the Kings (5-13) earned just their fifth win of the season.
The Kings pulled away with a 16-2 run at the end of the first quarter that gave them a cushion the Lakers couldn't erase. Willie Cauley-Stein scored 13 points through three quarters, but finished with a game-high 26. The Lakers had six players score in double figures, led by Kentavious Caldwell-Pope (20 points) and Kyle Kuzma (17 points).
Ball's highlight moment came about four minutes into the second quarter, when he elevated over the 7-foot Cauley-Stein, caught a lob from Corey Brewer and slammed in a one-handed dunk. Ball finished with 11 points, seven rebounds and 11 assists. Fox scored 13 points with three assists and four rebounds.
"It was a lot of fun playing against him," Ball said. "It's always fun. Crowd loves it and all the fans and stuff. So it's good for basketball. He played great tonight."
They met at a basketball camp in high school and played on the same team.
"It's a lot of fun, especially in high school," Ball said. "You've got two guards like that like to get up and down, play the same way."
Ball and Fox have been friends ever since, a friendship that grew as their paths crossed many more times the way the paths of elite basketball players tend to cross.
"He is the same kid that I met [in high school,]" Fox said. "I mean, you just got more followers, you got more money and people really look upon everything that you do now. He is still the same chill, laid-back doesn't-say-much guy that I met in high school."
Fox and Ball faced each other twice during their one season in college. UCLA beat Kentucky in Lexington in their first matchup and then lost to Kentucky in the NCAA tournament's round of 16. Fox outscored Ball in both games.
A competition of sorts followed the end of the college season as both players went through the predraft process. The Lakers liked Fox and considered him with the second pick, but Ball was their first choice. On draft night, the two point guards walked the halls of the Barclays Center in Brooklyn and teased each other every time they met.
Fox took personally that four teams took someone else when they had the option to take him — but that perceived slight applies to the Philadelphia 76ers, Phoenix Suns and Boston Celtics, too, not just the Lakers and Ball.
Summer League offered the first chance for a rematch on the court, but the Lakers held Ball out of that game for precautionary reasons because of groin soreness. As the news broke, Fox posted an emoji on Twitter of a person slapping his hand to his face, then later deleted it.
That evening, Fox said he posted the emoji to rile up the media. Mission accomplished.
It also began a narrative that Ball was trying to duck Fox.
Ball suffered an ankle injury in the preseason that kept him out of the Lakers' matchup against the Kings, bringing back the same accusation even though it was one of four games Ball missed with the ankle injury. The truth was Ball would have loved to play in that game, but his motion was limited and the team saw no sense in risking further damage in a preseason game.
"Nah man," Fox said, when asked if he thought Ball was trying to avoid playing him. "… Especially the Summer League thing. If you're hurt, why play, why risk anything? It's funny. Social media you see a lot of small things like that blow up."
Follow Tania Ganguli on Twitter @taniaganguli
---
All things Lakers, all the time.
Get all the Lakers news you need in Tania Ganguli's weekly newsletter.
You may occasionally receive promotional content from the Los Angeles Times.