Kyle Kuzma delivers strong defense of Luke Walton after critiques from LaVar Ball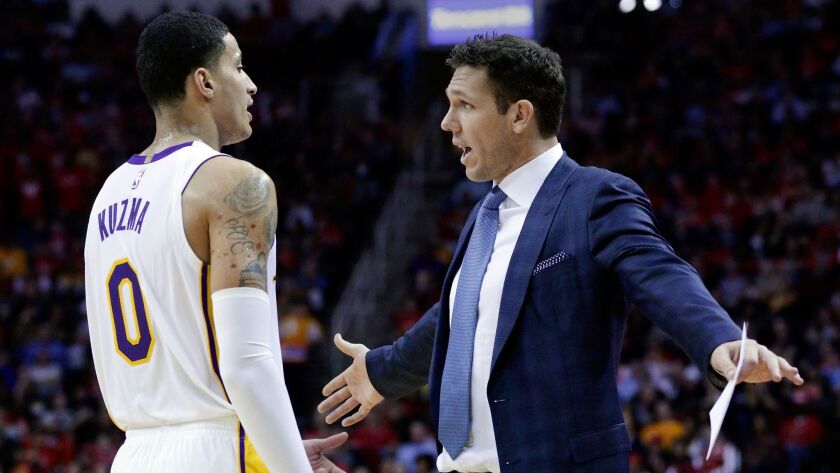 When Lonzo Ball was asked if he likes Luke Walton being his head coach, Ball replied noncommittally.
"I'll play for anyone," Ball said.
His fellow rookie Kyle Kuzma took a different position.
"Luke is my guy," Kuzma said after Monday's practice. "I love playing for him. I'm sure most of us love playing for him, too. We just gotta stay locked in as a family and listen to the people that really matter in our lives, basketball lives. That's everybody in this organization. A lot of times you have losing streaks, you can go home and listen to people and let them be in your ears, but the people that really matter are the people in the Lakers organization. We stand by Luke. I know the front office does."
Kuzma was asked about Sunday's cacophony related to comments made by Ball's father, LaVar, in Lithuania, which ESPN published early Sunday morning. The elder Ball said Walton had lost the locker room and players no longer want to play for him.
Lonzo was asked if he thought Walton had lost the locker room and he said he did not think so. Walton also said he did not feel that he had lost the locker room.
We stand by Luke. I know the front office does.
Lakers rookie Kyle Kuzma
"It was upsetting," Kuzma said, of the talk that Walton lost the players. "I don't think that's the case. When you lose games at the end of the day Luke isn't the one going out and shooting two for 15, turning the ball over, having turnovers or missing free throws. That's us. Can't blame the coaching staff for everything. It's mutual, of course. Players mess up, coaches mess up. We as a team have to be more accountable."
The Lakers capped the night by ending a nine-game losing streak with a win over the Atlanta Hawks. The message from their coach was similar to a common message for young players playing in Los Angeles — try to ignore distractions.
"In our society social media's so big in our lives," Kuzma said. "It's all over the place. ESPN puts out anything for clicks, now, it kind of seems like. It's all over the place. You can't really hide from it, it's just a thing that you have to deal with and just move past it. No other generation of NBA players has to deal with what we have to deal with in our era. It's a little different but you just have to try to block it out as much as you can."
Follow Tania Ganguli on Twitter @taniaganguli
---
All things Lakers, all the time.
Get all the Lakers news you need in Tania Ganguli's weekly newsletter.
You may occasionally receive promotional content from the Los Angeles Times.