Lakers rookie Kyle Kuzma shines in second Summer League game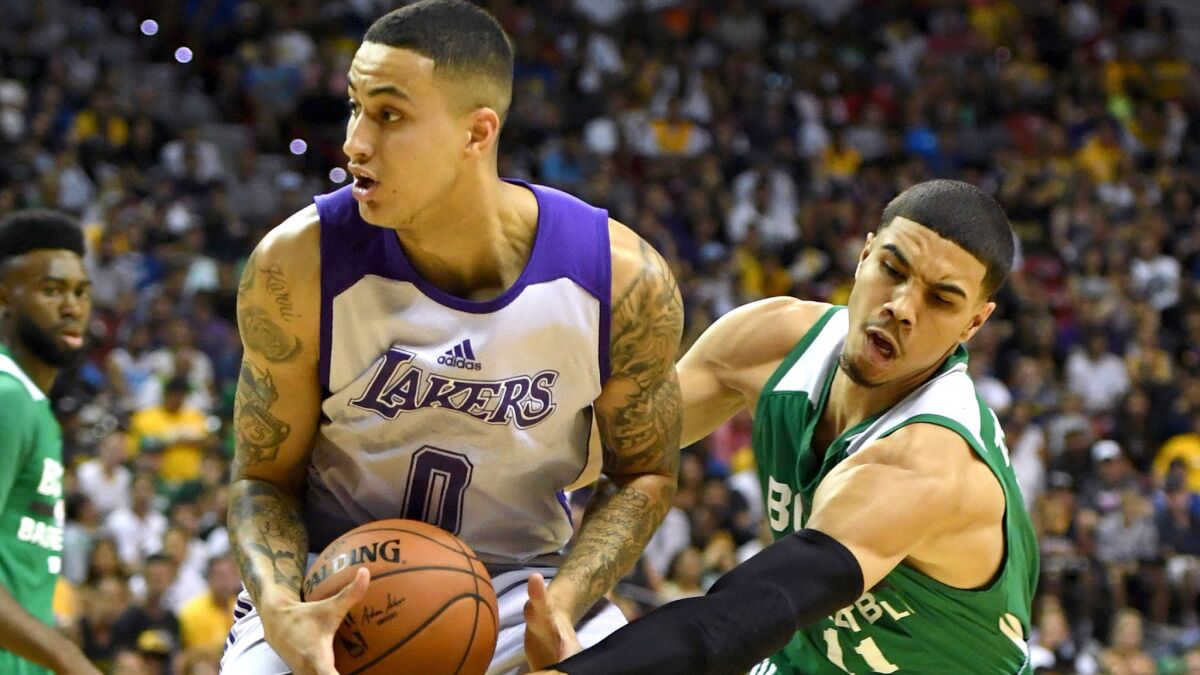 Reporting from Las Vegas —
Yes, Lonzo Ball's triple-double of 11 points, 11 assists and 11 rebounds was impressive.
But the real star of the Los Angeles Lakers' 86-81 loss to the Boston Celtics at the NBA Summer League was No. 27 overall draft pick Kyle Kuzma. The wiry rookie forward followed up his debut with a 31-point outburst, including five three-pointers, to go along with nine rebounds.
After shooting only 32% from deep last season at Utah, Kuzma has worked improve his long-range shot, which is increasingly becoming a must-have skill for modern forwards in the NBA. Kuzma says that while he's spent countless hours focusing on his shot, the increased spacing at the NBA level has made it easier for him to shoot with confidence.
"I think it's helped a lot," he said. "In college you're the primary focus and you got guys that are loading up on one side of you, then you got six more eyes looking at you too. So for this, to have as much spacing as I have, to do what I do and play-make and have time to shoot. It's a great feeling."
Though Kuzma said he didn't change his approach much following Friday's game, he noted that he did look to be more aggressive, which he certainly was. He put up 10 three-pointers, drew a foul on a beautiful spin move in the lane, and got himself open on the fast break, leading to a game-high 26 field-goal attempts.
None of his looks were forced, which is an encouraging sign as he continues to develop into what the Lakers hope is a versatile 3-and-D type player.
Though on the defensive end there were still a few miscommunications and blown possessions, Kuzma's activity on that end of the floor, especially rebounding, helped create multiple transition opportunities for Los Angeles.
So far, the Lakers haven't looked like a team that can win the Summer League, which was a goal that head coach Jed Buechler has openly stated to the media. But for Kuzma, he says it's been just as important to learn from his teammates, adjust to the NBA level of play and soak in his first NBA experience.
"It's a great feeling," he said of the opportunity to compete in the Summer League. "You look on the sideline and see Magic Johnson, Floyd Mayweather, and you see all the NBA players. It's just pretty dope to be able to play in front of these guys and put on a show in front of all these fans."
Twitter: @tylergabriel_
All things Lakers, all the time.
Get all the Lakers news you need in Dan Woike's weekly newsletter.
You may occasionally receive promotional content from the Los Angeles Times.