Lakers' turnovers hurt them in 'disappointing' home loss to Magic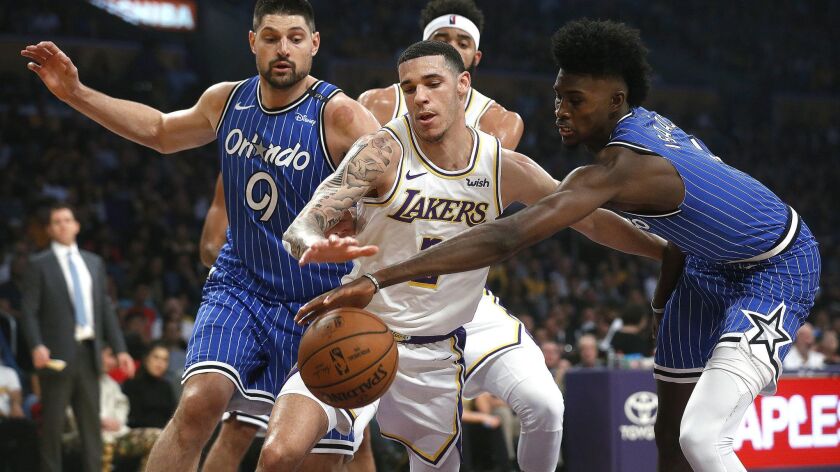 When the Lakers' energy sagged, so did the energy in Staples Center. That's what told forward Kyle Kuzma just how big of a funk his team was in after a strong start Sunday afternoon against Orlando.
"The fans, they tell it all," Kuzma said. "They kinda got disinterested in the game. We were giving up dunk after dunk and letting them dictate what they wanted to do. The energy kind of flipped in the fourth when we got back into it."
The Lakers erased a 15-point fourth-quarter deficit but lost to the Magic, 108-104, in a game of dramatic swings.
The Lakers (11-8) took a 12-point lead in the first quarter, before falling into a 16-point hole in the third. And while they fought back, they came up empty in the closing moments and lost to the Magic (10-10) for the second time in eight days.
The Lakers committed 18 turnovers — 14 of them in the first half — two nights after they committed 23 turnovers.
"Disappointing loss," Coach Luke Walton said. "We've got to get back to valuing the basketball."
LeBron James led the Lakers with 24 points while Kuzma added 21 and Brandon Ingram scored 17. Magic center Nikola Vucevic led all scorers with 31 points and 15 rebounds. The former USC standout made half of his shots from the field, three of eight three-pointers, and all eight of his free throws.
"He's had our number this year," James said of Vucevic. "Very good player. Does it both inside and outside."
The Lakers' early lead was in large part due to Kuzma. He scored 10 of their first 16 points and assisted on their other three field goals.
Whereas the Lakers had only 10 assists Friday, they had eight by the end of the first quarter. But while their assist numbers improved slightly, their turnovers did not — both problems symptoms of being down a point guard with Rajon Rondo out with a broken hand.
"Rondo is so calm with the ball and he's a general out there on the floor, so he knows exactly what plays to run," center JaVale McGee said. "It's sort of, not a shock, but it's different to have a different point guard, but we can't make that excuse. We just have to not turn the ball over."
Orlando erased the Lakers' early lead behind Vucevic, who scored 11 points in the second quarter and made three of four three-point attempts. The Lakers took it back with a three-pointer by James at the buzzer and led 52-51 at halftime.
In the third quarter, Orlando took control as the Magic outscored the Lakers 35-19.
"Momentum switched," James said. "Can't just say what happened. I think defensively we kinda broke down and our energy level was a little lower than our expectations, and they took advantage of that."
It shifted again in the fourth quarter, this time to the Lakers. Kentavious Caldwell-Pope didn't shoot the ball well all game, but he notched four of his five steals in the quarter and hit a three-pointer to bring the Lakers within two.
Walton thought about putting Lonzo Ball back into the game to close it, but liked the energy with which Caldwell-Pope was playing.
With 2:24 left, James hit two free throws to tie the game at 104, but the Lakers didn't score again. Orlando took advantage of two defensive breakdowns by the Lakers for a cutting layup and a dunk to seal the game, and both Caldwell-Pope and Kuzma missed threes in the final minute.
"They did a really nice job of playing the type of defense we need to play in the fourth quarter to win games," Walton said. "We just had dug a little bit too big of a hole for ourselves."
Follow Tania Ganguli on Twitter @taniaganguli
---
All things Lakers, all the time.
Get all the Lakers news you need in Tania Ganguli's weekly newsletter.
You may occasionally receive promotional content from the Los Angeles Times.