Five takeaways from the Lakers' win over the Mavericks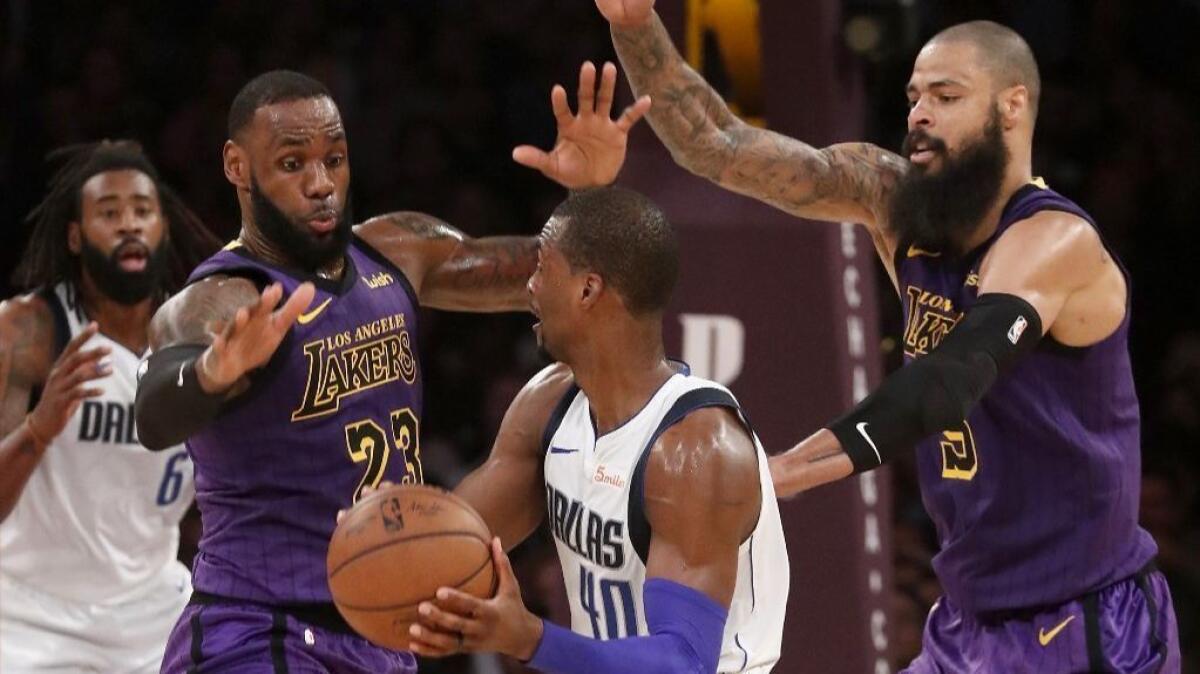 Five takeaways from the Lakers' 114-103 defeat of the Dallas Mavericks on Friday night at Staples Center:
1. LeBron James took all the blame for the Lakers' slow start against Dallas because of his one-for-six shooting, two points and four turnovers in the first quarter.
In the process of all that, the Lakers shot 37.5% from the field, missed all seven of their three-point attempts and fell into a 13-point hole that grew to 15 points in the second quarter.
The Lakers had played Thursday night, but the back-to-back games were at home.
"Coming off a back-to-back, it just took us a quarter to get into it. It started with me. I was horrendous in the first quarter," James said. "I told the team it was all my wrongdoing. I had four turnovers, I wasn't as engaged as I should have been to start the game, and it resulted in us not having a very good first quarter at all."
James and the Lakers eventually righted themselves, outscoring the Mavericks 84-58 after James reentered the game with 8:39 left in the second quarter and the Lakers trailing 45-30.
James finished with 28 points on 12-for-21 shooting from the field and he did not commit another turnover after those four in the first 12 minutes.
2. "Boo, make your free throws," a fan yelled after Kyle Kuzma missed a technical-foul shot during the third quarter.
Yeah, the fans have had enough of seeing the Lakers shoot brick after brick after brick at the free-throw line. They made 21 of 32 (65.5%) against the Mavericks.
3. The Lakers attempted plenty of three-pointers, but they were just adequate in doing so. They shot just 30% (nine of 30) from three-point range.
Lonzo Ball was one of five from three-point range, Kentavious Caldwell-Pope was one of six, and Josh Hart one of four. James helped them out by going two for four.
4. Despite fouling out, Ball had a solid game for the Lakers. He scored 10 points on four-for-nine shooting. He had four assists and five steals.
5. In the second half, the Lakers improved their defense in a mighty way. They held the Mavericks to 45 points after giving up 58 in the first half.
The Lakers held the Mavericks to 34.3% shooting in the second half after Dallas shot 43.1% in the first half.
All things Lakers, all the time.
Get all the Lakers news you need in Dan Woike's weekly newsletter.
You may occasionally receive promotional content from the Los Angeles Times.