Lakers are in trouble, and many around NBA think Rob Pelinka must go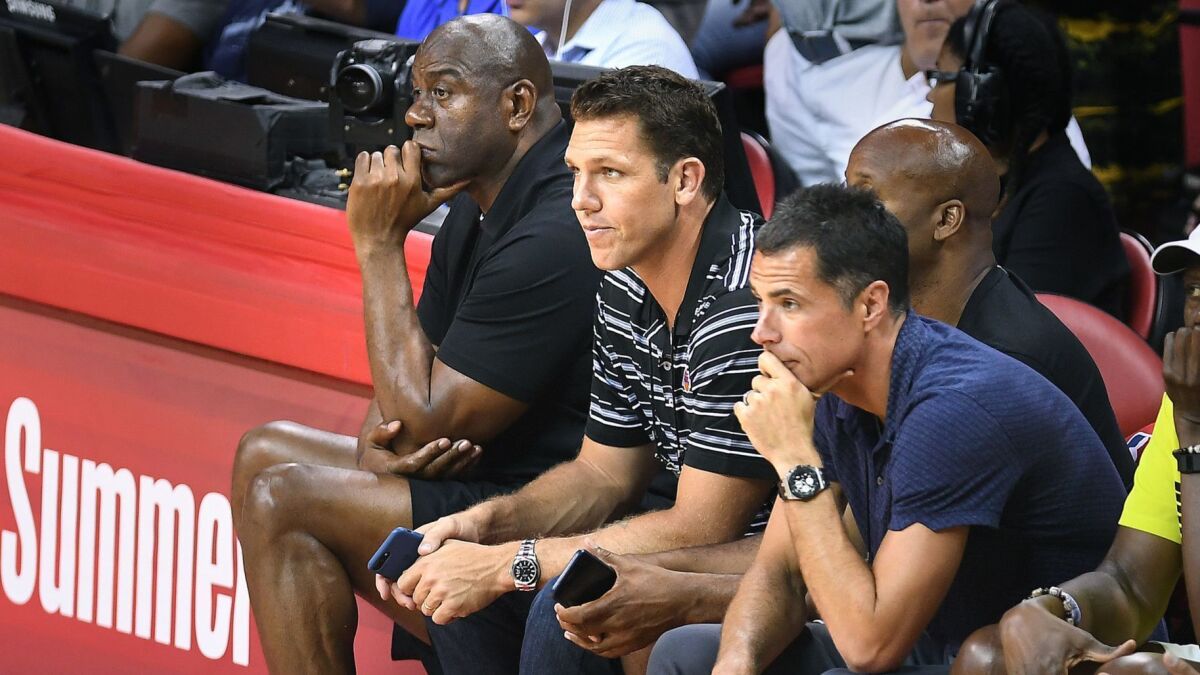 In the wake of Magic Johnson's announcement Tuesday that he was stepping down from his position as president of basketball operations with the Lakers, the consensus from general managers and agents around the league is that the franchise is poorly run and that general manager Rob Pelinka is part of the problem.
"Are they a bad franchise right now? Yes, they are a bad franchise," said an Eastern Conference general manager, who like everyone else interviewed on the subject would speak only on condition of anonymity. "Are they correctable? Yes, they are correctable. But they are not a well-run franchise. But because they are the Lakers, they can turn it around."
When asked how Lakers controlling owner Jeanie Buss can turn her franchise around, agents and general managers were succinct with their answers.
"I just don't see how they do anything going forward with Rob in place," one agent said. "No one trusts him."
One agent said Buss needs to let a new president decide on the best course with Lakers coach Luke Walton, but he also said Pelinka, who was not available to reporters Wednesday, has to be let go.
"Honestly, they need to hire an experienced general manager with credibility and let him fire Rob," the agent said. "Let that president that come in, let him have the authority to hire his staff and to hire their head coach if he doesn't want Luke Walton."
Sign up for our Lakers newsletter »
One general manager said they were willing to deal with the inexperienced Johnson when he had the job, but that front office people did not have a good relationship with Pelinka from his days as an agent representing Kobe Bryant and other high-profile players.
"Magic was the person people wanted to try to give a pass to," one Eastern Conference general manger said.
So how does one do business with Pelinka?
"Obviously you can't. I can't," an agent said. "I haven't even done any business with him, because either I don't have something that he wants or he just won't respond to stuff."
Another Eastern Conference GM said an easy parallel is that Pelinka used to be Rich Paul, the agent and friend of LeBron James. Paul's Klutch Sports agency represents several high-profile players, including Anthony Davis.
"This is how I would describe Rob Pelinka to Jeanie," the general manager said. "He was Rich Paul when Rob had Kobe. That's the only way to explain it to her so she can get it a little bit better."
One general manager said Buss needs to do a search for a qualified person to run their front office, even suggesting that Lakers associate head coach Brian Shaw could serve in an interim executive role because of his knowledge of the team and the league.
"To tell you the truth, they should go out and get a top executive in the league to run everything," another GM said. "That's what they need to do. Go get a guy that can get this done. There's no reason why it shouldn't get done. Go get an executive that's done it or who has built something.
"Go get [Golden State's] Bob Myers if you can. Go after [Oklahoma City's] Sam Presti. Those guys know how to build a team. If they have the tools that the Lakers have — cap space and a big city, appeal, you got LeBron James on your roster — you got to be able to attract one of these guys to work in their front office."
Twitter: @BA_Turner
---
All things Lakers, all the time.
Get all the Lakers news you need in Dan Woike's weekly newsletter.
You may occasionally receive promotional content from the Los Angeles Times.