Newsletter: Lakers! Team is showing improvement on defense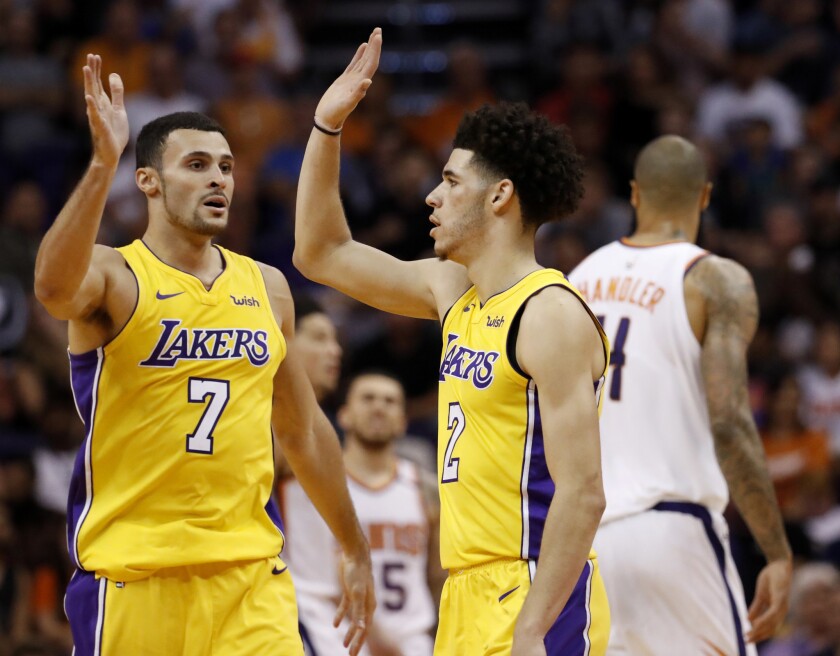 Hi. This is Tania Ganguli, here with you weekly Lakers newsletter.
The Lakers and I are in Portland today where they'll face the Trail Blazers on TNT tonight. They are coming off their best win of the season and hoping some of the lessons from that game carry over into tonight's game.
The biggest lesson was that this team is finally starting to show signs of defensive improvement. It's not a sexy topic, and it certainly isn't as much fun for the players to think about as offense and scoring, but bad defense has been a big part of why the Lakers have struggled so much over the last four seasons.
They have been the worst or among the worst defensive teams in the league in each of those years. Last season they ranked last in defensive rating. Just before they started showing signs of improvement this year, Lakers coach Luke Walton was asked if all his emphasis on defense ever seems futile, and he said it didn't. Now the Lakers have held back-to-back opponents under 100 points, just two weeks after giving up 73 points at halftime to the Phoenix Suns.
Now the offense needs to catch up
Heading into Thursday night's game, the Lakers' offense ranks 28th in the NBA. The offense, not the defense, is the reason they are not winning games.
"Offense to me, as our players play more games, our team is relatively new together from injuries to the offseason moves," Walton said. "Offense is much easier. Players like playing it more. That'll come when we're ready for it. But right now, the fact that defense is holding us in games, I love that."
Among the things he has stressed to players are pace and shot selection.
Walton is well aware that the Lakers don't have the dead-eye shooters his former team, the Golden State Warriors, have. He wants the ball to get into the paint to collapse opposing defenses, and then he wants his team to work from there.
As for pace, he has talked to his ball handlers about not walking the ball up the court. He wants them running and then he wants the ball moving from side to side until the open shot materializes.
Their pace is among the best in the league, but that statistic alone doesn't tell you how successful an offense is. The Brooklyn Nets led the NBA in pace last season and they were the league's worst team.
Since last we talked
Lonzo Ball is comfortable taking the blame: In this job you try to show people what you saw and take people beyond the simple quotes that come out of a postgame locker room. What I saw after the Lakers lost to the Jazz was a 20-year-old point guard who was devastated after losses to the Toronto Raptors and the Utah Jazz. He took the blame for both games, which is something his father taught him to do.
Ball's rebounding is great, but: There's a balancing act for Ball when it comes to going after offensive rebounds. He has a knack for it, so the Lakers don't want to discourage it too much. But it can be a liability for the defense. "The balance is everyone get back every time, but Lonzo is really good at offensive rebounding so if he goes and gets it, we are not going to say anything," Walton said. "If he goes and we give up a fastbreak layup then we are going to call him out on it. So kind of use your judgment."
Brandon Ingram is starting to understand his length: In addition to growing into his body physically, Ingram needed to get used to it mentally. I asked him what's changed for him defensively and in being able to use his length, and he began by saying one change was "understanding how long I am." Ingram's long arms give him angles other players don't have on both offense and defense.
Detroit was big for two players: Kyle Kuzma grew up in Flint, Mich., loving the Pistons. He was the Lakers' second-leading scorer against the Pistons this week and made six of eight shots, including all of his four three-point attempts. I asked if it was cool to have that kind of game against that team and he said it was, and that he told his mom that after the game. Kentavious Caldwell-Pope got to face the team that wouldn't give him the lucrative contract he sought. He said, "It was awesome," to beat the team that drafted him.
Coming up
D'Angelo Russell returns to face the Lakers for the first time since they traded him to the Brooklyn Nets. This is also Timofey Mozgov's first game back, but his return doesn't carry the same baggage that Russell's does.
Russell was the last point guard the Lakers drafted second overall. They had wanted to trade him for a while, knowing they'd take a point guard in this year's draft. That they were able to move Mozgov's contract as well was a boon for the Lakers who are trying to clear salary cap space for next summer.
Right now Russell is averaging 21.7 points, five assists and 3.7 turnovers per game. He ranks just below DeMar DeRozan and just above John Wall in points per game.
"Being one of our own guys, I tune in and check him out," Walton said. "He's been playing great. I'm happy for him. He's shooting the ball well. Putting up big numbers. And they're having some success right now."
In case you missed it
Kyle Kuzma flashes potential against team he grew up idolizing.
Julius Randle is a force when he is focused.
The Lakers' best defensive upgrade of offseason basically fell in their lap.
Up next
All Times Pacific
Thursday at Portland, 7:30 p.m., TNT
Friday vs. Brooklyn, 7:30 p.m.
Sunday vs. Memphis, 6:30 p.m.
Wednesday at Boston, 5 p.m., ESPN
That's all for now. Stay tuned for future newsletters. Subscribe here, and I'll come right to your inbox. Something else you'd like to see here? Email me. Or follow me on Twitter @taniaganguli
---
All things Lakers, all the time.
Get all the Lakers news you need in Dan Woike's weekly newsletter.
You may occasionally receive promotional content from the Los Angeles Times.