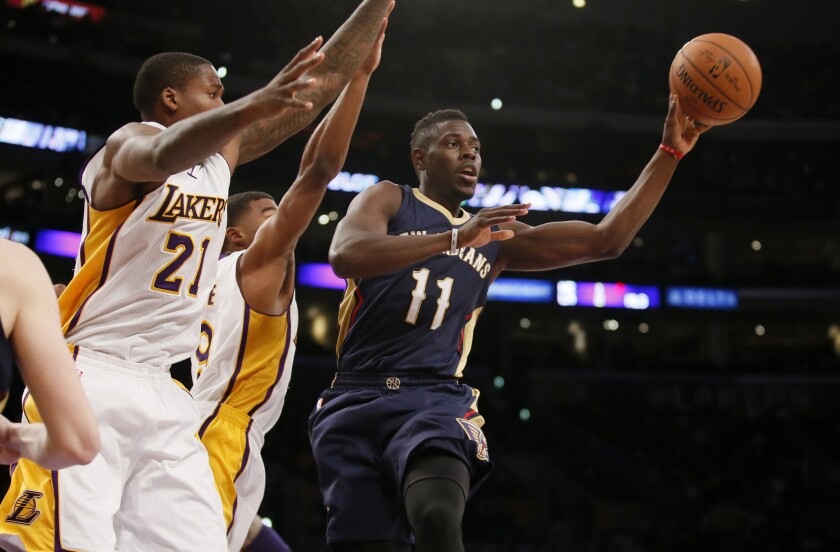 Changes finally came to the Lakers' starting lineup, though one thing remained the same — another loss.
Jeremy Lin and Carlos Boozer were benched by Byron Scott, a fairly bold statement that defense really mattered most to the Lakers coach. There still wasn't much of it in the Lakers' 104-87 loss Sunday to the New Orleans Pelicans.
Fans booed as the Lakers fell behind by 20 points going into the fourth quarter at Staples Center.
Kobe Bryant took nearly an hour before talking to reporters after the game. Boozer tried to one-up Bryant by not talking to reporters, period. Lin called the demotion "one of the toughest situations I've been in."
Ladies and gentlemen, your 2014-15 Lakers.
"If you look at our record, you have to make changes," Scott said. "I'm not going to stand back and just watch it continue to be played this way. To me it was a no-brainer."
Ed Davis had 12 points in place of Boozer and Ronnie Price had three points and three assists in Lin's spot.
Bryant spoke matter-of-factly, not angrily, when he finally emerged to talk to reporters.
"Not everything is going to be great, champagne, celebrations and winning championships," he said after scoring 14 points. "You've got to go through some hard stuff too. If this was the Titanic, I'd go down with that. ... I'm not jumping off."
This is all too familiar for Lin, demoted last season in Houston after being outplayed by Patrick Beverley. Boozer also had his time shortened in Chicago, benched in the second and fourth quarters toward the end of last season in favor of Taj Gibson.
The Lakers knew Lin was a below-average defender when they acquired him in July along with Houston's 2015 first-round pick. But Scott also felt compelled to make the move when Lin started slumping on offense, most notably missing all 10 of his shots Wednesday against Washington.
"I believe I can be a starting point guard in the league," said Lin, who had three points and four assists in 20 minutes. "I'm not going to lie. It was disappointing when I heard about it."
Somehow demonstrating all that ails the Lakers, Lin had to stop his post-game interview when he felt sharp pain in his left leg. He sat down slowly in a chair, frowning, before standing up again and talking for another few minutes. He headed into the trainer's room.
Despite Boozer falling out of the lineup, the Lakers cannot trade him because he was claimed off waivers via the "amnesty" provision in July. Lin, 26, is a more palatable trade piece because his $14.9-million salary counts about $8 million toward the salary cap. They are both free agents after this season.
Boozer, 33, has more skill on offense than his replacement, particularly from the outside, and had 12 points in 23 minutes, but his defense has not been strong in his 13th NBA season.
"The reason is obviously on the defensive end," Scott said of the changes. "I just want to see how this team does — Ronnie, obviously with experience and his defensive prowess, and Ed Davis, a guy who can protect the basket a little bit better for us and rebounds on both ends of the floor, plays with a lot more energy."
The Lakers' defense wasn't any better Sunday. New Orleans shot 51.8% and scored four points more than their average coming into the game.
Scott said he would analyze this lineup for 10 to 15 games before pondering further changes.
Bryant's view: "With Jeremy's aggressive and penetration, [we're] losing that attack and Carlos' ability to post and space the floor, but you also gain some speed and some length defensively, so you're trading things off."
Davis was assigned Anthony Davis, who finished with 23 points. Price was in charge of Jrue Holiday, who had 22 points, seven more than his average.
Bryant, further than ever from a sixth championship ring, continued to appear patient despite acknowledging he was a "naturally competitive person."
"These moments from the outside looking in, everybody's kind of waiting for a blowup or something like that," he said. "But honestly I really enjoy the process of it and the challenge of it and trying to figure it out."
---