Five takeaways from the Lakers' 113-93 win over the Detroit Pistons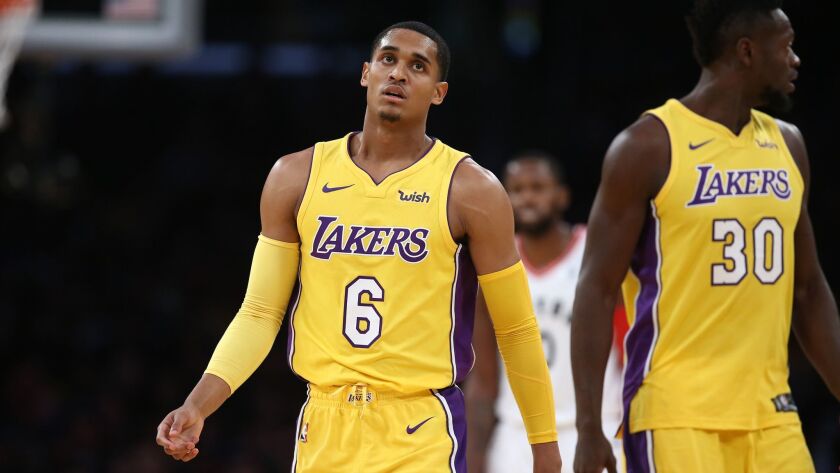 After a full year of listening to Luke Walton talk about defense, you wouldn't be alone in wondering if trying to get the Lakers to play defense was a lost cause.
After all, their problems defensively predated Walton and had permeated the culture of the team.
But this is a new year with new players, many of whom haven't been around for all the bad defense of the last four years. And just as the Lakers hoped, the turnover in personnel has led to a change in attitude, effort and understanding.
We saw that Tuesday night in the Lakers' 113-93 win over the Detroit Pistons.
1. Kentavious Caldwell-Pope's defensive intensity is a big part of this. He faced the team that drafted him and renounced his rights after protracted contract negotiations over the summer. What did it feel like to beat them? "Oh it was awesome," Caldwell-Pope said. Then he quickly turned back toward the team-focused talk they like around here. "I feel good. My teammates feel good. Just gotta carry it over, get ready for Portland."
2. Julius Randle led the Lakers with 17 points and was one of seven Lakers who scored in double figures. "There's people in the crowd behind me always yelling at me to put him in," Walton said. "He plays really hard. We need him to, that's when he's at his best. The stretches aren't gonna be as long, obviously. when he plays that fast but under control, he's pretty tough to stay in front of or to deal with."
3. The Lakers did better on three-point shooting Tuesday night. They came into that game making 6.7 three-pointers a game, the worst in the NBA, and making 27.8% of their attempts. They made 12 of 26 three-pointers on Tuesday night.
4. Interior scoring has been solid for the Lakers this season — the best in the league, in fact, at 55.1 points in the paint per game. Tuesday night they scored 62 points in the paint. Normally their high interior numbers are because of poor three-point shooting, but against the Pistons that clearly wasn't the case.
5. Larry Nance Jr. had a double double with 14 points and 12 rebounds. He also had three steals and two assists. But what Walton liked best about him was his unselfishness. There came a point in the game when Walton considered removing Kyle Kuzma to put Nance back into the game. Nance encouraged the coaches to stick with Kuzma, who was hot.
Follow Tania Ganguli on Twitter @taniaganguli
---
All things Lakers, all the time.
Get all the Lakers news you need in Dan Woike's weekly newsletter.
You may occasionally receive promotional content from the Los Angeles Times.