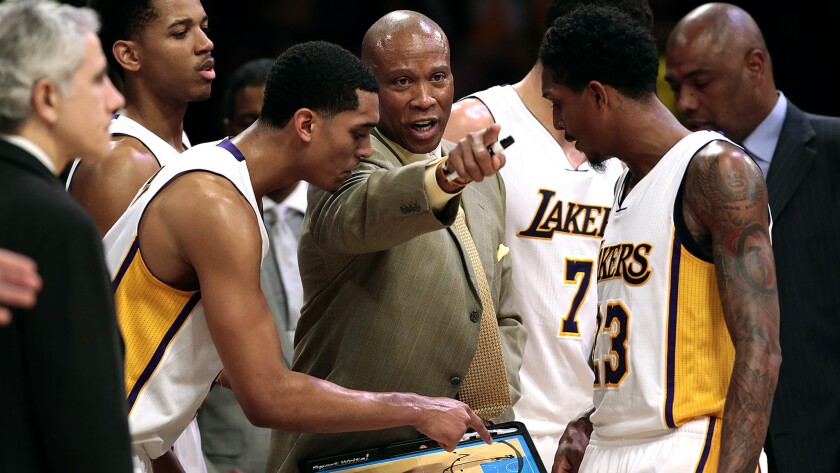 The Lakers are on the brink of having the worst season in franchise history, even worse than last season's 21-61 campaign that set the low-water mark.
But through all the struggles, Lakers Coach Byron Scott says he has maintained a positive approach.
Scott's view is that there will be better days ahead for a team that was 8-31 before Tuesday night's game against New Orleans at Staples Center.
"I go through my ups and downs after games before I go to bed," Scott said. "But when I wake up, to me it's always a new day. It's always a day to get better as a coach. It's always a day to get our young players better. And that's how I kind of view it."
When he talks to General Manager Mitch Kupchak and Executive Vice President Jim Buss, they all remind each other that it's a process.
"I knew the first two years was going to be rough, but I can see the light at the end of the tunnel," Scott said. "That's kind of how I keep that positive outlook on, not only my job as far as basketball is concerned, but on life in general."
Gentry admires Bryant
Pelicans Coach Alvin Gentry has always been a big fan of Kobe Bryant, calling him one of the greatest to ever have played in the NBA.
"There's only one guy that ever played in this league that is more competitive," Gentry said, smiling. "I'll let you guys guess that."
Gentry was talking about Michael Jordan.
"If you start talking about the greatest players in this league, his name is not going to be very far behind," Gentry said about Bryant.
Etc.
Scott, who attended Morningside High in Inglewood, was happy to hear that the Rams will be returning to Los Angeles for the 2016 season and will eventually build a stadium in Inglewood.
"It's great for the city of Inglewood," Scott said. "I'll be going to some Ram games. I'm not saying I'm going to be a Rams fan, but I'll be going to some Ram games. I still have my loyalty to my Steelers and my 49ers. But it's great for the city of Inglewood to have a football team."
Follow Broderick Turner on Twitter @BA_Turner
---