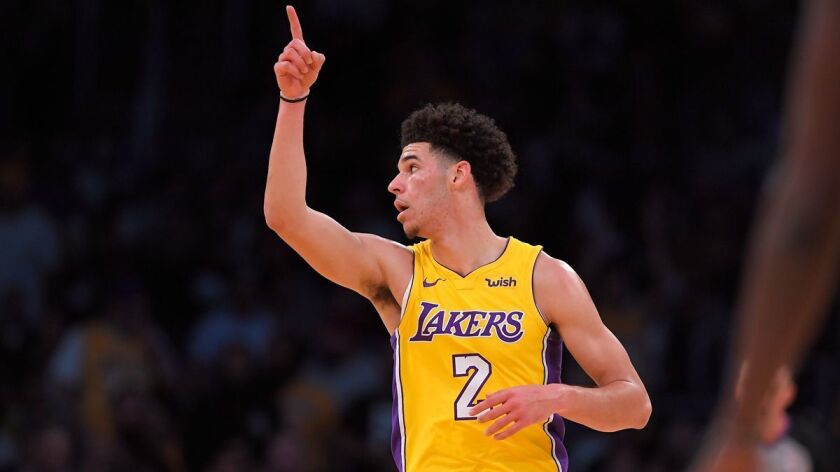 Lakers point guard Lonzo Ball sat out Tuesday's Lakers practice while getting treatment on his left ankle, on which he suffered a mild sprain Monday night.
"I don't think Lonzo's [injury] is anything too serious, but since it's preseason we gave him the day off to make sure his ankle's right and he'll get reevaluated tomorrow," coach Luke Walton said. "He had treatment all day today."
Ball suffered the sprain late in the second quarter of the Lakers' 113-107 loss to the Denver Nuggets. After blocking a shot, he came down awkwardly on Emmanuel Mudiay.
"Mudiay went backdoor, I blocked it and landed on his foot," Ball said Monday. "Basketball play. Sprained ankle. I'll be all right."
Ball returned quickly, believing that the faster he returns on the day of an injury like that, the less pain he'll feel the next day. Ball played the third quarter and part of the fourth. The block on which he suffered the injury was one of several times when Ball showed his athleticism. In the first quarter, he also elevated to finish an alley-oop dunk on a pass from Jordan Clarkson.
The injury initially scared Walton, who said Monday that he worried about the effect of Ball sitting out a practice.
"It's not because I really want to win the next game," Walton said. "It's because I know if he can't practice and if he can't be out on the floor in practice, the way we want to play, it's really going to slow down the process."
Larry Nance, Brandon Ingram also sit out practice
The Lakers were without two other key players in Tuesday's practice.
Larry Nance Jr. was rested because of a finger sprain. He did it in the first half against Denver, but returned to the game anyway.
Starting small forward Brandon Ingram was held out of practice after suffering a blow to the head Monday.
Ingram bumped heads with Denver guard Malik Beasley. On Tuesday afternoon, he was diagnosed with a head bruise. He will be re-evaluated on Wednesday and is questionable for Wednesday's game in Ontario, which is also against the Nuggets.
Brook Lopez is close to returning
There was some good news for the Lakers as Brook Lopez was a full participant in his longest practice since joining the Lakers.
Lopez will see a doctor Wednesday and is not expected to play in Wednesday night's game in Ontario against the Nuggets. Lopez said he is targeting Sunday's game in Las Vegas for his return to the lineup. He has been cleared for full practices but not for a game.
"I'm not always the best patient," Lopez said. "I can definitely get frustrated. I clearly understand all their decisions are for my best interest. They know what they're doing."
Lopez has not practiced because of back spasms that developed in the summer. He said he had not experienced that injury, and though he considered it to be a minor, the Lakers wanted to take precautions so the injury did not become more of a problem.
"We started playing him with the first unit in practice already just to get him reps," Walton said. "To me, it's way more important that he's healthy and not at risk of reinjuring himself than it is getting it out there and getting him reps.
"It's a long season. He'll have plenty of time to play with those guys. We got him in practice to get the reps in. We'll take it like that."
Lakers add to scouting department
The Lakers are finalizing a deal to hire Antawn Jamison to be part of their scouting department, according to a source who couldn't speak publicly because the deal isn't finalized.
Jamison was the fourth overall pick in the draft in 1998. He played in the NBA for 16 years, including one season with the Lakers, and was a two-time All-Star.
Practice visitor
Former Houston Rockets and Miami Heat forward Chris Bosh stopped by Lakers practice.
"Spectator, encourager," Walton said of Bosh's role at practice. "He was talking to Julius [Randle] a couple times. Talking, he knows some of the guys. He didn't really have a role other than he was here checking it out."
Bosh spent time during practice chatting with general manager Rob Pelinka. Before Pelinka became the Lakers general manager, he was a player agent. Bosh hired Pelinka last fall, but when Pelinka joined the Lakers, he had to dissolve his professional relationships with the players he represented.
Follow Tania Ganguli on Twitter @taniaganguli
---