Kyle Kuzma doesn't play against Warriors because of back spasms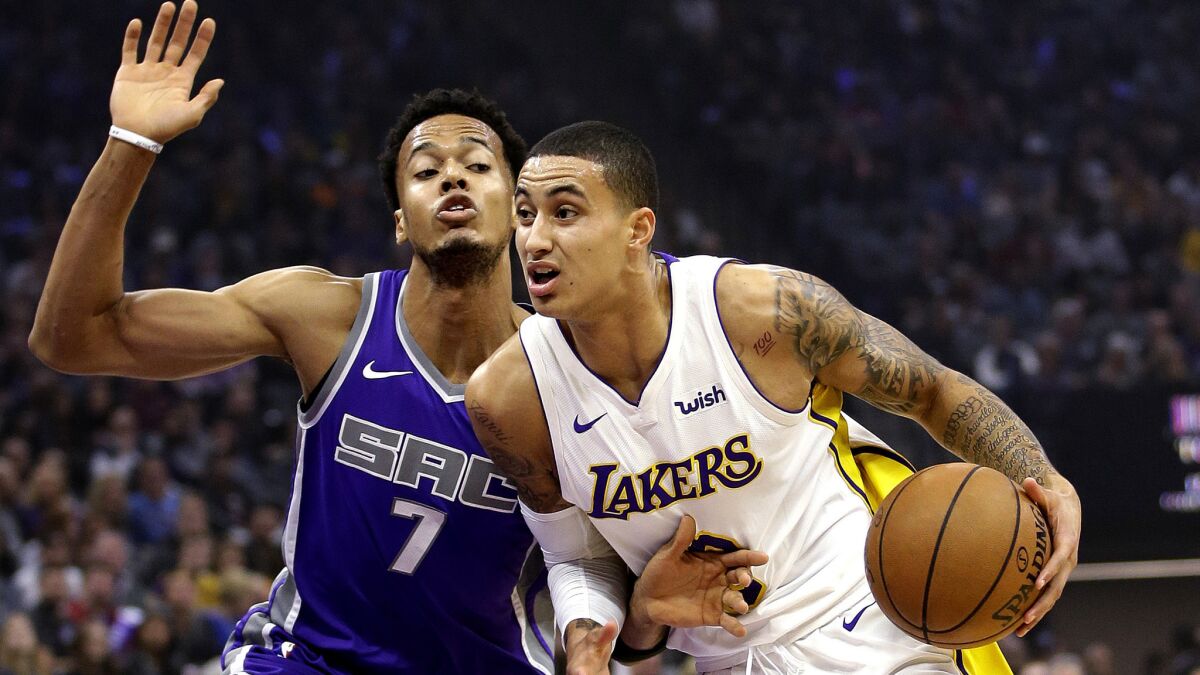 Lakers rookie forward Kyle Kuzma missed Wednesday's game against the Golden State Warriors because of back spasms.
Kuzma participated in the shootaround, but his back tightened up toward the end of pregame warmups, the Lakers said. The Lakers planned to re-evaluate him Thursday morning and see if any additional tests were necessary.
Kuzma started 11 games for the Lakers while Larry Nance Jr. recovered from a broken hand. When Nance returned Monday against the Clippers Kuzma returned to his previous role of coming off the bench.
The rookie has been the Lakers leading scorer, averaging 16.7 points per game.
The Warriors, meanwhile, played at full strength, a game after lacking both Steph Curry, who they said had a wrist injury, and Kevin Durant, who they said had a sprained ankle. Without Curry or Durant, the Warriors lost to the Sacramento Kings on Monday.
Swaggy back at Staples
Most likely it was a joke when Nick Young's teammates said he'd probably take 20 shots on Wednesday night against the Lakers.
It was definitely a joke when Lakers coach Luke Walton said Young has been terrible and he hoped Warriors coach Steve Kerr played him a lot so the Lakers could kill him.
Young made his return to Staples Center as a visitor Wednesday, a rotation player for the Warriors.
"It's been great," Young said. "These guys welcomed me in. The atmosphere was totally different. It's not so much pressure on you because they already won a championship. They got great players."
Young declined his player option for the 2017-18 season this summer. Rather than continue to be part of the Lakers' rebuild, he wanted to play for a team further along on their growth curve. The defending champion Warriors welcomed him and his shooting ability. He was averaging 6.7 points in 13.3 minutes before Wednesday's game.
"From what I've watched, he's still finding his way up there," Walton said. "It's a very different way of basketball, I think, than what Nick's used to. But the way that he shoots the ball — he obviously had a huge opening night for them, and he's had some other games, some big scoring nights, he's had some games he doesn't play. But I think he's just, you know — he's figuring out the way that they get it done up there still."
Walton later said the Lakers miss the joy with which Young played. He was the Lakers starting shooting guard for much of last season and even became the Lakers' best perimeter defender.
And while Young and the Lakers were both ready to move on from each other, he still has positive associations with playing here.
"L.A. is home," Young said. "I've always got love for L.A. But I think they were just going in a totally different direction."
The fans showed him less love. Young was booed upon checking into the game.
Lopez struggling
In the three games since his 21-point performance against the Denver Nuggets, Lakers center Brook Lopez has struggled offensively. Lopez scored 13 points combined in those games, making six of 24 shots, and didn't grab a single offensive rebound.
"We talked about it not, you know, him being one of our leaders on this team and being one of the vets, you know, not letting it affect his body language," Walton said. "He's acknowledged that, and it's something that I think, since we pointed it out, will be, he'll be fine. He'll get better at that too."
Times correspondent Alex Vejar contributed to this report.
Follow Tania Ganguli on Twitter @taniaganguli
All things Lakers, all the time.
Get all the Lakers news you need in Dan Woike's weekly newsletter.
You may occasionally receive promotional content from the Los Angeles Times.