Lonzo Ball hindered by tight calves against Houston Rockets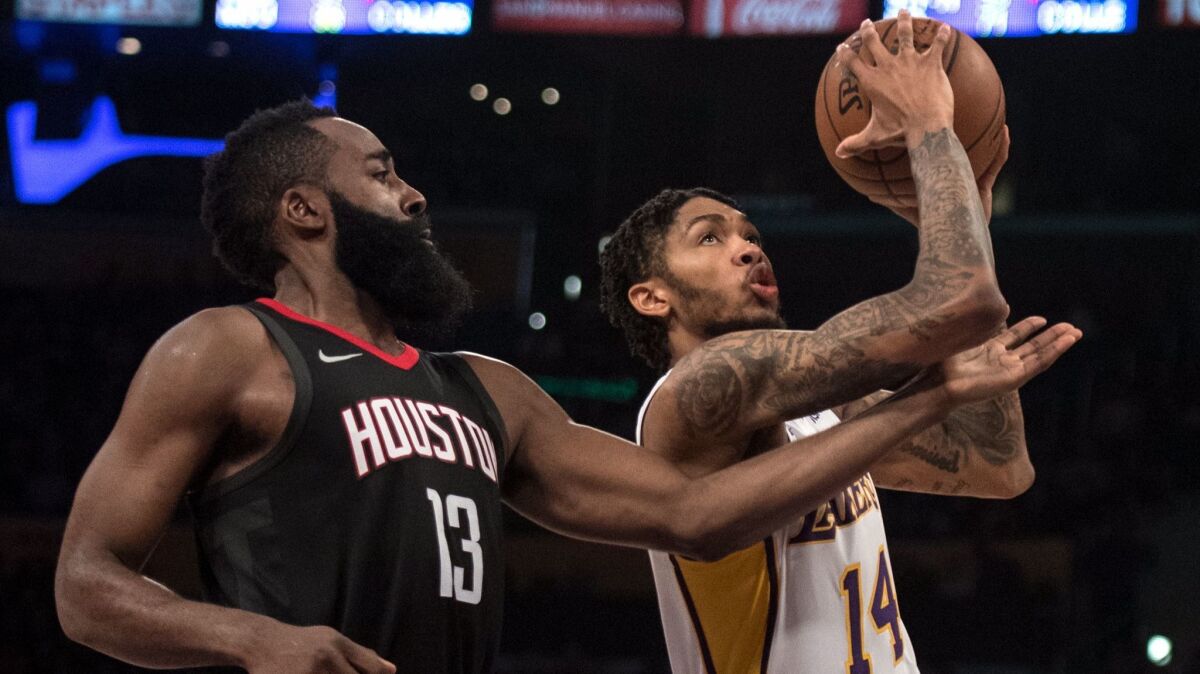 That Lonzo Ball would play Sunday against the Houston Rockets wasn't certain until just before the game.
Ball had experienced tightness in both of his calf muscles on Saturday night. His left calf tightened up before the game and his right calf tightened up during the game. Ball went through the Lakers' shootaround on Sunday, held late in the afternoon as it typically is for Sunday games, and decided to try to play.
"Today I was in the training room trying to loosen them up, but they were still tight but I felt like I could play," Ball said. "Tried to go out there today but obviously they were still tight. Tried to do what I could out there. It's like I got two knots in my calves right now. It's like I got two rocks every time I run and jump. You can play through it but it just hurts a little bit."
Ball finished the game with two points on 0-for-4 shooting. He had three assists and one rebound. Lakers coach Luke Walton said Ball didn't have the same bounce or push in his step as he normally does.
Ball played 22 minutes on Sunday, well below his average, and sat out the entire fourth quarter. Walton said that had the game been closer he might have put Ball back in, but given the score and his injury situation, he didn't.
Motivational dribble
As the clock expired Saturday night in Denver, Nuggets guard Jamal Murray took an exaggerated dribble and bounced the ball all the way around Ball, who was facing in the other direction. Julius Randle and Brandon Ingram ran over to foul Murray, upset at his antics.
In the postgame locker room, Walton addressed the moment.
"It was immature," Walton said. "If I was on Lonzo's team, I would've fouled him pretty hard after that. … It just reinforces the message that we're trying to get across to our team. That's, we have to trust each other because we're all we have. Other teams love [it], the fans are laughing, their players are laughing. Teams like beating up on the Lakers. We have each other."
Ball didn't notice or care much, but it's a moment he will see again.
The teams don't face each other again until March. Walton said he plans to show that clip to the players before that game to motivate them.
Etc.
Rockets coach Mike D'Antoni declined to compare Ball's skill set or ability to any other point guards'. "I don't think it does anybody justice to compare to people that it takes four to five years in the league to get where they've gotten and then you're trying to compare," D'Antoni said. "I can't see in the future, but obviously he's a talented kid." … The Lakers will have Monday off after finishing a road-home back-to-back. … Corey Brewer played in his 300th consecutive game on Sunday, the longest such streak in the NBA.
Follow Tania Ganguli on Twitter @taniaganguli
All things Lakers, all the time.
Get all the Lakers news you need in Dan Woike's weekly newsletter.
You may occasionally receive promotional content from the Los Angeles Times.