Lakers' Kentavious Caldwell-Pope misses game against Cavaliers for a personal matter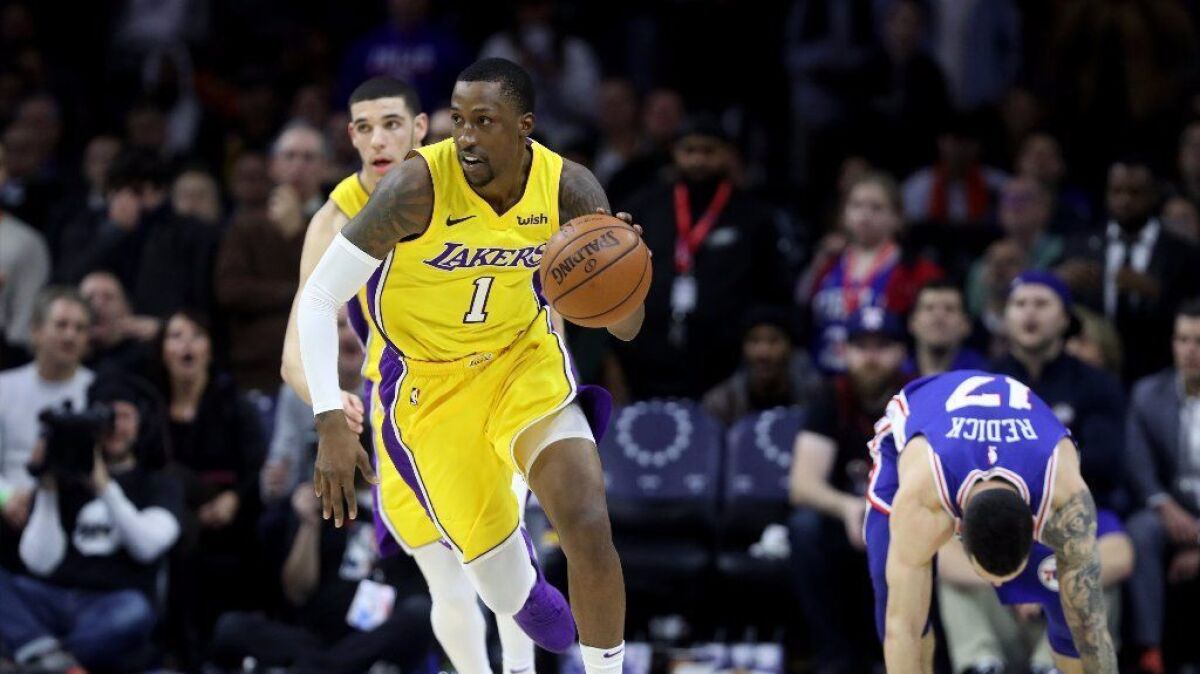 Lakers guard Kentavious Caldwell-Pope was not with the team Thursday night for their game against the Cleveland Cavaliers. The Lakers said Caldwell-Pope was attending to a personal matter.
Caldwell-Pope is averaging 14.2 points and has started at shooting guard in all 24 games he has played. He missed the Lakers' first two games of the season because of a suspension stemming from a guilty plea to driving under the influence.
Caldwell-Pope scored 24 points in the Lakers' loss to the New York Knicks on Tuesday.
The Lakers have relied heavily on his defense, having signed him to a one-year contract worth about $18 million late in free agency.
Rookie Josh Hart started in place of Caldwell-Pope and had 11 points and 10 rebounds.
"We know that is a team that will pick on mismatches and Josh is probably our best post defender we have; Julius [Randle] too," Lakers coach Luke Walton said. "And we wanted to keep the chemistry of our second unit going. I told Josh he was starting and he didn't seem to be fazed. He was really good for us."
Bruins connection
Cavaliers forward Kevin Love has the same alma mater as Lonzo Ball, but he recognizes his experience entering the NBA nearly 10 years ago was very different from Ball's.
"Los Angeles is such a massive giant media market it's tough," Love said. "I don't know what it would have been like for me if I would have gone from UCLA to the Lakers. … It's a hell of a burden."
Before Thursday, Love hadn't interacted with Ball much, outside of seeing him in pickup games and working with coaches at UCLA. But he likes what he knows about his fellow Bruin.
"You know what I love about him is he just goes about his business and just talks about winning games and says nothing else really matters unless we're winning," said Love, who, like Ball, played one season in Westwood before going to the NBA. "Him just speaking that into existence and him just preaching that at an early age is going to be big for him in the future. So I think more than anything, that's what I like to see from him. Obviously when you cross the lines, none of us are friends, but I've appreciated him going about his business that way at least to the media and to his teammates."
Hot Calderon
Jose Calderon left the Lakers last year in search of a contending team. In Cleveland he has found a winning team where he can be a major contributor.
Calderon scored 17 points against the Lakers with six assists and three rebounds.
"I think he's getting more comfortable with the offense, knowing where his shots are going to come from," Cavaliers coach Tyronn Lue said. "The guys tease him all the time about being a helluva shooter, but sometimes he won't shoot. [Now] he's taking his shots, being aggressive and that opened up everything else for us tonight."
Follow Tania Ganguli on Twitter @taniaganguli
---
All things Lakers, all the time.
Get all the Lakers news you need in Dan Woike's weekly newsletter.
You may occasionally receive promotional content from the Los Angeles Times.