Lakers struggle without Lonzo Ball and Brandon Ingram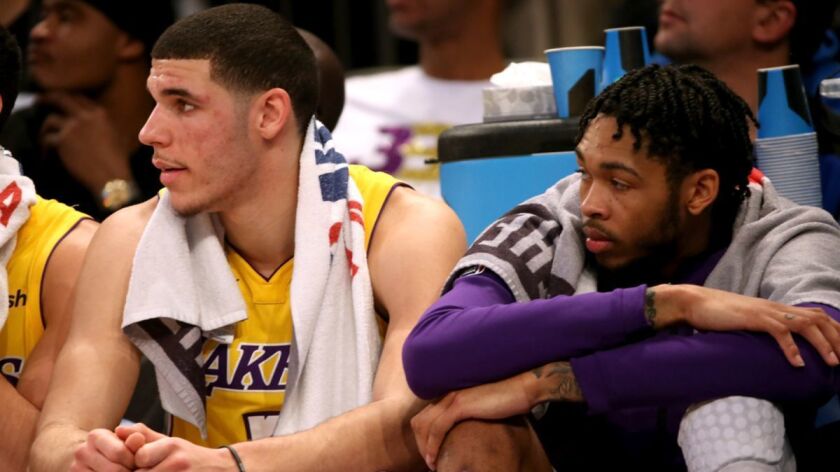 Reporting from Memphis, Tenn. —
At least the Lakers know their top draft picks in the last two years matter because without them Monday, the team looked awful.
Guard Lonzo Ball and forward Brandon Ingram, the No. 2 overall picks in the most recent two NBA drafts, didn't play in the Lakers' 123-114 loss to the Memphis Grizzlies, affecting the Lakers on offense and defense.
"They're two of our best facilitators," forward Kyle Kuzma said. "They're also one of our better defenders, too."
Ball didn't play after injuring a knee Saturday afternoon at Dallas.
"It kind of went away after a play, so I thought I was cool. Went throughout the day I thought I was fine. Then I woke up the next morning and I could barely walk. I called [trainer Marco Nunez] and we got the MRI.
"Thankfully it is just a sprained knee. I should be back soon."
Soon, though, might not be in Oklahoma City on Wednesday night.
Ball said the knee was too swollen to do more than walk in a pool Monday. He said if the knee feels the same Tuesday, he wouldn't be comfortable testing it out.
"I know my body the best, so as long as I can run, that is pretty much all I need. So as soon as I can run and the swelling goes down a little bit, then I should be ready to go," Ball said.
The Lakers are winless when Ball hasn't played. He's averaging 10.2 points, 7.1 rebounds and 7.1 assists.
Ingram's absence was a game-time decision, coach Luke Walton said.
Ingram sprained his left ankle at Dallas but wasn't in a walking boot or on crutches when the team toured the National Civil Rights Museum in Memphis on Sunday.
Like Ball, Ingram is also considered day to day.
"We'll evaluate them again tomorrow and the day after. If they're ready to play, they will," Walton said. "If not, then we'll wait until we get back to L.A."
Gary Payton II impresses in debut
While Walton was disappointed with the fight the Lakers showed in the loss to Memphis, he was pleased with Gary Payton II's debut in the fourth quarter.
"A lot of times, what we were looking for tonight was toughness and fight. That's what we were lacking," Walton said. "I thought we did a better job of it to start the third quarter. When we put him in, we were just looking for guys willing to fight. I thought he did a good job even though he's only been on the team for a few hours now. He did a good job of fighting and made some nice plays for us."
Payton, the son of former Laker and Hall of Fame member Gary Payton, played the entire fourth quarter, scoring four points, dishing out four assists and blocking two shots.
He flew to Memphis on Sunday night and signed a contract Monday morning.
"[On] defense, I just try to be aggressive," Payton said of the similarities with his father. "I don't have the trash talk like he does, but I can still get it going. We kind of have similar games, but I'm above the rim more than he was. So, you can throw it up to me."
Part of a special tradition
The Lakers took part in what has become a tradition in Memphis — playing in a late-afternoon game on the day when the life and work of Martin Luther King Jr. are observed and remembered.
"It's absolutely an honor to play on this holiday," Walton said. "I think for where we are as a world and where we're trying to go, Martin Luther King is really [important], what he stood for, the way that he stood up for what was right but what really separates him is he emphasized doing it through a peaceful manner.
"And all he wanted was what everyone should want — that's equality."
Twitter: @DanWoikeSports
---
All things Lakers, all the time.
Get all the Lakers news you need in Tania Ganguli's weekly newsletter.
You may occasionally receive promotional content from the Los Angeles Times.