Quiet Ingram lets his on-court actions speak for Lakers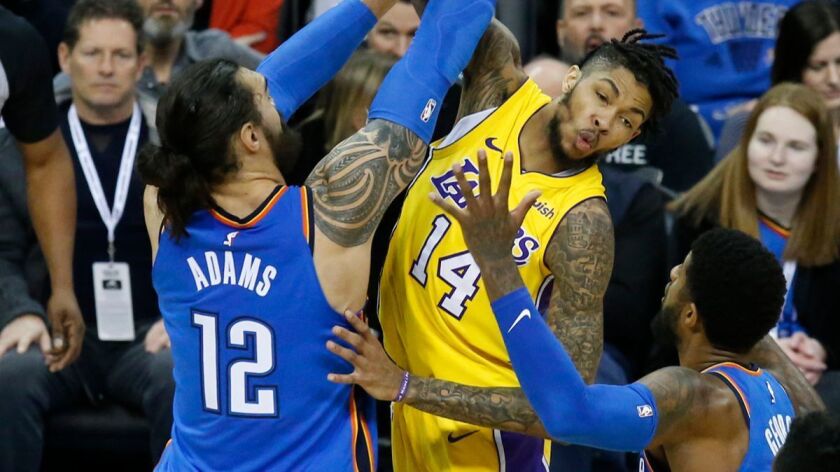 Brandon Ingram, the sleepy-eyed, pencil-thin second-year forward, probably won't ever be able to howl at his teammates like Thunder guard Russell Westbrook. He'll never be able to convey a message with a menacing stare like Kobe Bryant. He won't be able to win a room with a high volume of words.
No, for Ingram to be the leader the Lakers hope he can be, they're hoping his actions will speak loudly enough.
Lakers coach Luke Walton said he's seen the former No. 2 overall selection make improvements as a leader in his season and a half as a professional, steps that have gotten even more pronounced in recent weeks.
"It's definitely happening," Walton said. "You can see it when you're around him every day. You see how the guys react to him. You can see by the way, you know, he kind of has the respect of all of his teammates. That comes from being a leader. They look at him and they get confidence from him when he's playing well. When we need a bucket, they call his number out there to get him the ball."
An evolving on-court game is an important part of Ingram's maturation as a leader. If you're going to be a player who leads primarily by example, you better be getting results.
And prior to injuring his ankle in Dallas, Ingram was playing some of the best basketball of his pro career.
He scored at least 20 points in three of the four games prior to the win in Dallas to kick off this most recent three-game road trip, and against the Mavericks, it seemed like Ingram could be headed for his first pro triple-double before spraining his ankle.
Back on the court Wednesday night after missing the Lakers' loss in Memphis, you could see some of what Walton was talking about.
While he only scored eight points in the 114-90 loss to the Thunder, the ball almost always found its way to Ingram when offensive possessions sputtered, a sign his teammates trust him as the best option available.
Walton conceded he'll probably never become the most vocal player on the court; it's just not in Ingram's personality.
"But he leads by the way he works. He leads by example. He's got a competitive fire in him that will have guys follow him as well," Walton said. "I've seen him get loud at times, and I think when he does speak up, guys really do listen because it doesn't happen often. But, he's continuing to grow in that area."
The Lakers could find success without one of their best players being the most vocal — San Antonio's done it with Kawhi Leonard. But, that's not the ideal. You'd eventually want to pair Ingram and the rest of the young Lakers with a player with a big mouth to match a big game.
"You'd like to have both. But, right now we don't. We'll continue to improve with what we have and guys get better," Walton said. "It's nothing to complain about. But right now we don't have the loud, out-spoken guy on the team. But, that's fine. We're getting better."
Lakers head home banged up
While the team began this road trip with a healthy roster, they'll return to Staples Center on Friday with a handful of injuries.
Lonzo Ball didn't participate in shoot around Wednesday and is a long shot to play in the team's next game against Indiana with a sore left knee.
Starting guard Kentavious Caldwell-Pope is also a question mark after straining his Achilles tendon late in the second quarter Wednesday.
"I was relieved when the X-ray came back negative. It was good," he said. "Hopefully, it's short term, but we're just going to see tomorrow what I can do."
Rookie forward Kyle Kuzma also suffered an injury against the Thunder, hyperextending a joint on his left pinky finger.
Kuzma said he'll "probably" be available against the Pacers.
Ingram also reaggravated his sprained ankle. However, Walton said Ingram could have returned Wednesday had the score been closer.
Twitter: @DanWoikeSports
---
All things Lakers, all the time.
Get all the Lakers news you need in Dan Woike's weekly newsletter.
You may occasionally receive promotional content from the Los Angeles Times.