Lakers' Ball starts but Rondo remains hot on heels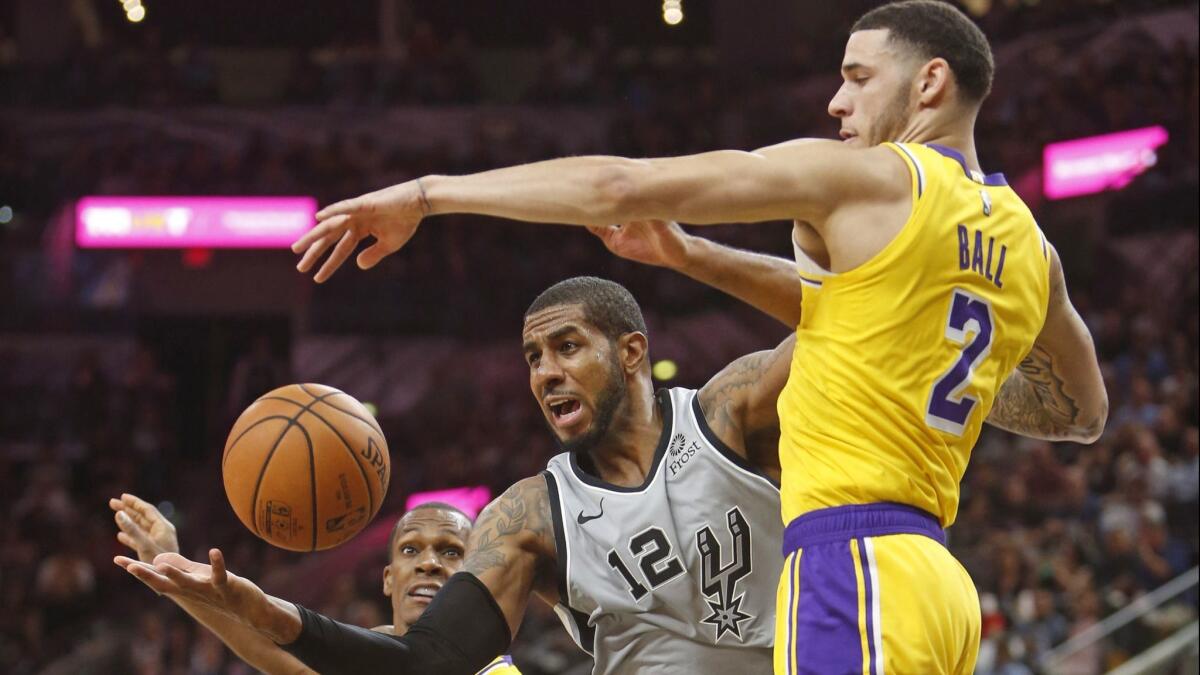 Reporting from San Antonio —
Lonzo Ball kept the starting point guard job Saturday, getting the nod over Rajon Rondo, but perhaps left the door open with a "bad game" against the San Antonio Spurs while Rondo made a push to reclaim the position.
While Rondo was serving his three-game suspension for spitting and fighting with Houston Rockets guard Chris Paul, Ball had started and played well.
So coach Luke Walton kept Ball in the starting lineup Saturday. But Ball had just six points on two-for-eight shooting, three assists and two rebounds in almost 27 minutes.
"I didn't play well tonight," Ball acknowledged. "Bad game. I'm human. I don't play good every game."
Ball was asked if Walton gave the second-year guard more confidence about starting in the future.
"I'm not sure," Ball said. "Whatever he decides. Tonight I got the start."
Rondo had 12 points off the bench. He was four for eight from the field and had five assists and four rebounds.
"I'm just happy to be back on the court playing with my guys," Rondo said. "We didn't get the win so it was disappointing."
The Lakers play at Minnesota on Monday night, giving Walton a day to make another decision on who will be his starting point guard.
"Doesn't matter who starts. They are both fine either way," Walton said. "They just want to win, is what they told me. They know that the decision is made by the coaching staff and they support each other and whatever it is they'll go out and do their job."
Walton offers support for victims
A somber Walton opened his pregame remarks offering his support for victims of the shooting Saturday in Pittsburgh at a synagogue that left at least 11 people dead and six wounded.
"Let's take a moment to give our thoughts and our prayers and our love to those out in Pittsburgh," Walton said. "That's terrible and I can't imagine what those people are going through, but sending our respect and our love to them. It feels right, for what it's worth."
Walton paused for a moment before continuing.
"It's sad that there's so much hatred in the world right now," Walton said. "I don't know what the solution is, but we as people need to figure it out."
Etc.
Walton said both Rondo and Brandon Ingram were in Phoenix on Wednesday night while serving their suspension for their roles in the fight with Houston and participated in workouts before they had to depart the arena. Ingram, who finished serving his four-game suspension Saturday, was here in San Antonio and at the team hotel. He'll fly with the Lakers to Minneapolis on Sunday and will be available to play Monday night against the Timberwolves. ... The Spurs' Gregg Popovich became the fifth NBA coach to win 1,200 games and the first to do so with one team.
Twitter: @BA_Turner
All things Lakers, all the time.
Get all the Lakers news you need in Dan Woike's weekly newsletter.
You may occasionally receive promotional content from the Los Angeles Times.