Lakers look to utilize their size in the starting lineup
They have size and the Lakers are using every bit of it in the starting lineup.
For the second consecutive game, the Lakers started 6-foot-6 Lonzo Ball and 6-9 Brandon Ingram in the backcourt, 6-8 LeBron James and 6-9 Kyle Kuzma at forwards and 7-0 JaVale McGee at center.
"We have great length," James said after Wednesday night's game against Dallas. "We have great rebounders. We have unselfish players. Our whole team is unselfish so I don't want to say it like that. But we have great length and we figure out a way just to kind of complement each other out on the floor."
The Lakers made the change to go big when Ingram returned for the game at Minnesota on Monday after he had served his four-game suspension for throwing punches at Houston's Chris Paul.
Kuzma had started at forward in Ingram's absence while 6-5 Josh Hart started at shooting guard in place of 6-5 Kentavious Caldwell-Pope.
But Lakers coach Luke Walton wanted his best group on the floor to start the game and felt it was best to use Ingram as the shooting guard.
"I got the suspension and we had guys fill in that was doing really, really good and Kuzma was doing really, really good in his role and coach decided to stick with him," Ingram said late Wednesday night. "So I just tried to come in — it's kind of like position-less basketball. I think I'm actually at the two [shooting guard], but I just try to come in and try to play wherever the coach wants me."
McGee makes defensive stand
McGee is the last line of defense for the Lakers and he has become a deterrent for their opponents.
He has used his 7-6 wingspan and tremendous leaping ability to block 3.25 shots per game this season, tops in the NBA before games Thursday.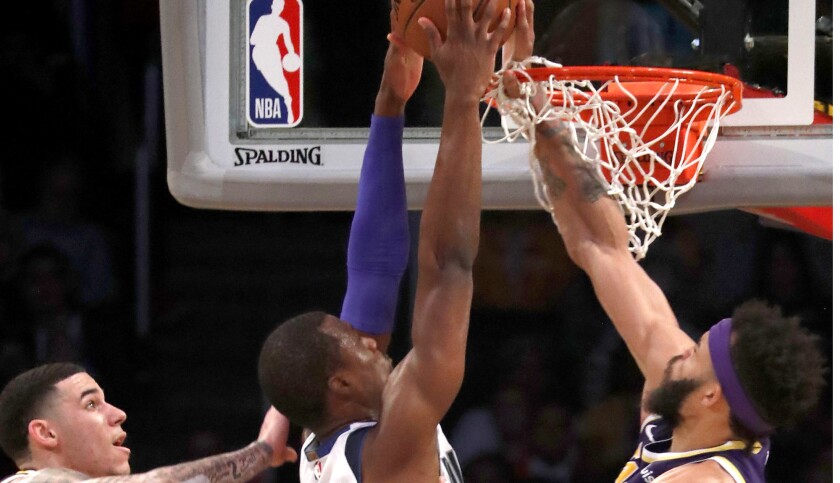 McGee blocked five more shots against the Mavericks on Wednesday, tying his season high.
"I feel like I've been consistently blocking shots," McGee said after the Lakers escaped with a win over the Mavericks. "The coaches are putting me in defensive position to block shots. So it's from being successful out there."
The Lakers are depending on McGee to be their backbone on defense and they are giving him the minutes to prove his worth.
He played a season-high 35 minutes against the Mavericks and is averaging 27.1 minutes, his highest since he averaged 27.4 a game during the 2011-12 season with the Washington Wizards.
"I feel like it's something I can do throughout the season," McGee said. "It felt great, to tell you the truth. I didn't realize I played 35 until I looked at the stat sheet. I feel like the coaches are figuring out how to play me those minutes and the way to keep me in there that long. So, it's definitely working for me."
Twitter: @BA_Turner
---
All things Lakers, all the time.
Get all the Lakers news you need in Dan Woike's weekly newsletter.
You may occasionally receive promotional content from the Los Angeles Times.