Heat coach Erik Spoelstra says Luke Walton is the 'perfect guy' to coach Lakers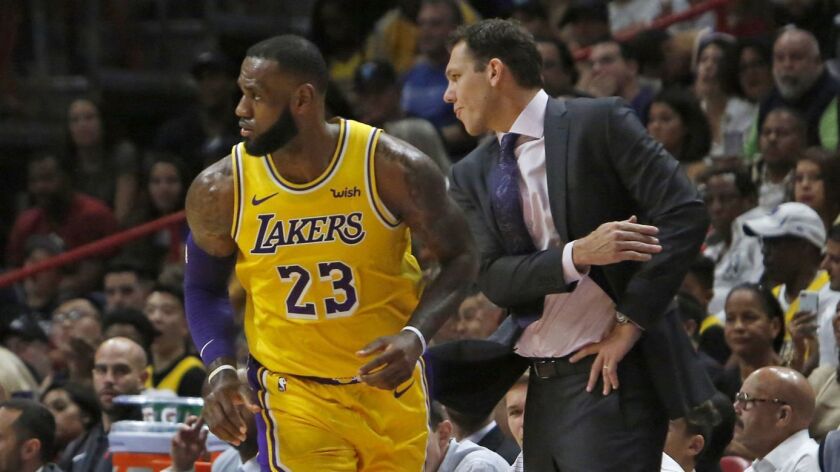 Reporting from Miami —
Before he spoke with Lakers coach Luke Walton over the summer about the ins and outs of coaching a talent like LeBron James, Miami Heat coach Erik Spoelstra said he knew Walton's career path had already prepared him for the moment.
Walton played for the Lakers for eight-plus seasons, winning NBA titles in 2009 and 2010. He was a rookie playing on a drama-filled team with Shaquille O'Neal, Kobe Bryant, Karl Malone and Gary Payton that was coached by Phil Jackson.
Walton became an assistant coach with the Golden State Warriors in 2014 and was part of the team what won the NBA championship in 2015. Walton was named the Warriors' interim head coach to start the 2015-16 season while Steve Kerr was rehabilitating from back surgery. Walton pushed the Warriors to a 39-4 record before Kerr returned.
To Spoelstra, who coached James for four seasons in Miami when they won two titles together, those are the reasons why Walton can handle the stress and pressure that come with coaching the Lakers.
"He's the perfect guy to coach that team," Spoelstra said. "He has purple and gold bleeding down from him. He is a Laker. He did a tremendous job with Golden State when he had to take over for Steve. And, if you look at his whole professional career, all that he's been involved with are teams like this with great expectations, with a lot of pressure and a lot of noise. He doesn't know any different. I don't think you can find a better fit to coach that team."
Walton, who was under siege when the Lakers got off to a 2-5 start this season, said he talked to Spoelstra and then-Cleveland Cavaliers coach Tyronn Lue about coaching James.
Walton declined to share details about his conversation with Spoelstra before the Lakers played the Heat on Sunday.
"We had a really good talk," Walton said. "We talked for a couple of hours. And he was great. But what we talked about, I'll keep that between me and him."
Spoelstra praises James
Spoelstra, who went to four straight NBA Finals with James, isn't surprised that the star remains a force during his 16th season in the league.
"He's timeless," Spoelstra said. "I throw on their games from time to time when I can't sleep. I just think you can book it every year — 27 (points), eight (rebounds) and seven (assists). It doesn't matter what uniform. Doesn't matter what year. Doesn't matter how old. Consistency is as much of a talent as any physical or mental talent. He's five-star in all of those."
Etc.
Magic Johnson, Lakers president of basketball operations, and general manager Rob Pelinka attended Sunday's game. … Lakers guard Rajon Rondo, who is out four to five weeks recovering from right hand surgery that he had Thursday, rejoined the team Sunday and sat on the bench.
Twitter: @BA_Turner
---
All things Lakers, all the time.
Get all the Lakers news you need in Tania Ganguli's weekly newsletter.
You may occasionally receive promotional content from the Los Angeles Times.