Lakers report: LeBron James not concerned with his own rest but getting reserves more playing time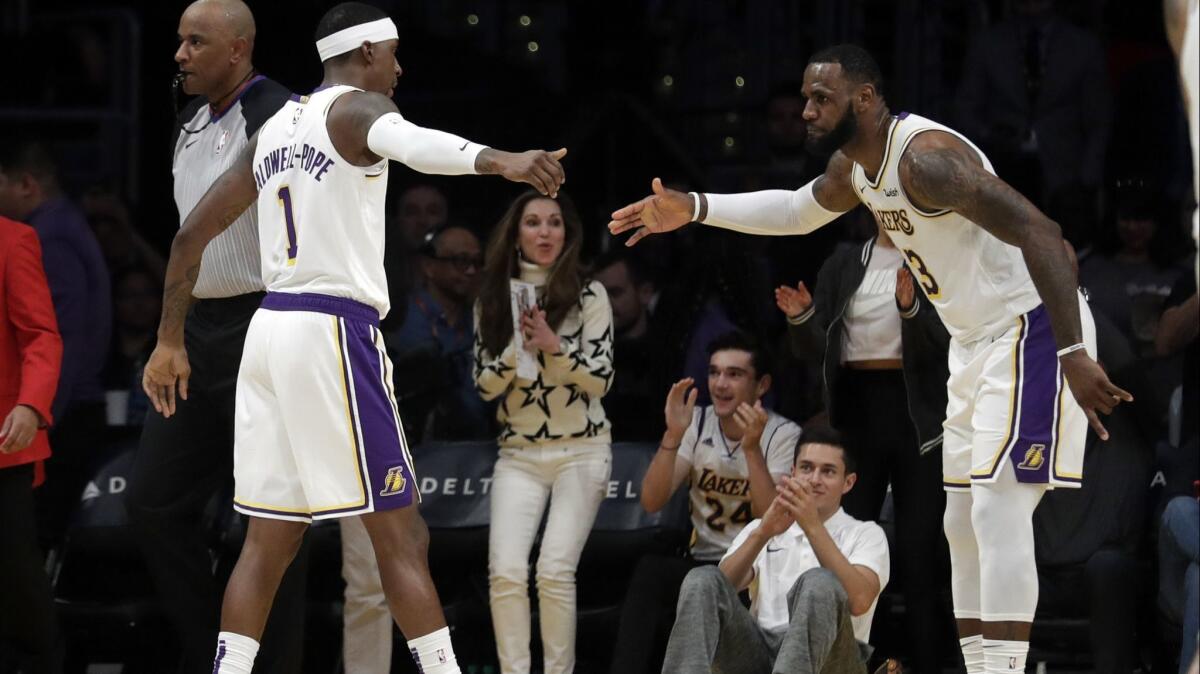 LeBron James always says that resting him is more of a concern for his coaches than it is for him, and he didn't change that perspective Sunday afternoon after a blowout win gave him a chance to sit the entire fourth quarter.
When asked about the long-term benefit of getting that rest, James said there wasn't any.
"I played every game last season all the way to the end," James said. "I felt great going into the summer, I felt great coming into the season. What's more important is I like getting the guys that don't get as many minutes to be out on the floor. So if we're able to do our job and push the lead up, guys like Moe [Wagner] and Svi [Mykhailiuk] can get in there. Big Zu [Ivica Zubac] can get in there and get some minutes."
Lakers coach Luke Walton rested starters James, Kyle Kuzma, Brandon Ingram and JaVale McGee for the entire fourth quarter. Lonzo Ball played only five minutes.
James led the league in minutes last season, averaging 36.9 minutes per game. Although the Lakers talked a lot about resting him heading into this season, they haven't done that yet this year.
For organic reasons, James' minutes per game have decreased this year, he averages 34.6 minutes per game, which ranks 19th in the league. But he is still fourth in the league in scoring with 27.8 points per game.
Hart's impact
Josh Hart scored just six points and took five shots against the Phoenix Suns, but the Lakers were 32 points better than the Suns during the 18 minutes Hart was on the court. That plus/minus rating was by far the highest of any player in the game.
"Tonight I thought – I pointed it out to the team – but I thought [Hart's plus/minus] was directly related to how he played tonight," Walton said. "Fighting over screens, tagging on the weak side, getting a steal when they were kind of hurting us early in the game with those rolls to the rim, making the extra pass."
A former teammate's view
The positive influence Tyson Chandler has had on the Lakers is what Jamal Crawford expected from the 7-1 center.
The two had been teammates twice during their careers, for three years with the Chicago Bulls early in their careers and for a short time this season before Chandler secured a buyout from the Suns, and all Crawford has ever seen from Chandler is a team-first player.
It was the same thing Crawford saw Sunday when the Suns played the Lakers at Staples Center. Chandler infused the Lakers with 11 rebounds and his typical solid defense.
"He's another winning voice," Crawford said. "I've played with him twice now, in Chicago and obviously for a short period of time in Phoenix, but he's a winner. He has no agenda. When he says something, it's for the team. It's not about him. It's not about his own personal gain and he's always been like that. Like when he has experienced winning and knows what it takes to win at that level and he's all about team first, you want guys like that on your team."
Follow Tania Ganguli on Twitter @taniaganguli
All things Lakers, all the time.
Get all the Lakers news you need in Dan Woike's weekly newsletter.
You may occasionally receive promotional content from the Los Angeles Times.