Lakers' Ivica Zubac wins over teammates and coaches with impressive play at center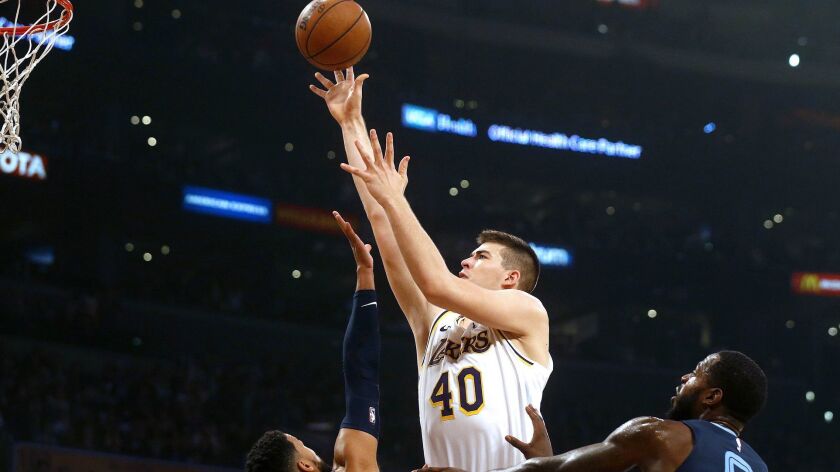 The Lakers' void at center has been successfully filled by Ivica Zubac in their time of crisis caused by illness and injury.
Still, when starter JaVale McGee returns from his bout with pneumonia and backup Tyson Chandler recovers from back spasms, Zubac could see his minutes dwindle.
It is nearly impossible to play three centers during a 48-minute game, but that is something Lakers coach Luke Walton will have to consider after Zubac flourished during his last two starts.
McGee missed the last four games after pneumonia sent him to the hospital. He was cleared to play Sunday night against the Memphis Grizzlies at Staples Center, but Walton held McGee out.
McGee said he "anticipated" playing Christmas night against the Golden State Warriors, but acknowledged "I don't know" Sunday after the Grizzlies game, and Walton said the same.
McGee played the last two seasons with the Warriors and is getting his championship ring before the game.
The Lakers didn't practice Monday, but Chandler presumably will play if his back holds up.
"We'll figure that out when we get there," Walton said Sunday of playing time for three big men. "I mean, we don't know when JaVale will be back. We don't know when Tyson's back gets better. So he [Zubac] has definitely done a great job for us and I think he's earned the trust of his teammates and coaching staff. So it's nice to have that going for us right now with all the injuries and illnesses we have."
Zubac earned the faith of the Lakers coaches and his teammates over those two starts by averaging 17.5 points, 7.5 rebounds, 3.0 blocks and about 32 minutes. He shot 72.7% from the field and 75% from the free-throw line.
Before his two starts, the third-year pro had been averaging fewer than 10 minutes of playing time in 11 games.
"Luke's always been saying to me that he trusts me," Zubac said. "If there's a chance to put me on the floor, he's gonna put me there and he's gonna always trust me like every other player on the team. I've been doing the same stuff every day. Working hard, doing everything to stay in shape. When Luke trusted me with an opportunity, I gotta take full advantage of it."
At 7 feet 1 and with a 7-4 wingspan, Zubac has been impressive on defense.
He blocked four shots against the Grizzlies. On Friday night against the New Orleans Pelicans, he had a highlight-reel block on a shot by former teammate Julius Randle late in the game.
"I'm just trying to go straight up," Zubac said. "One of my problems was reaching for the ball. But I know the team needed me so I had to stay straight up, go straight up for the block and when I do that I'm a big guy … I got a big wingspan. So when I do that, it's tough to finish over me."
James offers apology
LeBron James apologized for an Instagram post that highlighted rapper 21 Savage's lyrics to the song "ASMR," which includes a reference to "Jewish money."
"I actually thought it was a compliment, and obviously it wasn't through the lens of a lot of people," James said on ESPN. "Apologies, for sure."
UP NEXT
AT GOLDEN STATE
When: 5 p.m., Tuesday
On Air. TV: Channel 7; Radio: 710, 1330.
Update: The Warriors have won eight of their last 10 games and are in second place in the rugged Western Conference. They are ranked third in the NBA in scoring (116.0 points per game), first in field-goal percentage (48.4%) and fourth in three-point shooting (38.4%). Forward Kevin Durant is ranked second in the league in scoring average (29.0 points).
Twitter: @BA_Turner
---
All things Lakers, all the time.
Get all the Lakers news you need in Dan Woike's weekly newsletter.
You may occasionally receive promotional content from the Los Angeles Times.