Kentavious Caldwell-Pope's hot-and-cold season with Lakers has been heating up
Having seen his previous two three-pointers go in, Kentavious Caldwell-Pope thought it was about time for a heat check on Sunday night.
So he launched a shot from the Staples Center logo and when it went in, Caldwell-Pope knew it was his night.
"After I made the first two and then the shot from the logo, it went in," Caldwell-Pope said. "So I felt like whatever I throw up was going in so I just kept shooting."
That plan met the approval of the Lakers, who have wanted Caldwell-Pope to shoot more and be more involved in general. He scored 26 points against the Sacramento Kings on Sunday, making five of 13 three-pointers — four of those makes in the second half.
"I tell him all the time, I tell him just walk around in a shooting stance," Lakers coach Luke Walton said. "Just be ready to shoot all day long. And I want anytime that the ball gets swung to him, if their guy is not right on him, I want him shooting the ball. But as far as his energy, he's been cutting, he's been playing defense. He's been doing all the things we ask of him and we're always encouraging him to take more shots."
It's been a complicated season for Caldwell-Pope, who signed a one-year deal worth $12 million over the summer on the heels of a one-year deal worth $18 million last season. He was a Lakers starter for most of last season and began this season in the same role. But it wasn't long before Walton replaced him.
His name leaked earlier this month as the Lakers worked on a deal to acquire Trevor Ariza. With some say over his destination, Caldwell-Pope's agent Rich Paul, who also represents LeBron James, worked to find a destination for his client with a better role.
That opportunity hasn't materialized yet, but in the meantime Caldwell-Pope has worked to make the best of his situation.
His performance Sunday was one he might have seen coming. That morning during shootaround, Walton told Caldwell-Pope he'd like to see him shooting more.
"I was like, 'Coach, I'm gonna get 'em up tonight,'" Caldwell-Pope said.
He took 21 shots in the 28 minutes and 28 seconds he played Sunday night. His plus/minus rating of 19 was the highest of any player in the game.
"He's someone who can knock down shots, but when he's involved, not even making shots, but when he's involved defensively he's big for us," teammate Josh Hart said. "He got a couple steals. One at the end to end the half or end the quarter, that was big for us. And another one down the stretch got a big steal for us. When he does that, we're able to kind of get him more engaged offensively and it gets the ball rolling for us."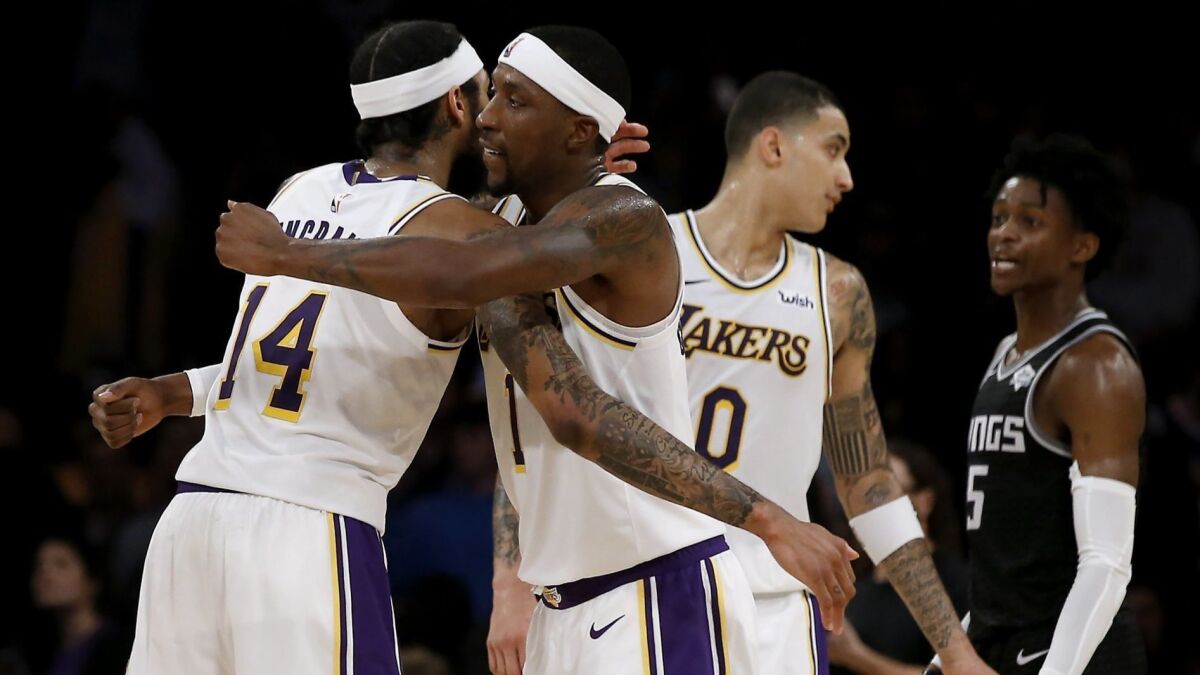 McGee returns
JaVale McGee returned on Sunday after missing seven games as he recovered from pneumonia.
"A little out of shape, but it felt good being out there," McGee said.
McGee first began to feel ill two weeks ago and played on Dec. 15 despite flu-like symptoms. His condition worsened and eventually developed into pneumonia. McGee stayed with the Lakers for the end of that week-long road trip, but then was hospitalized.
McGee played 23 minutes and 30 seconds in his return.
"He wanted more minutes than he got, but for just our whole team it was nice to have him back on the court," Walton said.
Twitter: @taniaganguli
All things Lakers, all the time.
Get all the Lakers news you need in Dan Woike's weekly newsletter.
You may occasionally receive promotional content from the Los Angeles Times.