Kyle Kuzma has a bruised back and is questionable for Lakers' game on Friday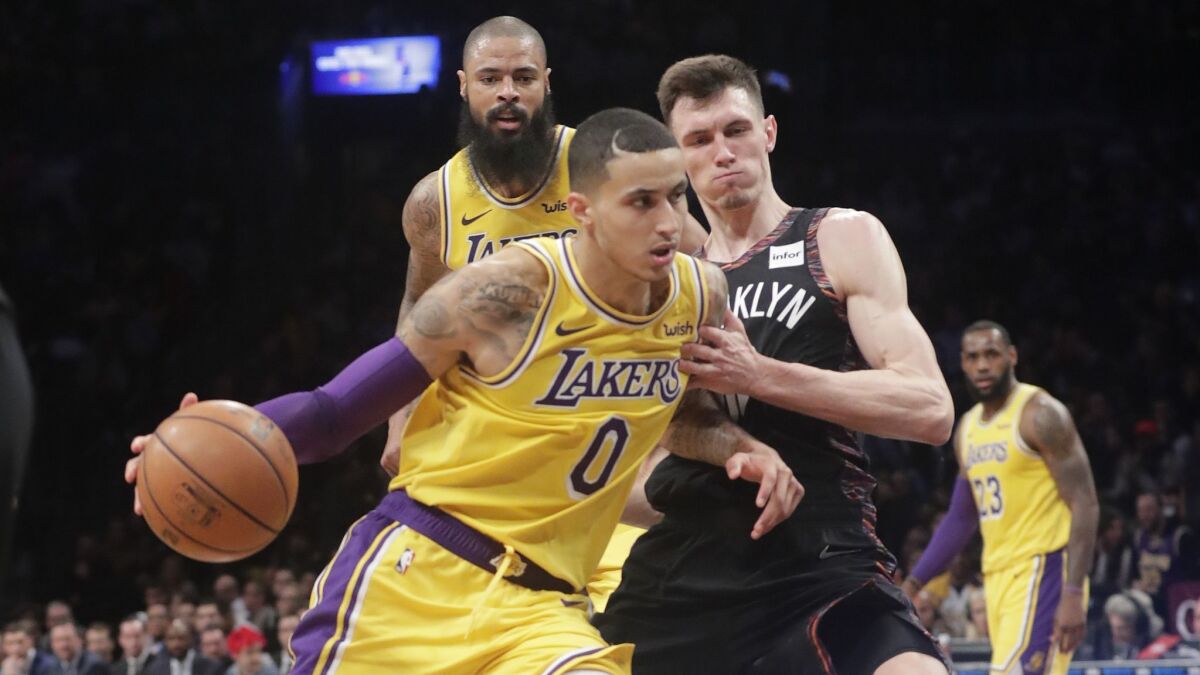 The MRI exam Kyle Kuzma received Thursday confirmed he has a bruised lower back and he's listed as questionable for Lakers' game against the New York Knicks on Friday at Staples Center.
Kuzma was injured during the second quarter of the Lakers' loss to the Oklahoma City Thunder on Wednesday night and continued to play until the pain became too severe.
He eventually left the game with 4 minutes and 54 seconds remaining in the second quarter and never returned.
Kuzma, who has played in all 38 games this season, is second on the Lakers in scoring (18.3) and fourth in rebounding (5.8).
The Lakers are already shorthanded with LeBron James (strained left groin) and Rajon Rondo (right ring finger surgery) recovering from injuries.
"It's definitely a challenge. But I feel like everybody, especially in the beginning of the season, coach (Luke Walton) was telling us everybody has to be ready, so the next man has to be ready," Lakers center JaVale McGee said Wednesday night. "I feel like our team is really good at that and everybody is focused on what they need to do to help the team."
Even McGee is not 100% healthy. He returned to the lineup the last two games after he had missed the previous seven dealing with pneumonia.
"Stamina-wise, definitely I'm trying to get there. It's obviously better," McGee said. "I at least feel normal rather than what I was feeling. But, yeah, it's still got to get there. I'm probably a game away."
James top All-Star vote-getter
James led all players with 1,083,363 votes in the first return of fan balloting for the NBA All-Star game, the league announced on Thursday.
Milwaukee Bucks forward Giannis Antetokounmpo received the most votes (991,561) for Eastern Conference players.
Dallas Mavericks rookie forward Luka Doncic ranked second in the West frontcourt in voting (679,839), followed by Golden State's Kevin Durant (659,968), New Orleans' Anthony Davis (605,417) and Oklahoma City's Paul George (580,055).
Golden State guard Stephen Curry was first among West guards with 793,111 votes, Minnesota's Derrick Rose was second (698,068), followed by Houston's James Harden (541,606) and Oklahoma City's Russell Westbrook (459,792).
Toronto's Kawhi Leonard was second (774,172) for East frontcourt players and Philadelphia's Joel Embiid was third (648,002).
Boston's Kyrie Irving was first for East guards (910,329), followed by Miami's Dwyane Wade (409,156), Charlotte's Kemba Walker (319,519) and Philadelphia's Ben Simmons (259,993).
The fans account for 50% of the votes that determine the 10 All-Star starters for the game that will be played in Charlotte, N.C., on Feb. 17.
The top vote-getters from each conference will serve as team captains that will draft rosters from a pool of players selected as starters and reserves from each conference.
The draft will be televised this season.
UP NEXT
VS. NEW YORK
When: 7:30 p.m., Friday.
On Air. TV: Spectrum SportsNet; Radio: 710, 1330.
Update: The Knicks have lost eight straight games and have the third-worst record in the NBA. They give up 115.9 points per game, ranking the Knicks 27th in the league. They are making 43.4% of their shots, ranking them 29thi in the league. They allow opponents to make 47.9% of their shots, ranking them 28th.
Twitter: @BA_Turner
---
All things Lakers, all the time.
Get all the Lakers news you need in Dan Woike's weekly newsletter.
You may occasionally receive promotional content from the Los Angeles Times.