With Lakers lacking leadership, an unlikely voice volunteers to fill the role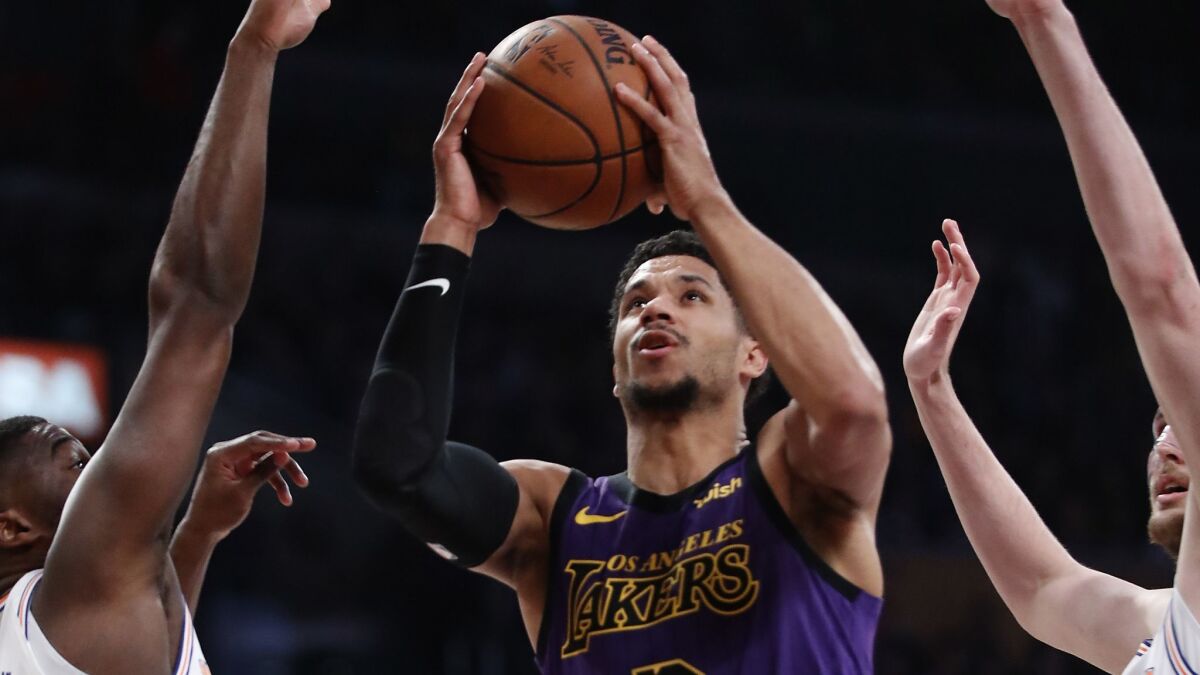 The Lakers' locker room after Friday's night loss to the New York Knicks was sullen, players frustrated by a loss to one of the worst clubs in the NBA.
Josh Hart's voice was barely a whisper as he talked about the Lakers' young players being in new roles with so many teammates injured. Brandon Ingram talked about being comfortable only when his team is winning. Lonzo Ball lamented how the Lakers kept losing the same way.
The Lakers needed some fire, some presence to reassure them that a loss to a bad team can be offset by an unexpected win over a great one.
Enter Lance Stephenson, the air-guitar-strumming, fancy-pass-throwing reserve swingman.
"I've got to pick it up. I'll put it all on me," Stephenson said. "I've got to be that veteran, that leader to my teammates and get them going. That's how we can get these games."
It's admirable of Stephenson, who averages only 15 minutes a game, to volunteer to take on a bigger role (and the blame that comes with it). It's also a reminder of how dire things are in Lakerland, with LeBron James, Rajon Rondo and Kyle Kuzma all sidelined.
Things could get better in the next 24 hours. Kuzma, who hasn't played since the first half of Wednesday's loss to Oklahoma City because of a back injury, traveled with the team to Minnesota, a sign he could be back Sunday against the Timberwolves.
That doesn't address the need for leadership, which will exist as long as James and Rondo are in street clothes instead of uniforms.
"It's up to other people to step up and lead, and guys are doing it. We just have to do more of it," coach Luke Walton said. "It's great when things are going well, and the challenge is when we hit dry spells or other teams get hot. That's when it starts getting quiet. And that's when we need it the most. That's when we need five guys huddling up on the court, talking about what happened on the last play, what's going to happen on the next play — being in the moment of playing."
Fourth quarter follies
Walton was particularly frustrated with the Lakers' play in the fourth quarter Friday, when they squandered a six-point lead, unraveling down the stretch.
"Until we accept that the team is the most important thing ..." he said. "And I can't tell if it's because we're missing open shots and we're missing open layups, if you will, that we stop trusting each other. But the ball was moving beautifully when we built up our lead, and then we got to the fourth and we had a couple possessions of nice ball movement and then once shots didn't go in, guys start trying to do it on their own. And that's not a recipe for us to win."
Walton was asked if he thought Ingram was trying to score too much. Ingram took a season-high 21 shots for the second consecutive game Friday night.
"We want Brandon staying aggressive, and it's just a matter of fine-tuning that aggression when he playmakes. I mean, he had some beautiful passes early in the game, then he gets in a rhythm and we want him looking to score," Walton said. "There also is that balance of being aggressive and being a playmaker for us; he knows that's what we need out of him."
UP NEXT
AT MINNESOTA
When: 12:30 p.m. PST, Sunday
On Air: TV: Spectrum SportsNet; Radio: 710, 1330
Update: The Timberwolves (18-21) are 5-5 since Dec. 17, when they ended a four-game losing streak that sent them spiraling below .500. The Lakers (21-18) have split two games against Minnesota this season, with the home team winning each time by four points.
Follow Tania Ganguli on Twitter @taniaganguli
---
All things Lakers, all the time.
Get all the Lakers news you need in Dan Woike's weekly newsletter.
You may occasionally receive promotional content from the Los Angeles Times.