Lakers' Lonzo Ball to miss 4-6 weeks with ankle sprain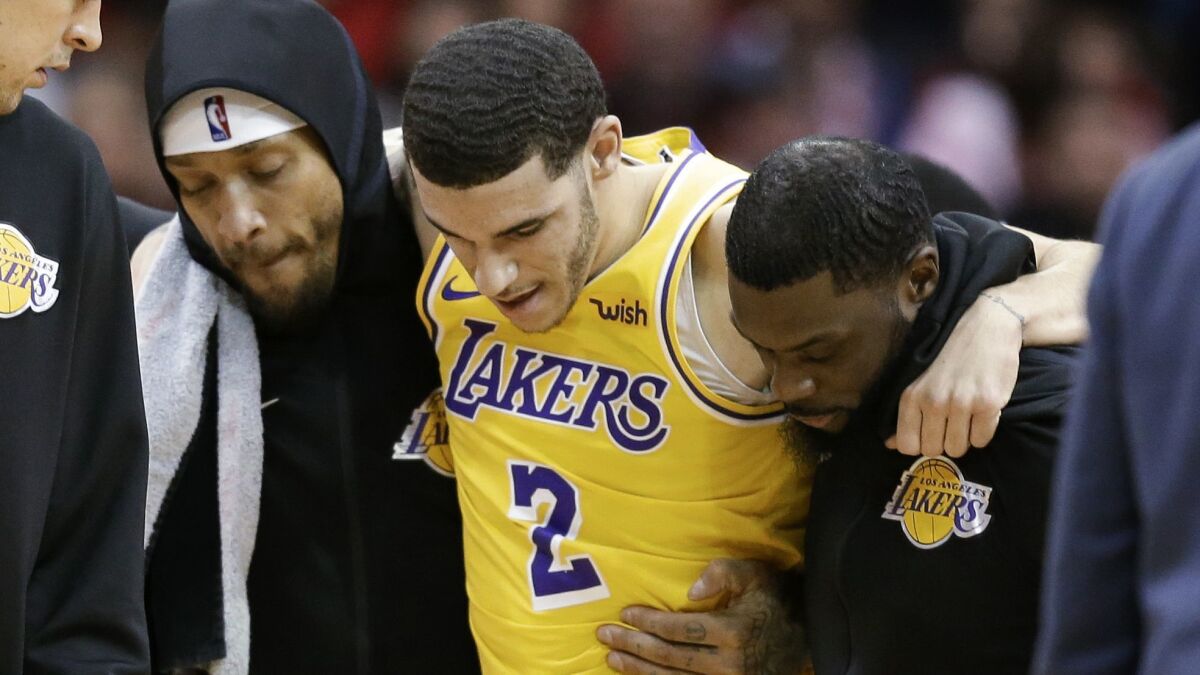 The Lakers' injury problems got worse Saturday afternoon, and an MRI on Sunday confirmed just how bad.
Lonzo Ball will be out until after the All-Star game on Feb. 17 as he recovers from a torn ligament in his left ankle. Ball's injury is not expected to require surgery, but the Lakers said he will be out four to six weeks.
"It's just another moment for us to get stronger," Lakers coach Luke Walton said. "Another moment for other people to continue to step up. Zo is really finding himself a nice rhythm. We'll miss that and the continuity but we'll keep our heads up and keep grinding."
Ball's injury adds to a spate of bad luck the Lakers have had with their ball handlers. Point guard Rajon Rondo has only played in 14 games this season, having missed 30 games due to injury and three due to suspension. The most impactful injury was a groin strain suffered by LeBron James on Dec. 25. He has not played since.
Rondo and James were expected to practice with the Lakers on Sunday, but the Lakers did not have an official practice after a late night in Houston.
In their absence, Ball's play had become critically important in facilitating the Lakers' offense.
Ball sprained his ankle in the third quarter of the Lakers' 138-134 overtime loss to the Rockets on Saturday. He collided with Houston's James Ennis and writhed on the floor in pain. Eventually, Lance Stephenson and Michael Beasley carried Ball off the court.
He was taken to a nearby hospital to have X-rays because the X-ray machine at Toyota Center was broken. That examination revealed no fractures.
Without him, the Lakers struggled.
"Everybody tried to do a job and just try to score the basketball," Brandon Ingram said. "And after a while we kinda settled down and tried to get what was best for our team."
Sign up for our Lakers newsletter »
The Rockets put together a 15-0 run in the third quarter to cut their once-21 point deficit to two.
"First of all, defense," Lakers center Ivica Zubac said when asked what the team missed without Ball. "He's our first line of defense for us. Him pressuring [James] Harden and all the other players was big. It was part of why we got up so big in the first half.
"When he went down it's hard to do it, hard to have someone do the stuff he was doing. It's tough and he was moving the ball with him, we were sharing. He was running the pick and roll perfect. He was finding open shooters. It's just tough without him, he's a great basketball player."
Ball left the game with eight points and 11 assist in 22 minutes.
Last season, Ball missed 30 games with knee and shoulder injuries. This offseason, the Lakers' front office challenged him to work on his durability. He had knee surgery over the summer, preventing him from working too much on his game, but he worked to increase his strength, especially in his upper body.
He set a goal of playing in all 82 games during his sophomore season.
Until now, he hadn't missed any games. He averaged 9.9 points, 5.3 rebounds and 5.4 assists per game this year.
"For Lonzo it's learning on the go," Walton said. "He hasn't had an offseason yet to work on his game. so he's learning while we're playing during the season and he's really done a nice job of turning a corner. We'll see where we're at, how long he's out for and hopefully get him up and running again and playing at the level he was playing at before he got hurt."
LAKERS
VS WARRIORS
When: 7:30 p.m. Monday.
On Air: TV – TNT; Radio – 1330, 710
Update: Former All Star center DeMarcus Cousins made his Warriors debut at Staples Center against the Clippers on Friday after missing 45 games while he recovered from a torn Achilles tendon. Cousins played 15 minutes and scored 14 points with three assists and six rebounds.
Follow Tania Ganguli on Twitter @taniaganguli
---
All things Lakers, all the time.
Get all the Lakers news you need in Dan Woike's weekly newsletter.
You may occasionally receive promotional content from the Los Angeles Times.