Five takeaways from the Lakers' 124-115 loss to the Houston Rockets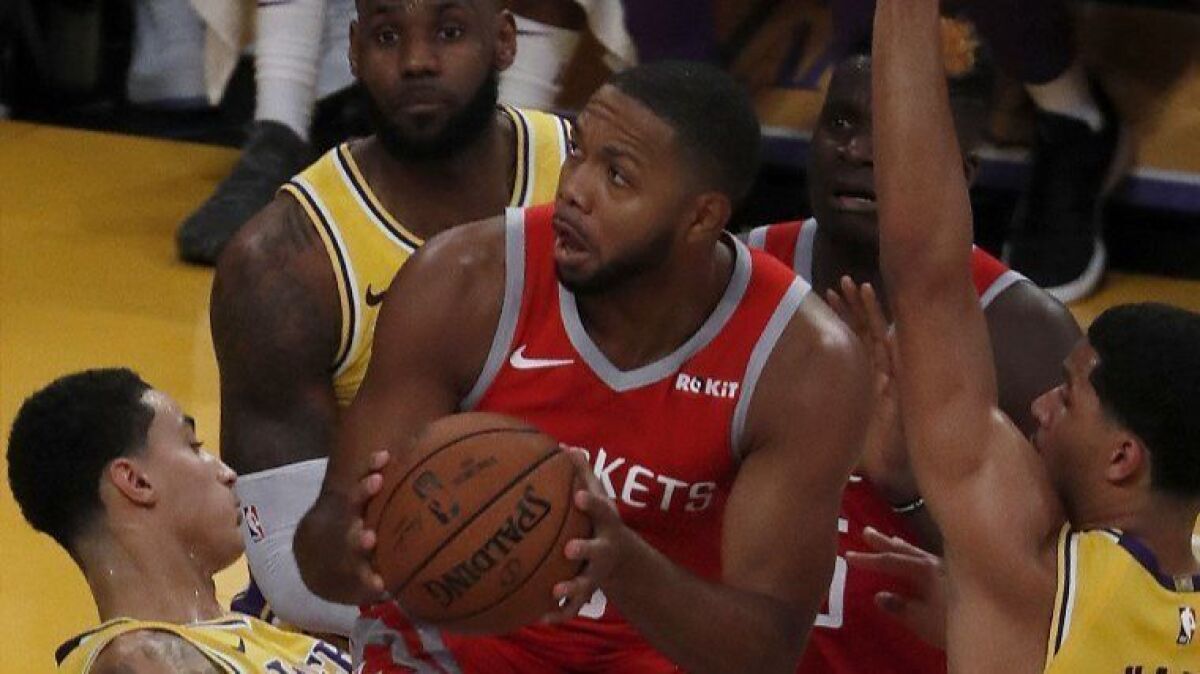 Five takeaways from the fight-marred game that the Lakers lost to the Houston Rockets.
1. Spitgate!
Both teams are taking their own player's side on whether or not Lakers guard Rajon Rondo spit in the face of Rockets guard Chris Paul, and both L.A. and Houston say they have video evidence to prove their claims.
Sources close to Rondo said the Lakers looked at the video of the incident that took place with four minutes, 13 seconds left in the fourth quarter five times and never saw him spit in the face of Paul.
The Rockets contend they have video evidence of Paul being spit on by Rondo and that's why Houston's point guard reacted so violently and put his finger in Rondo's face. Rondo responded by throwing a punch that connected with Paul's face. Paul threw punches at Rondo and then all hell broke loose.
The ESPN crew that televised the game Saturday night at Staples Center said Paul told them Rondo spit in his face. Rondo was adamant in telling the Lakers that he did not spit in Paul's face.
LeBron James, who is close friends with Paul, wrapped his arm around Paul and tried to be the peacemaker.
"I just tried to calm things down, that's all," James said after the Lakers lost 124-115 to the Rockets. "Play basketball."
Both Rondo and Paul were ejected from the game.
Kiki VanDeWeghe, the NBA's executive vice president of basketball operations, was at the game Saturday night sitting in the stands. He for sure will be handing out suspension soon to Rondo and Paul for their fight.
The Rockets play the Clippers tonight at Staples Center and the Lakers next play the San Antonio Spurs on Monday night at Staples Center.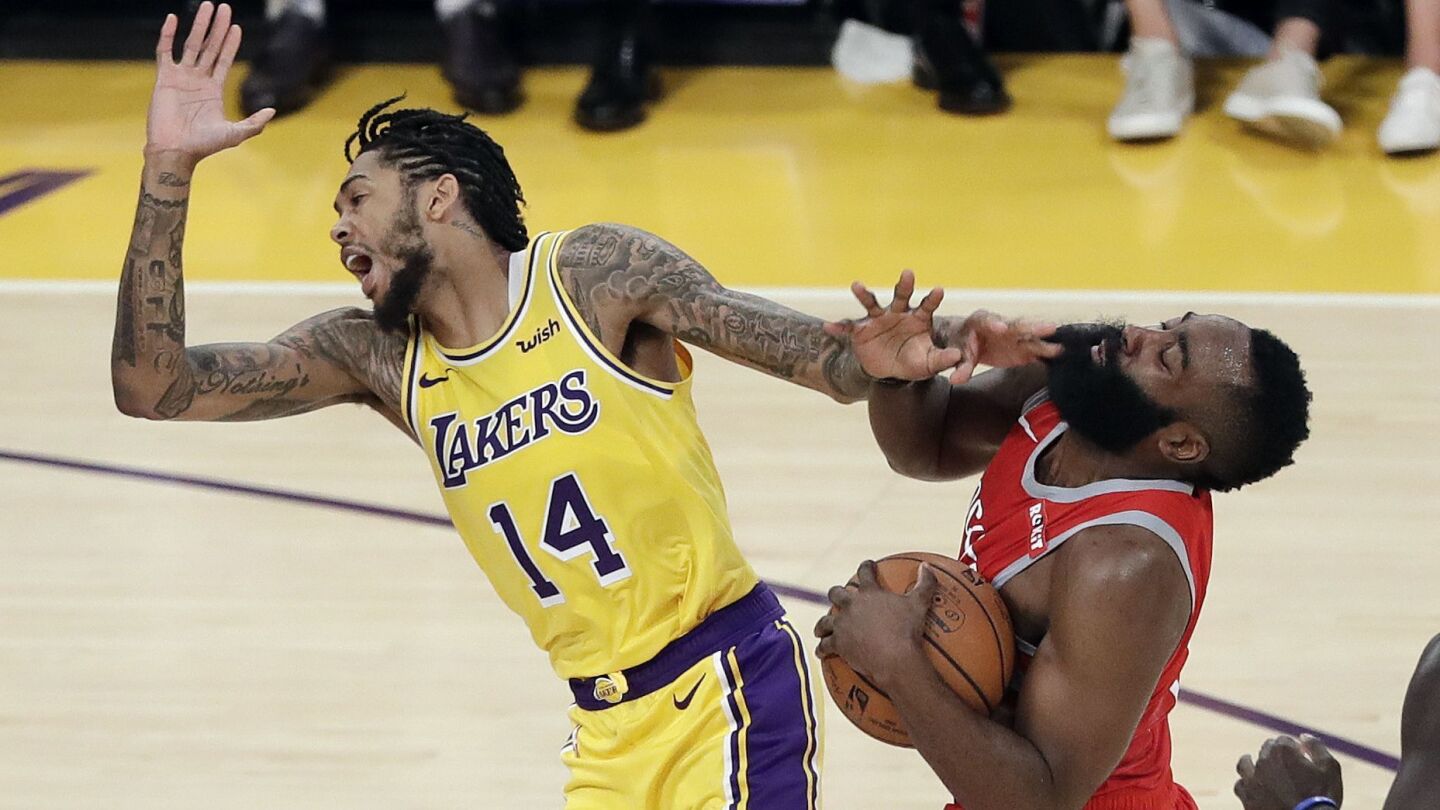 Rockets guard James Harden collides with Lakers forward Brandon Ingram, who was called for a foul on the play with 4 minutes left in the fourth quarter. That led to an exchange of words before Ingram shoved Harden, igniting a brawl.
(Marcio Jose Sanchez / Associated Press)
Lakers guard Lonzo Ball tries to separate teammate Brandon Ingram and Rockets forward Carmelo Anthony after Ingram ignited a brawl by shoving Rockets guard James Harden.
(Kevork Djansezian / Getty Images)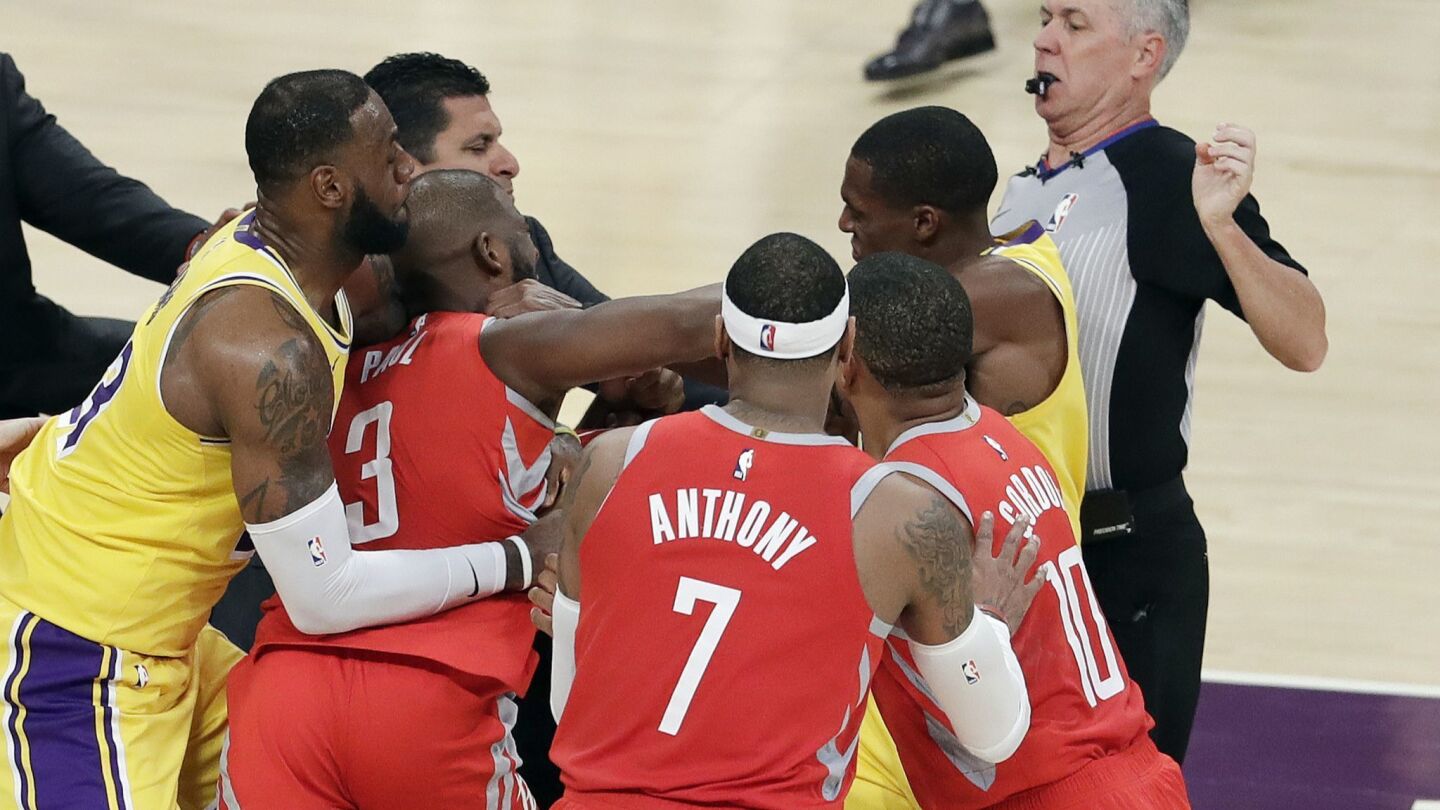 Rockets guard Chris Paul, second from left being restrained by Lakers forward LeBron James, trades punches with Lakers guard Rajon Rondo, who next to the referee. Rondo and Paul were both ejected.
(Marcio Jose Sanchez / Associated Press)
Players try to separate Chris Paul and Rajon Rondo after Paul appeared to poke Rondo in the face as they exchanged words.
(Marcio Jose Sanchez / Associated Press)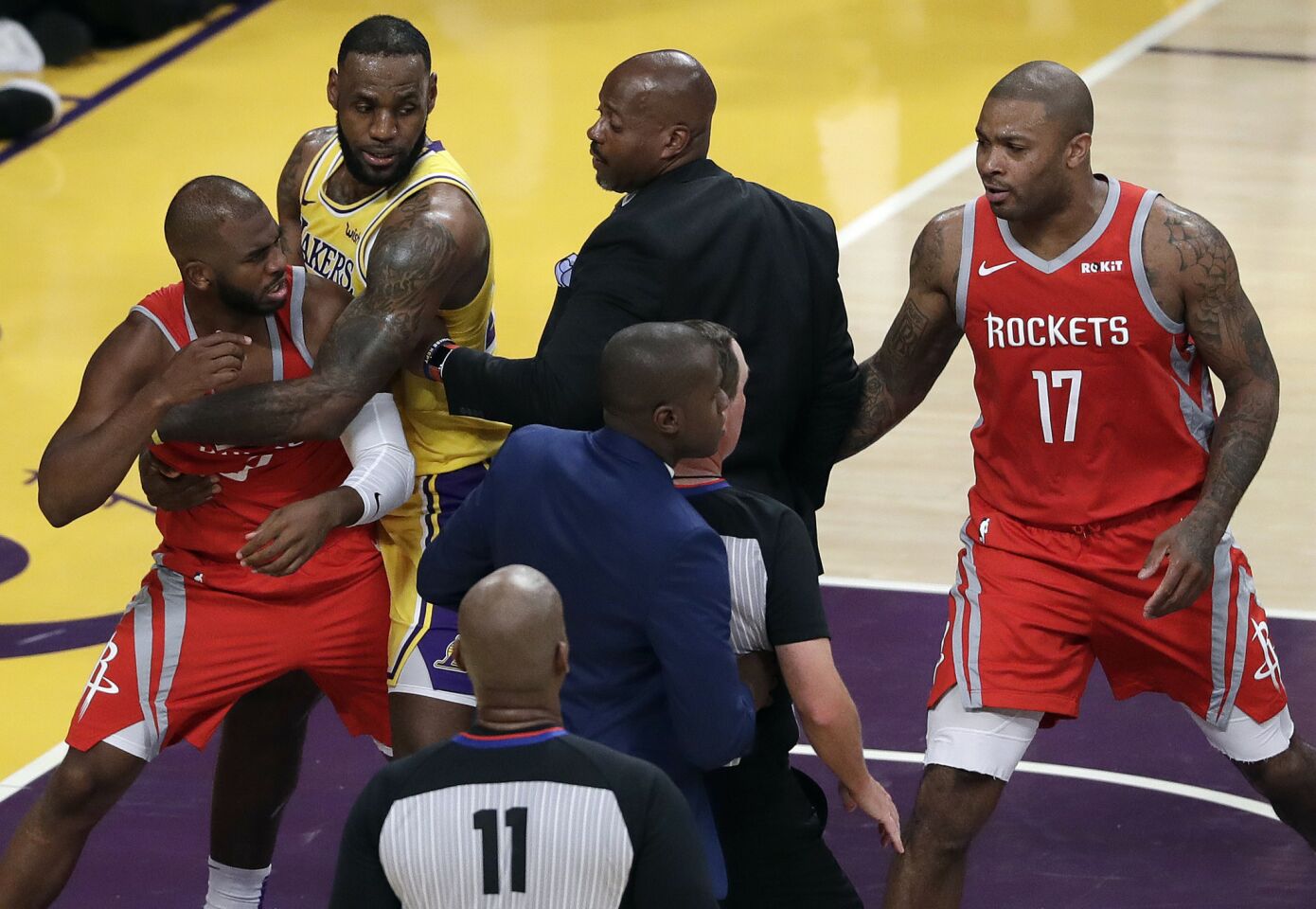 Rockets guard Chris Paul, left, is held back by Lakers forward LeBron James after Paul and Rockets guard Rajon Rondo (not pictured) exchanged punches.
(Marcio Jose Sanchez / Associated Press)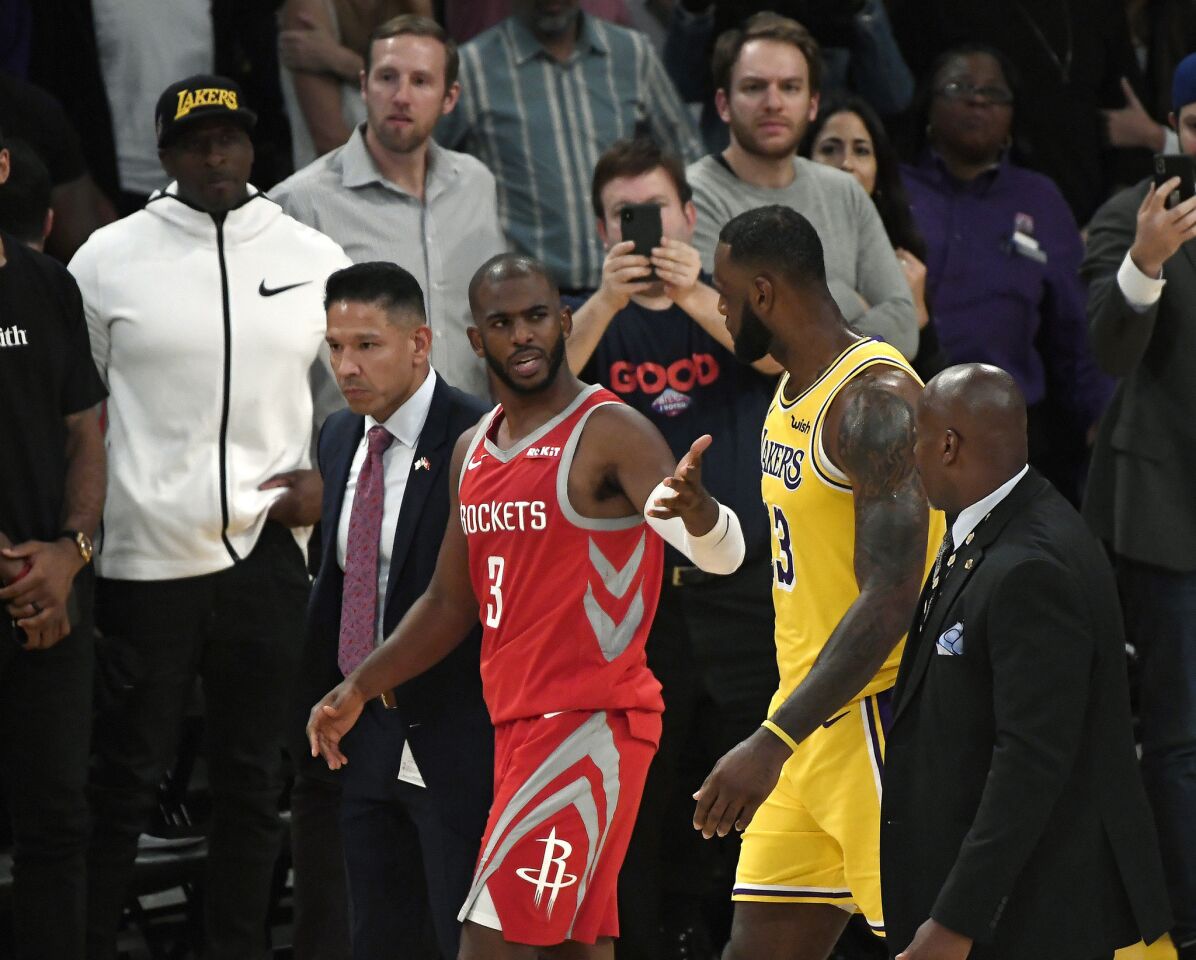 Lakers forward LeBron James talks to Rockets guard Chris Paul as he's escorted off the court after getting ejected for throwing punches.
(Kevork Djansezian / Getty Images)
2. As he was getting dressed late Saturday night after he had been ejected from the game, a much calmer Brandon Ingram walked over to James and the two shook hands.
Ingram had been involved in an earlier altercation in the fourth quarter. After he had been called for a foul on James Harden, Ingram pushed Harden in the back.
Still unhappy about the call, the 6-feet-9 Ingram then stood over and glared at referee Jason Phillips face-to-face. Ingram had to be pulled away by Lakers teammate Lance Stephenson. Ingram was hit with a technical foul for shoving Harden.
A few seconds later, while Rondo and Paul were mixing it up, Ingram ran in from half court and threw a punch at Paul.
Ingram was given two technical fouls and ejected from the game too. And, he's probably looking at the longest suspension of the group for escalating matters.
James, who has become a mentor to Ingram, supported his young teammate.
"I love BI and in my small time with him so far, I am with him throughout whatever," James said.
3. In his first regular season game at Staples Center, James was not at his best.
He had 24 points, but he was just nine-for-22 from the field, one-for-seven from three-point range. He was a minus-13 in the plus-minus category.
James did have five rebounds and five assists.
4. The Lakers were down 109-108 before things went crazy, before Ingram fouled Harden on a drive to the basket and subsequently pushed him in the back and before the fight broke out between Rondo and Paul.
But the Lakers were unable to stop the Rockets after things settled down and both teams resumed playing basketball.
Harden finished the game with 36 points and Paul had 28 points, 10 assists and seven rebounds.
Ingram had 12 points, Rondo 13 points and 10 assists and Lonzo Ball had 14 points.
"Listen, we had our chances tonight and we will take this opportunity tonight to go over things we could do more, did better, be frustrated at certain things we did, look back on things," James said. "But when you wake up tomorrow, it's a new day. It's a new opportunity and you leave things in the past and get on with the future. Tonight, whenever time guys go to bed, when they wake up tomorrow, they got a fresh mind and they can move on."
5. For the second straight game, the Lakers were horrible from the three-point line. They made just eight of their 32 three-pointers, for 25%.
Ingram missed his only three-pointer, James was one for seven, Kentavious Caldwell-Pope missed his three attempts, Rondo was one for two, Kyle Kuzma was one for five, Josh Hart was one for five, Ball was four-for-eight and Stephenson missed his only attempt.
"Miss some, make some," Kuzma said about his team's three-point shooting woes. "It's important to be confident and just keep shooting them."
---
All things Lakers, all the time.
Get all the Lakers news you need in Dan Woike's weekly newsletter.
You may occasionally receive promotional content from the Los Angeles Times.