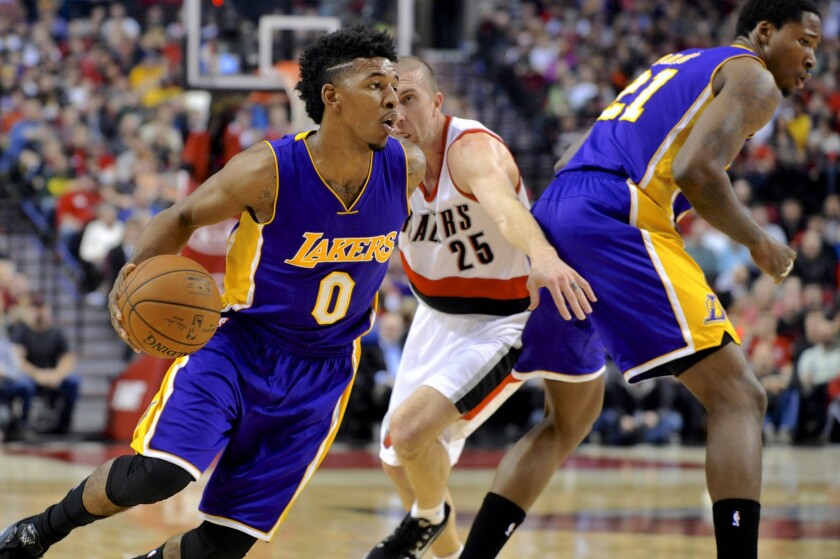 The last two months of the regular season used to mean something to the Lakers.
Jockeying for playoff position. Sunday afternoon games on ABC. Anticipation of playoff runs deep into May and June.
Now there's only a handful of games to care about: March 12 versus New York, then two against Philadelphia and two against Minnesota.
The Lakers' only battle left is the one for lottery balls.
They're doing a fine job of being bad enough to keep the top-five-protected pick they owe Phoenix for Steve Nash. The Lakers (13-40) are comfortably locked into the fourth-worst record at the All-Star break and within range of Philadelphia (12-41), Minnesota (11-42) and the Knicks (10-43).
With so many Lakers on one-year deals or in the last year of their contracts, here are the only players you need to study: Jordan Clarkson, Jahlil Okafor, Karl-Anthony Towns, Willie Cauley-Stein and Emmanuel Mudiay.
The Lakers already have Clarkson. They hope to land one of the other four.
Clarkson has been a revelation as last year's 46th overall pick, taking over starting point-guard duties a few weeks ago and thriving for the most part.
Now the Lakers' scouting department has to determine what can help them the most in the NBA draft: the gifted-on-offense Okafor (at Duke), the still-evolving two-way game of Towns (Kentucky), the defensive presence of Cauley-Stein (Kentucky) or the mainly unknown Mudiay, who didn't go to college and hasn't played in months. The first three are big men, a desperate need of the Lakers, and Mudiay is a point guard, perhaps not a necessity if Clarkson keeps improving.
Between now and April 15, Tax Day for all Americans and Relief Day for all Lakers fans as the regular season ends, there isn't much else to mark.
There's the trade deadline next Thursday, but it figures to be atypically quiet for the Lakers, especially without the annual Pau Gasol rumors.
Nick Young is next to untradable with his 36.5% shooting accuracy this season and three more years and $16.3 million on his contract.
Jordan Hill has a cap-friendly contract because his player option next season can be declined by an acquiring team, but he's been sidelined by a hip flexor, return date TBA.
Besides, there's the all-important question, almost rhetorical at this point: Do the Lakers really want to get better for their final 29 games?
So they'll muddle around with Clarkson, some journeymen, rookie Tarik Black, Robert Sacre, two well-known discards from other teams who haven't rekindled their careers, Ryan Kelly, and even more journeymen.
The Lakers just set a franchise record with an 11th consecutive road loss. The worst winning percentage of their 67-year history is a simple formality of the calendar. (If they go 8-21 the rest of the way, they finish below the .264 winning percentage of the 19-53 team in 1957-58.)
Young tried his best to sound optimistic about a team that's lost 15 of its last 16 games. There's not much else to do.
"We've got a lot of guys that are free agents, so I know they are going to be going all-out. People are going to be trying to show their worth," he said. "I know we ain't going to give up. I know we're going to continue to keep going. We'll just see what happens. I think we all need a break and get our minds back right."
Twitter: @Mike_Bresnahan
Times staff writer Broderick Turner contributed to this report.
---