Lakers keep firing from long range, often without success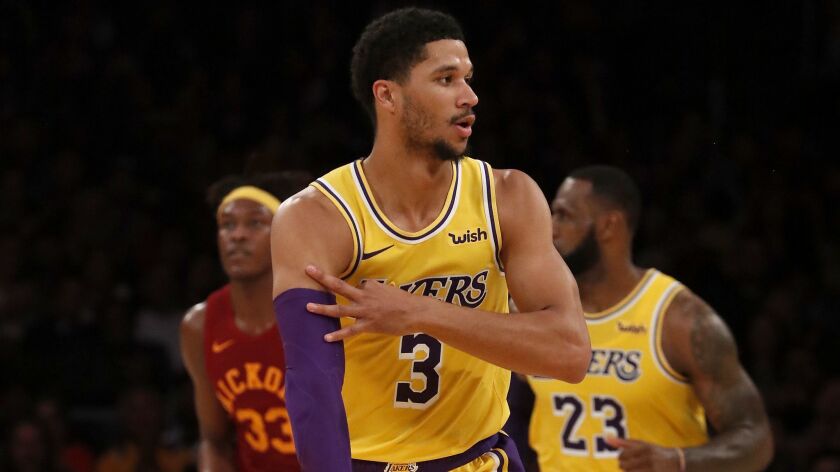 The Lakers clearly were an up-and-down three-point shooting team Thursday night, good for some moments and just awful for others.
That did not stop them from launching shots from long distance and missing — and then finding a way to make two key three-pointers that propelled them to a 104-96 victory over the Indiana Pacers at Staples Center.
An early 24-point lead turned into a three-point Lakers deficit in the third quarter, putting them in a tense situation.
Undaunted by his team's missed three-pointers, LeBron James pulled up for a 26-foot three-point attempt and made it to give the Lakers a 92-88 lead with 4:35 to play and prompting the Pacers to call a timeout.
A few plays later, Kentavious Caldwell-Pope drilled a three-pointer after taking a pass from James, making the score 98-88 and leading to another Pacers timeout with 3:22 left.
After the game, Lakers coach Luke Walton was asked what constitutes a good three-point attempt for his team.
"We like to penetrate the paint," he said. "We get in there and we kick it out to a three-point shooter, we'll take it, from any of our three-point shooters.
"There are some guys that changes. If it's KCP [Caldwell-Pope] and he's coming off a double screen and he's open and the ball hasn't gotten in the paint, then we want him taking that shot. But for the most part, we want to penetrate the defense and/or move the ball to one side to the other first before taking that three."
The Lakers missed 17 of 24 three-point attempts.
They made three of their first five, then missed 10 in a row.
James made a three-pointer with 4:02 left in the third quarter to break the string and give the Lakers a 71-69 lead.
Josh Hart hit a three-pointer with 2:31 left in the third quarter for a 77-71 Lakers lead.
But the Lakers then went back to their missing ways.
James, who made two of seven shots from beyond the arc, missed a three-pointer later in the third quarter.
Kyle Kuzma, who made one of five three-point shots, missed a three-pointer just before the end of the third quarter.
James and Lonzo Ball, who missed all three of his three-point shots, missed from beyond the arc early in the fourth quarter.
Perhaps it should not be a surprise that the Lakers miss so many three-pointers.
Before Thursday night, they had made 34.7% of their three-point shots to rank 21st in the NBA.
They made only five of 35 shots from long distance in a loss at Denver.
But, Walton said, if they get the penetration he wants, the Lakers can be a good three-point shooting team.
"You can never get enough of it," Walton said of penetrating and breaking down the defense before taking three-point shots. "In a perfect world, every three we took would be like that. But I think we've done a much better job of that right now than we did earlier in the season, as far as not just settling for threes.
"We're trying to move the defense, make them make multiple decisions and then if they stay collapsed ... a lot of teams want to sit in our paint and concede three-point shots to us. So we want to take them. We just want that movement and penetration first."
Twitter: @BA_Turner
---
All things Lakers, all the time.
Get all the Lakers news you need in Tania Ganguli's weekly newsletter.
You may occasionally receive promotional content from the Los Angeles Times.