Paul George sees Lakers at their worst, dropping eighth straight in biggest loss of season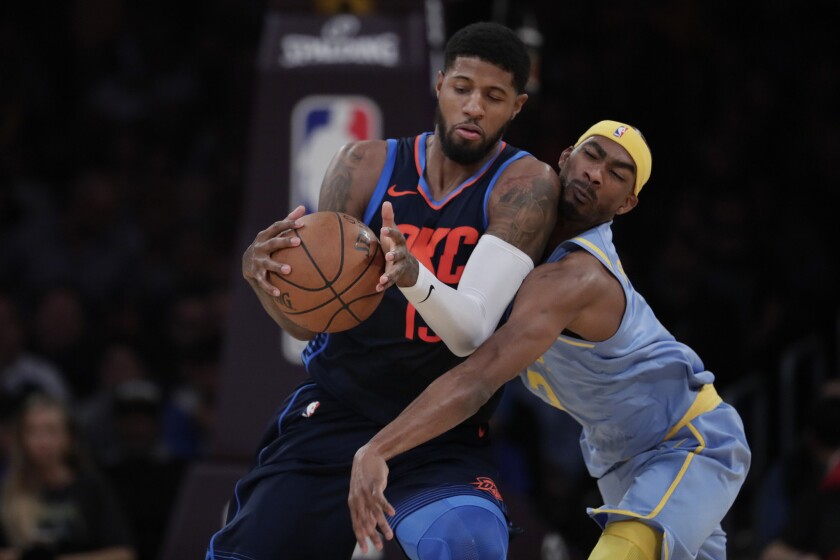 On Wednesday morning, minutes before Paul George denied any tampering occurred between him and the Lakers, before he talked about the hurt feelings that arose in Indiana over his telling the organization he wanted to play for the Lakers, and before he shared what it meant to him to have a relationship with Kobe Bryant, Russell Westbrook offered his plan to keep George in Oklahoma City.
"Sales pitch is gonna be when we win a championship," Westbrook said. "Beat that pitch."
On Wednesday night, Westbrook's team offered a different kind of pitch — one that undercuts the competition.
The Lakers, who would like to sign George this summer, suffered their worst loss of the season at the hands of George's current team. It was the Lakers' eighth consecutive defeat, and came despite a 10-0 run to start the game. After a series of close losses to some of the league's elite teams, the dam broke in a 133-96 loss at Staples Center.
George scored 24 points in 27 minutes, Carmelo Anthony scored 21 in 27, Russell Westbrook added 20 points with 12 assists, and Terrance Ferguson scored a career-high 24 points, 12 of them in the fourth quarter.
Kyle Kuzma scored 18 points for the Lakers and Kentavious Caldwell-Pope added 12, but starters Brandon Ingram, Julius Randle and Tyler Ennis did not reach double figures. The Lakers played without rookie point guard Lonzo Ball, who has a shoulder injury.
"I'm going to have to look at the tape to figure out why we completely stopped competing out there," coach Luke Walton said.
The game was ugly for the Lakers, but the backdrop was louder.
As the Thunder ran onto the court, George's teammates teased him about all the talk about the Lakers. Lakers fans cheered heartily (maybe wishfully) for George during pre-game introductions. His agent, Aaron Mintz sat courtside for a few moments, mingling with season-ticket holder Sean Jackson, who wore a customized Lakers No. 13 jersey that said "George" on the back. (Jackson also has a customized Lakers jersey that says "James" on the back.)
"It was awesome," George said. "For one, just being home, being in front of friends, family, and then just the respect, the love, the recruitment. It was awesome. It was awesome to get that love."
The saga between George and the Lakers began in April of last year when Magic Johnson, the team's president of basketball operations, made a joke about interacting with George during a late-night talk show. The NBA warned the team about tampering after the show aired.
It kicked off in earnest in the summer when Mintz told the Pacers that George planned to sign with the Lakers as a free agent in the summer of 2018. The Pacers set to work trying to trade George so as not to lose him for nothing, but they resisted sending him to his preferred destination.
"Front office is gonna do what's best for them," George said Wednesday morning, with a shrug. "I wanted to do what was best for me. It wasn't like I was pinpointing, telling them they had to trade me there. It was just a preference, I wanted to go. I wanted to come home. Simple as that.
"Both sides could've done a better job of communication and going forward and taking steps to where we were both comfortable getting what we wanted to get out of it."
And not long after George was still telling friends he wanted to play for the Lakers, the Pacers traded him to Oklahoma City for Victor Oladipo and Domatas Sabonis.
The Pacers eventually filed tampering charges against the Lakers. On August 31, the NBA fined the Lakers $500,000 for tampering, its largest tampering fine ever. The league's release said the fine stemmed from evidence of an improper conversation between Lakers general manager Rob Pelinka and Mintz.
George revealed Wednesday the Pacers were also upset about his relationship with Lakers associate head coach Brian Shaw. Shaw and George grew close when George played in Indiana. Both the league and the Lakers declined to say whether Shaw had any improper contact with George, but George denied it.
"The Pacers thought there was more depth of him trying to recruit me, which it wasn't," George said. "The only thing me and B-Shaw ever spoke about was fishing and challenging each other on fishing trips. B-Shaw has way, way, way better class than to try to recruit me."
Being back in Southern California always feels good to George. He had a gathering Tuesday night with his parents, family and friends — the people who always come see him when he's in town — at a home he owns locally.
Most of his acquaintances here know better than to ask for tickets to Lakers games, he said.
"I always want to play good at home," George said. "I always want to play good in front of this crowd here, in front of this fan base. Because it's more than just fans here. It's family, it's friends. So yeah, I always want to play my best when I come to L.A."
His team certainly joined him in that effort Wednesday night.
Follow Tania Ganguli on Twitter @taniaganguli
---
All things Lakers, all the time.
Get all the Lakers news you need in Tania Ganguli's weekly newsletter.
You may occasionally receive promotional content from the Los Angeles Times.