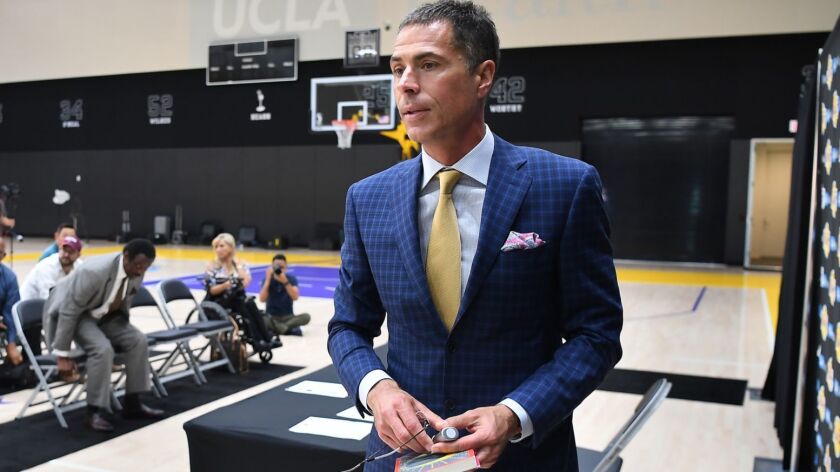 An unemployed coach would rather stay unemployed than work for the Lakers.
Think about that. Think about how that speaks to the depths of dysfunction in the Lakers basketball operation. Think about how that screams of the leadership void under Jeanie Buss.
Tyronn Lue was the Lakers' only choice, and they were his only option, and yet at the last minute, with the Lakers on bended knee, Lue pulled his hand back from their ring and spun on his heels and sprinted away with a giant sigh of relief.
Let that sink in. Marinate in the idea that Lakerland is becoming a wasteland. Soak in the notion that Showtime is turning toxic. Say hello to the Los Angeles Knicks.
When he suddenly and swiftly departed the organization last month with all the dignity of a man fleeing a burning building, maybe Magic Johnson knew exactly was he was doing.
While sources from both sides claimed this week's breakup with Lue was their idea, all the posturing around Wednesday's news could not change the reality of a wooing gone terribly wrong.
The Lakers wanted to hire Lue to placate LeBron James, who won a championship with him in Cleveland. The Lakers wanted him so much, they made him an offer. Lue was so excited by the opportunity, he celebrated his 42nd birthday last week with a cake adorned with the Lakers logo.
It seemed like a done deal. The news conference was expected to occur any day now. But, much to Lue's surprise, when the offer actually appeared, it was for three years and $18 million, much smaller than the modern NBA coaching standard of five years and around $25 million. Those bigger contracts were recently given to Monty Williams by the Phoenix Suns and Luke Walton by the Sacramento Kings. Considering Lue had beaten out Williams for the Lakers job and was replacing Walton, he was surely thinking, seriously?
Then it got stranger. As part of the offer, the Lakers demanded that Lue give them input on choosing his coaching staff, something that, combined with the length of his contract, would have completely undermined his bench authority and locker-room credibility.
No championship coach would take that deal. Sure enough, news broke Wednesday that Lue had turned them down. Almost immediately, folks familiar with the Lakers' thinking claimed that, no, they turned Lue down because they realized he wouldn't be a good fit for the organization. But the Lakers' story makes no sense.
You drop to that knee and pull out that diamond and then suddenly change your mind? That's too crazy to happen even with some boozy couple on the giant video board in the fourth inning at Dodger Stadium.
The Lakers wanted Lue or they wouldn't have offered him a deal in the first place. And they couldn't close that deal. And whether or not you agreed with the Lue hiring — it was written here because of their troubling dependence on James, he was their only viable option — it is hard to stomach the way they lost him.
Sign up for our daily sports newsletter »
It wasn't because they're cheap, because they're not. It appears they wanted to keep the contract at three years because that is the length of James' remaining deal. The thinking was, when James leaves, Lue would leave, all nice and tidy. But why not just give Lue two more years and see what happens? Why box him in as James' personal coach before he even starts? It was a bad misjudgment by a front office that used to handle these things well.
When Jerry Buss was alive, when the Lakers wanted someone, anyone, for any job, they got him. Under Jim Buss, their magnetic pull no longer worked for free agents. Now, under Jeanie Buss, they can't even hire an out-of-work coach?
In Rob Pelinka's first test as the full-time basketball boss, he flunked, and it continues to be a source of undying amazement that he has that job. In Buss and shadow owner Linda Rambis' biggest test since Buss captured the throne a couple of years ago, they flunked, and doesn't Buss realize she is greatly eroding a city's trust? In Kurt Rambis' biggest decision since retiring as a player…wait a minute, what is Kurt Rambis even doing in the room?
Even if Lue is truly not the right person for this job, and even if it was sad statement that the Lakers had to bow to James and pursue him, the way the Lakers handled the actual pursuit is a bad omen for their immediate future.
How do you think this chaos looks to any of the potential free agents that the Lakers desperately need to attract this summer? Stars are no longer signing with just basketball teams; they are seeking solid business partnerships, and who wants to partner with a franchise that can't even do the easy things right?
And how do think this is all sitting with LeBron James? We'll probably have to wait for another episode of "The Shop'' to find out, but his future here now doesn't look great.
Sources close to the Lakers are telling folks that Lue was not a good long-term fit for the organization. That means they will be hiring a new coach who will be expected to outlast James. This means this new guy might not fit with James, which could mean one of two things both messy and monumental.
One, the Lakers could be in for at least two more years of whispering and whining and coach-questioning by James and his camp, and just ask Walton how that will go.
Or, two, James will have to be traded, an idea that is suddenly not as crazy as it sounds. James didn't completely invest in the team this season when he was seemingly happy, so the idea of him spending the rest of his time here in a bad mood is untenable.
In all, the failure to close the deal for Lue may cost the Lakers the services of arguably the greatest player ever, and that makes this potentially one of the darkest and most confusing moments in franchise history.
At this point, the best path to the light is to find somebody else that James respects and try to salvage his stay here. Somebody like, well, Tyronn Lue.
At least they are casting a wider net this time, and the new set of candidates is said to include names like Frank Vogel, Mike Woodson, Lionel Hollins, Juwan Howard, and — big gulp here — Jason Kidd.
Good luck to everyone. Heaven help you all.
Get more of Bill Plaschke's work and follow him on Twitter @BillPlaschke
---