Lakers veterans have become an afterthought in rebuilding season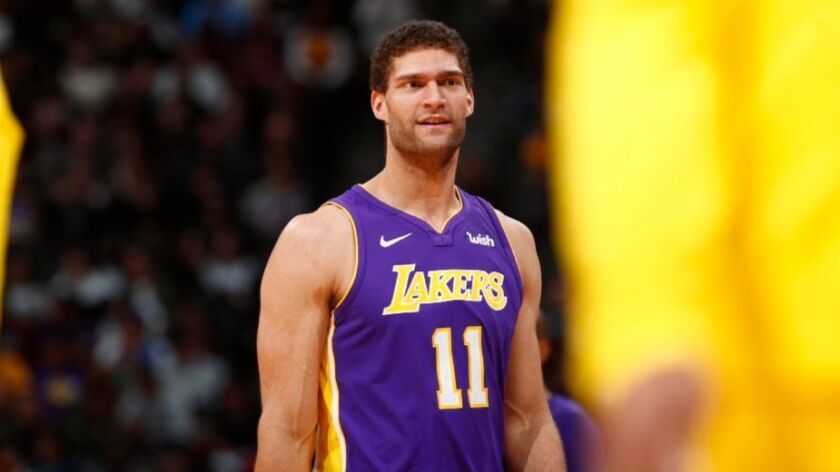 Reporting from NEW YORK —
About 15 hours removed from a game that frustrated him so much he put a towel over his head to hide his emotions while sitting on the bench, Brook Lopez had adjusted his attitude back to that of affable 7-footer. Having rushed out of the locker room to avoid addressing reporters Wednesday night, Lopez smiled apologetically Thursday afternoon at Barclays Center.
He was asked about his lack of playing time in the fourth quarters of games.
"It's different for me," Lopez said, pleasantly. "It's an adjustment. We definitely have a surplus of talent I think in the frontcourt. We can go with a lot of different lineups, it's definitely a blessing. Obviously everyone can't be on the floor at the same time. I understand that."
In the last two seasons, through leadership changes and efforts to clear salary-cap space, the Lakers have paid a lot of money to veterans who didn't fit with their plans on the basketball court or their youth movement.
Brooklyn is a place important to that narrative. This is where Timofey Mozgov now plays, after the Lakers traded him and the three years remaining on his $16-million-a-year contract he signed in 2016. That trade netted them Lopez, to whom they are paying $22 million in the final year of his contract.
Lopez will play his first game at Barclays Center as a member of the opposing team on Friday, when Luol Deng, to whom the Lakers are paying $18 million a year with two years left on his contract after this season, will try to find a way to occupy himself while inactive for the 50th time this season.
"For players it's hard for us, most of the time, to plead our case because people [say] look at what they got," Deng said.
Almost exactly a year ago, the Lakers made clear that Deng and Mozgov weren't part of their future. They both began last season as Lakers starters but weren't producing on the court. On Feb. 6, Lakers coach Luke Walton benched both players in favor of Brandon Ingram at small forward and Tarik Black at center.
By the end of the month their playing time ended altogether.
Deng thinks the disconnect was a matter of fit for him, Mozgov and Lopez.
"I think here as with Mozzy and myself, [for] Brook it's different than when he was at Brooklyn," Deng said. "They drafted him and they would go through him. Here it's different. We go through pretty much the young guys and they made that pretty clear. For him it's gonna be frustrating because he's so used to the system going through him."
The Lakers moved Mozgov's contract to Brooklyn last summer, in a trade that also sent point guard D'Angelo Russell there. But they couldn't trade Deng. He entered the season expecting a renewed focus on winning would mean a bigger role for him. But that didn't materialize and Deng has been inactive since the second game of the season.
The chances that the Lakers will be able to trade Deng this season are low, and the chances he will negotiate a buyout are lower. But he is optimistic this will be his last season with the Lakers.
"It just doesn't make sense," Deng said of the idea that he would remain with the Lakers longer. "… I hate to go into it but it really doesn't make sense. … At the end of the day if that's what it is, they're going to play out the contract, then that's what it is. But that doesn't make sense."
Lopez is still starting for the Lakers, but he's rarely finishing games. He played less than 10 fourth-quarter minutes in the month of January and he sat for the entirety of 16 of the last 18 fourth quarters.
Wednesday's game was one of those. Afterward, Lopez waved off reporters. On Thursday, Lopez said he takes some time to cool off after losses because they frustrate him. He insisted it wasn't about his own playing time.
He was curt in Chicago, a game the Lakers won, but it was another day Lopez did not play at all in the fourth quarter. Walton had a conversation with Lopez that day to address his lack of playing time late in games.
"Today's NBA it is more of a challenge," Walton said of Lopez's minutes. "And I think he would be fine at it, I just know that Julius [Randle] is very good at that small ball switching, which a lot of games turn into in the final five minutes. Larry [Nance] has been really good this month as well with that stuff. So it is not that Brook can't do it."
Lopez has more freedom than Deng and Mozgov. The 29-year-old will become a free agent this summer, which in part is why he was acquired by the Lakers. His expiring contract will clear salary-cap space and give them the ability to sign a player to a maximum contract this summer.
When asked whether he'd asked his agent to negotiate a buyout, Lopez laughed and said he didn't even know how that worked.
"I realize my value, not just monetary value," Lopez said. "… I'm confident in what I can bring to the table for a team and I can help a team win regardless of value. I realize I'm in a contract year, but I'm not super concerned about it."
Just like Deng and Mozgov before him, Lopez hasn't been in a situation that so diverges from his past. At least for now, and when he's had some time to collect his emotions, Lopez puts a happy face on his situation. Walton said he was one of the best players in practice on Thursday.
"I absolutely enjoy playing with the young guys," Lopez said. "I think I can teach them a lot and help them get experience."
The NBA officially announced that Nance will join Indiana All-Star Victor Oladipo, 2016 runner-up Aaron Gordon of Orlando and Dennis Smith Jr. of Dallas in the slam dunk competition during All-Star weekend.
LAKERS AT BROOKLYN NETS
When: Friday, 4:30 p.m. PST.
On the air: TV: Spectrum SportsNet, Spectrum Deportes; Radio: 710, 1330.
Update: Nets point guard D'Angelo Russell missed half of November, all of December and most of January because of a knee injury that required surgery. He had his best game since returning on Wednesday, scoring 22 points in a win over the Philadelphia 76ers.
Follow Tania Ganguli on Twitter @taniaganguli
---
All things Lakers, all the time.
Get all the Lakers news you need in Dan Woike's weekly newsletter.
You may occasionally receive promotional content from the Los Angeles Times.