Lakers' Kyle Kuzma addresses trade rumors; LeBron James listed as out against Clippers on Thursday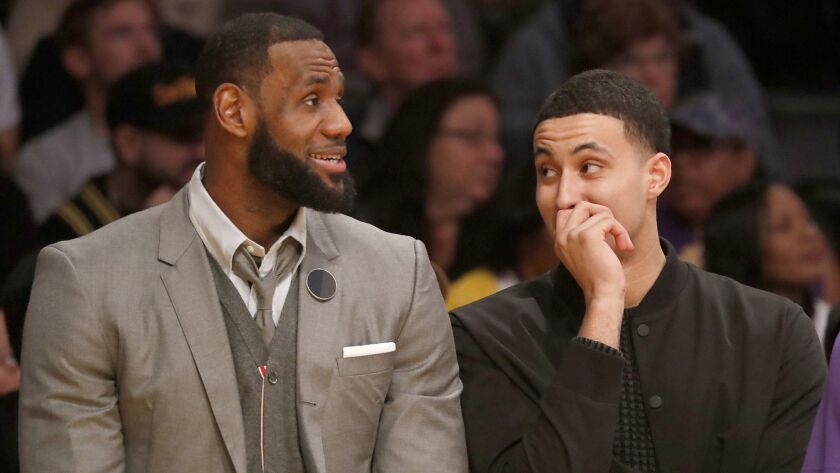 Kyle Kuzma smiled along with the challenge he dealt a crowd of reporters gathered around him.
Trade rumors about the young guys last year? For whom?
A few names were mentioned and Kuzma showed surprise, until one person noted that Larry Nance Jr., now in his fourth year, and Jordan Clarkson, now in his fifth year, were traded at the trade deadline last season.
"Larry and JC," Kuzma confirmed, cheekily. "Not the young guys. Those guys are old."
On Wednesday after practice, Kuzma became the next young Lakers player to be asked about trade rumors and what it felt like as the Lakers continued their process of trying to acquire five-time All Star Anthony Davis from the New Orleans Pelicans. Kuzma, who has been dealing with a hip strain, practiced and felt better than he had since suffering the injury, which he said feels like a "stabbing" pain in his hip.
LeBron James practiced fully and seemed to be making progress.
"He did everything we had on the schedule and he looked good," Walton said. "He looked good two days ago in practice too. So we'll see how he feels tomorrow and we'll take it from there. We'll keep prepping as if he's not going to play and hope that he's healthy enough to play."
The Lakers listed James as out for Thursday's game against the Clippers, but stipulated that could change. It would be his 18th missed game because of a strained groin he suffered on Dec. 25. Josh Hart and Kuzma are questionable for Thursday's game, while Lonzo Ball remains out because of a severe ankle sprain.
When practice ended, James shot some free throws before leaving the Lakers' practice courts. Kuzma, who could play on Thursday after sitting out two games because of the injury, shared what it was like to be part of trade rumors.
"It's always a good thing when you hear trade rumors," Kuzma said. "That's what everybody always says. It means you have value, and it means potentially you gonna be in this league a long time, people want you. For us, it's all about controlling what you can control, because at the end of the day, it's a business. You can't control your destiny in this league, but you can control your work ethic and how great you wanna be. You can be great anywhere."
In the last three seasons, the Lakers' "young core" has turned over dramatically — often through trades. D'Angelo Russell, who was part of Nance's draft class, was sent to Brooklyn via trade. Nance and Clarkson were members of the young core at one point. Julius Randle was allowed to leave in free agency this summer, and he now plays for the Pelicans. The longest-tenured home-grown players left on the Lakers' roster are Brandon Ingram and Ivica Zubac, who were drafted in 2016.
Sign up for our Lakers newsletter »
Trade rumors have been a staple for Lakers young players for years now, but because of that turnover, their young, tradable players are fairly new to the conversation.
On Monday they were thrust into the world of trade rumors in dramatic fashion. Davis' agent Rich Paul revealed that Davis had requested a trade from the Pelicans. The Lakers mobilized, armed with the knowledge that it would take most of their young players to make such a deal happen.
The Pelicans are interested in Ball, Kuzma, Ingram and Zubac — four players drafted by the Lakers in the last three seasons. While Ball's camp has some reservations about his role in New Orleans, the Pelicans are very high on the second-year point guard.
Trade rumors can be difficult for some players who might begin to wonder about their value to the team willing to trade them. James, who has never been subject to trade rumors himself, was asked about the subject in December when rumors about Kentavious Caldwell-Pope surfaced.
"If you get traded, that don't mean your paycheck stops," James said. "So, it doesn't matter. You're still going to be in the NBA. You just continue to get better and better."
It's along the lines of how Kuzma sees it. He insists, too, that when the news broke of Davis' trade demand, it didn't concern him.
"Could really care less, honestly," Kuzma said. "Just control what you can control. Play basketball anywhere."
Follow Tania Ganguli on Twitter @taniaganguli
---
All things Lakers, all the time.
Get all the Lakers news you need in Dan Woike's weekly newsletter.
You may occasionally receive promotional content from the Los Angeles Times.