Column: On a night when Lakers fans should celebrate LeBron James' feat, it feels awfully gloomy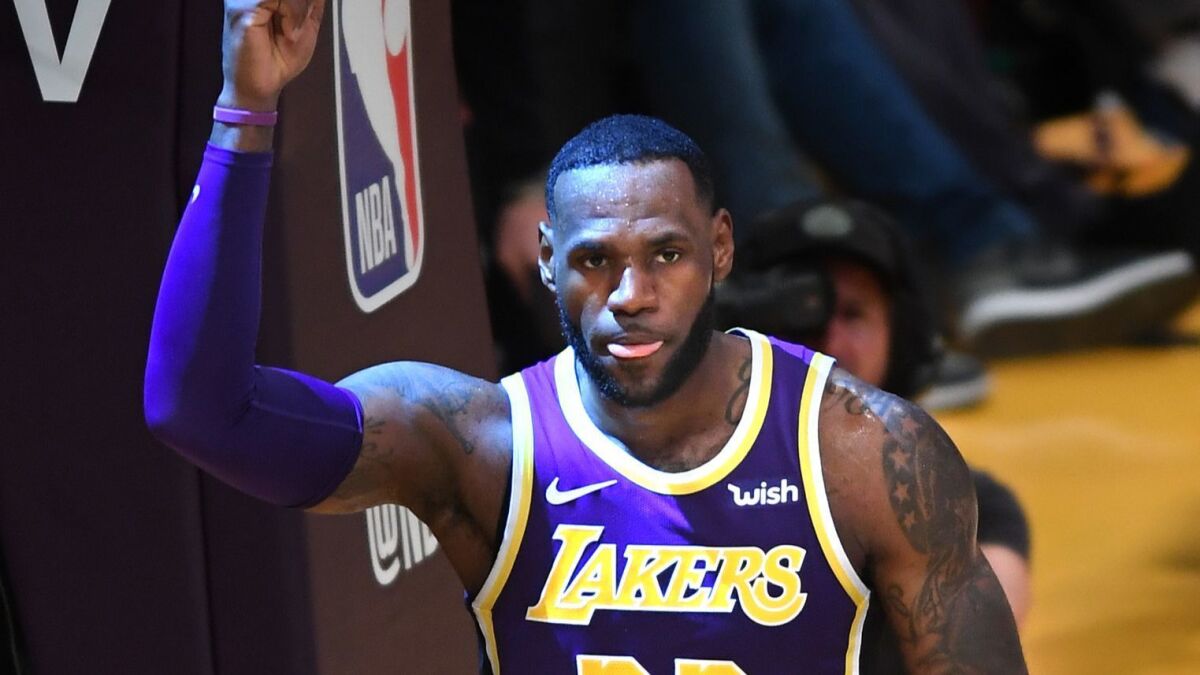 They cheered him, but only after booing him.
They stood, but not all of them, and not immediately, and not for long.
He surely heard them, but never acknowledged them.
LeBron James passed Michael Jordan to move into fourth place on the NBA's all-time scoring list Wednesday night, leaping over the legend in a monumental accomplishment that felt like an enormous dud.
Epitomizing this embarrassment of a season, the history-rich Lakers couldn't even enjoy making history.
It wasn't the franchise's fault. The Lakers did everything they could to make it a special moment. The NBA wouldn't let them stop the game immediately, so at the first stoppage of play after James' layup against the Denver Nuggets with 5 minutes 38 seconds to play in the second quarter gave him 32,294 points — two more than Jordan — an attempted celebration ensued.
The scoreboard displayed a video. Lawrence Tanter boomed an announcement. The timeout gave everyone time to soak it in.
But nobody soaked. Everyone just sort of stared. James sat on the bench with a towel over his eyes, seemingly in tears, three seats between him and anyone else, starkly alone. The fans stood and cheered, but it was mostly politely, and somewhat uncertainly, as if they were applauding an impromptu speech given by a distant uncle at an acquaintance's wedding.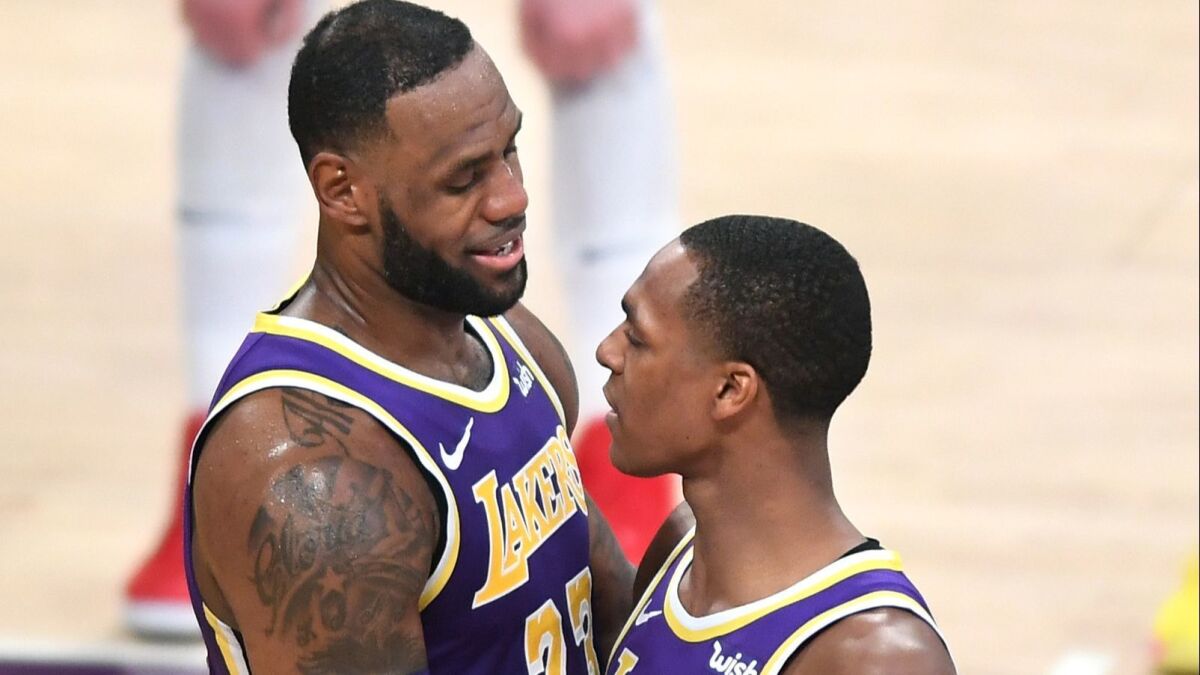 James was never given the game ball. The fans were never given any indication that James even knew they were there. Once play resumed, any thoughts of the milestone disappeared while a sullen truth was once again revealed.
Even six months into his first season as a Laker, James isn't yet a Laker. The fans don't consider him family. His team doesn't consider him their leader. His lack of physical and emotional investment in the basketball portion of his great Los Angeles adventure is paying the sad dividends of a man who, on the court, appears very much distant and alone.
This truth was obvious Wednesday not only in the weird environment, but on that colorful scoreboard, where nearly all of his highlights were accomplished in the uniforms of the Cleveland Cavaliers and Miami Heat.
Sign up for our daily sports newsletter »
His records are not Lakers records. His greatness is not yet Lakers greatness. He may have scored more points than Jordan, but he is going to fail to lead his first Lakers team even into the playoffs, and that's all that matters to this town.
He has been a big hit in Hollywood, but the Lakers aren't Hollywood, they are Olympic and Figueroa. Their fan base is not this town's glitz, they are its heart, and that heart has rarely been more hurting than it has been at the end of a season that began with such optimism and is ending with such gloom.
This night, which concluded with the Lakers losing for the 14th time in 19 games in a 115-99 defeat to the Nuggets, began with fans booing James as he missed four first-quarter free throws. He missed them without a make, equaling the worst free-throwing shooting in one quarter in his career.
The only surprise about the booing was that it was not a surprise. James was individually booed for the first time Monday in a Lakers loss to the Clippers. He surely will be booed again. While his stat line remains strong, his failure to play defense, make free throws and display any sort of leadership has drawn the public's ire.
It was several years before most fans dared boo Shaquille O'Neal or Kobe Bryant, but they will not cut James the same slack. From his initial decision to forgo an introductory news conference last summer to his Culver City prank pizza tweet to his pregame announcements of movie releases in the middle of playoff pushes, he has never really reached out to the fans, and now they are holding him accountable for the Lakers' failure.
On probably the most unusual milestone night in Lakers history, so much felt different, so much was lost.
This passing of Jordan should have been another brick in the foundation of a local debate that James is the greatest player ever. Instead, because James scored less than 5% of his points as a Laker, it's a debate that works better in Cleveland. In fact, considering James' lack of impact here, it would have made more sense if James had passed Jordan while still in Cleveland.
James is also now, quite reasonably, three more seasons from becoming the league's all-time leading scorer. But even with this monumental history looming, Lakers fans are focused on a different, more uncomfortable milestone.
At his current rate, James will easily pass Bryant next season for third place on the all-time list — with 32,311 points, he's 1,332 points behind, and he has averaged 2,042 points in the previous three seasons.
On the night he passes Bryant, if the Lakers are still struggling, can you imagine how conflicted fans will be? If it happens in Staples Center, Bryant would show up and who do you think would get the most cheers? At this rate, James should probably plan on doing it on the road. Interestingly, the NBA allowed the game to be stopped when Bryant passed Jordan in 2014 in Minneapolis.
Maybe the saddest part of Wednesday is that this really meant a lot to James, and he wasn't able to share it with anybody.
Before the game, he tweeted, "Can't even front. This is going to be UNREAL!! Wow man."
Then, before entering the game, he wrote Jordan's name on his shoes.
After scoring the Jordan-jumping points, James' feelings were on display when he sat on the bench hiding his eyes in that towel.
"It was very emotional, very emotional, lot of things going on inside me at that point in time," James said. "At the same time, I didn't want to show what was going on behind that towel."
You could hear that same emotion afterward when he talked about modeling his career after Jordan.
"For a kid from Akron, Ohio, that needed inspiration and needed some type of positive influence, MJ was the guy for me," James said. "I watched him from afar, I wanted to be like MJ. … I wanted people to look at me at some point like MJ. It's crazy, to be honest, it's beyond crazy."
On a night when James' career point total surpassed Jordan's, it felt as if Lakers history was made by a visiting player without a team, and that is indeed beyond crazy.
Get more of Bill Plaschke's work and follow him on Twitter @BillPlaschke
All things Lakers, all the time.
Get all the Lakers news you need in Dan Woike's weekly newsletter.
You may occasionally receive promotional content from the Los Angeles Times.