Kobe Bryant says recovery is 'coming slowly'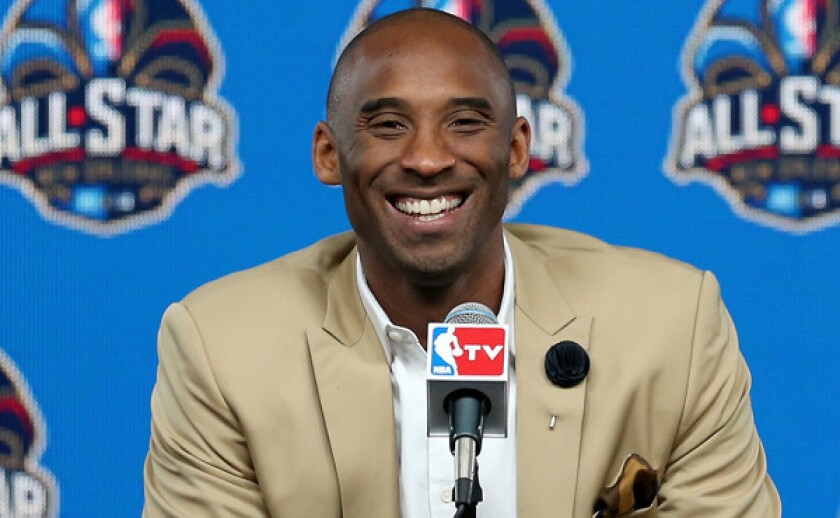 NEW ORLEANS — Kobe Bryant cheerfully answered questions about his new line of shoes, a possible visit to India and his preference for old-school dunk contest rules.
His joviality didn't quite carry over to the update on his injured left knee.
The Lakers guard said before the All-Star game Sunday that his recovery was "coming slowly" and did not provide a timetable for a possible return from the injury that has sidelined him since Dec. 17.
"I'm optimistic coming out of the break that I will have some improvements once I get back to L.A. and do a couple [of] follow-ups and then go from there," Bryant said. "But it's been a slow process."
It was the second time Bryant, whose 16 All-Star selections are most among active players, has been unable to play in the midseason showcase because of injuries. He also sat out in 2010.
Bryant said he remained hopeful to return this season after having played in only six games because of the injured knee and a ruptured Achilles' tendon that delayed his season debut until December.
"I am," he said. "I just need to keep my blinders on and just focus on getting better myself and going from there."
Bryant acknowledged having doubts about the possibility of his body giving out at age 35 after logging 54,208 minutes including the playoffs.
"Of course. Absolutely," he said. "That's part of the excitement of the challenge, that level of uncertainty. 'Is this it' sort of thing, are my best days behind me sort of thing. And to have those conversations with yourself and not be intimidated by that and not be succumbing to that is part of the challenge."
It's been a lost season for Bryant on multiple fronts. The Lakers (18-35) are on pace to miss the playoffs for the first time since the 2004-05 season, the last time they finished with a losing record. It took the franchise three years to get back to the Finals.
Bryant, who signed a two-year, $48.5-million extension in November, said he was optimistic the Lakers could reverse their fortunes while he was still on their roster.
"What we have coming up this off-season with the cap space and what we have ahead of ourselves seems to be right in the Lakers' wheelhouse in terms of turning things around pretty quickly," he said, referring to his team's ability to add a maximum-salaried star and another midlevel player. "We have had summers like this, they have never really faltered, they have normally made really sound and excellent decisions that put us right back in contention."
Bryant said he did not envision announcing his retirement plans to trigger a season-long farewell tour.
"I don't really want the rocking chair before the game," he said. "It would drive me crazy. But I'll probably just pop up and just vanish."
Before he does, Bryant said he would like to participate in the three-point contest as part of All-Star weekend in 2015.
"Marco [Belinelli] won with shooting five airballs," Bryant said. "I might not win, but I won't shoot five airballs in the three-point contest, I don't think. But we'll see."
Twitter: @latbbolch
---
All things Lakers, all the time.
Get all the Lakers news you need in Dan Woike's weekly newsletter.
You may occasionally receive promotional content from the Los Angeles Times.