While waiting for Dwight Howard, Lakers play jumbled basketball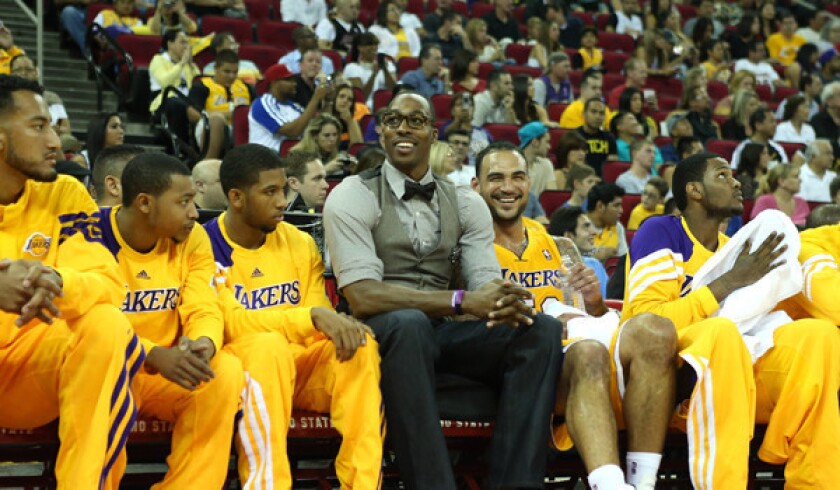 For a team with the highest of expectations, the Lakers have looked a jumbled mess so far this preseason.
By nearly every measure, the franchise has been outplayed through their five winless exhibition games.
Whether it's the partial institution of the Princeton offense, Coach Mike Brown experimenting with his roster, or simply the absence of All-Star center Dwight Howard, the Lakers are the only team in the league without a preseason victory.
Offensively, the Lakers have shot 39.4% from the field and 32.9% from three-point range. They're on the wrong side of the numbers in rebounding, assists, steals, blocked shots, turnovers, personal fouls and points. The only positive is slightly better free-throw shooting at 74.8% compared to their opponents' 74.3%.
That's simply not a winning formula.
A motion offense often comes with a learning curve. The Lakers seem tentative and unsure. The team has no cohesion, no flow. Simply put, the Lakers are not ready for the regular season.
So is it time to start moving the franchise down from elite to middle of the pack?
No, but there's certainly some cause for concern.
Given that Howard has yet to log a minute, the Lakers haven't shown their true colors. The three-time defensive player of the year also happens to be one of the best pick-and-roll finishers of his generation (paired with arguably the best pick-and-roll playmaker in Steve Nash).
Jordan Hill has been sidelined with a back injury but is on track to return soon as well.
The Lakers will be a much better regular-season team, but the Princeton offense hybrid will take some time for the players to learn and flourish in.
The bench is still mediocre at best, but it has improved over last season's group. If the Lakers can stay healthy this year, they may very well be the best team in the Western Conference.
Today ... they're just looking to get on the board.
ALSO:
Lakers waive Ronnie Aguilar, Reeves Nelson
Pau Gasol winning over fans, one tweet at a time
---