Lakers: Week in review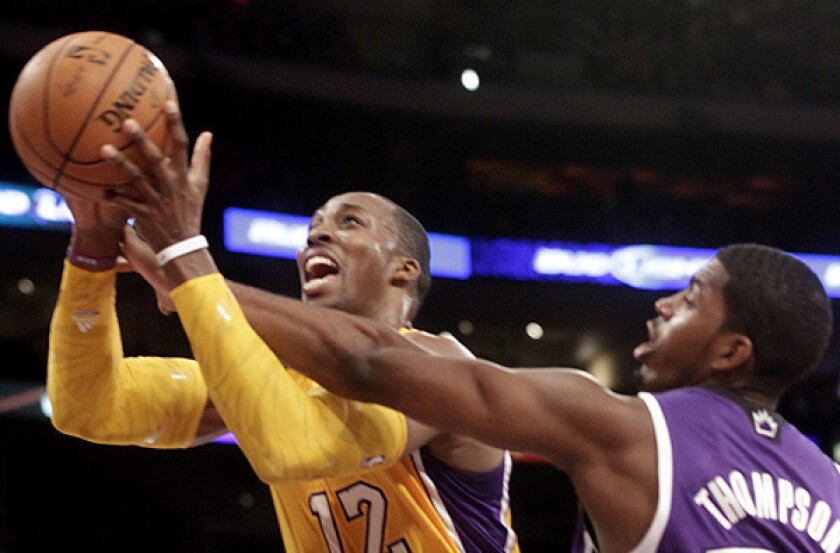 Before the Lakers regular season begins on Tuesday night, time for a quick review of the previous week's entries:
The team lost in Dwight Howard's debut against the Sacramento Kings, but showed some true potential by both the naked eye and the numbers.
Howard's first game with the Lakers would be marred by a foot injury to Kobe Bryant. Bryant would sit out the team's final two exhibition games and all ensuing practices.
Despite a poor showing by his team through seven preseason losses (eventually eight), Coach Mike Brown took some time to explain why he believes his Princeton offense hybrid is worth the investment, despite the learning curve.
TNT's Charles Barkley and Shaquille O'Neal voiced that they don't care for Brown's system. Magic Johnson and Jeff Van Gundy, of ESPN/ABC, were less dogmatic but were still unsure the Lakers would make it to the NBA Finals.
A poll of NBA general managers predicted the Lakers would advance to the finals but lose to the Miami Heat.
Over the weekend, the Oklahoma City Thunder traded James Harden, which may help the Lakers emerge from the Western Conference.
After losing all eight preseason games, the team's statistics were dismal but there were some positive signs for the future. Kobe Bryant and Dwight Howard put up strong numbers. Reserve guard Jodie Meeks shot well from three-point range but struggled tremendously from inside of the arc.
Jordan Hill, who suffered a back injury in the first preseason game, returned to action but found himself a bit behind in the offense.
Meanwhile, Time Warner Cable made distribution deals with Charter, Verizon and AT&T;, although DirecTV, Dish and Cox Cable customers are still without TWC SportsNet and TWC Deportes. Additionally, former Laker Kurt Rambis will join the broadcast for select games.
Chris Douglas-Roberts first clarified his stance on Italian pasta before getting waived by the Lakers. The items were unrelated. The team also cut Greg Somogyi.
The Lakers are required by the NBA to submit their opening-night rosters midday Monday. The team has 13 players under guaranteed contracts, which put three players on the bubble. Andrew Goudelock was the first casualty, waived Saturday.
It would seem Robert Sacre, who may earn rotation minutes, and Darius Johnson-Odom (still a project), will make it to the regular season. Neither has a guaranteed contract but Sacre played well in Howard's absence.
Finally, the question remains, "Will Kobe Bryant be ready for the Lakers' season opener?"
You can email Eric Pincus at eric.pincus@gmail.com and follow him on Twitter @EricPincus.
ALSO:
Three Lakers waiting to make the cut
Lakers coming to Charter, FiOS
The good, the bad and the ugly for the Lakers in exhibition games
---
All things Lakers, all the time.
Get all the Lakers news you need in Dan Woike's weekly newsletter.
You may occasionally receive promotional content from the Los Angeles Times.