Lakers lose second-round draft pick in random tiebreaker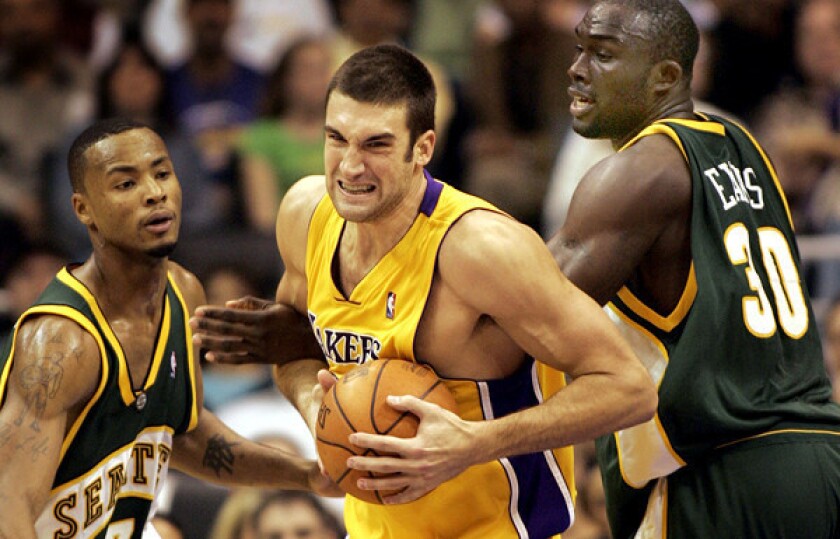 By virtue of the Clippers' winning a random tiebreaker over the Memphis Grizzlies on Friday, the Lakers will not receive the Grizzlies' 2013 second-round pick in the NBA draft.
Dating to the Chris Mihm trade in 2009, the Lakers expected to receive Memphis' second-round selection as long as it landed in the 56-60 range.
The Clippers and Grizzlies finished with the same 56-26 record this season. The league used a random drawing to determine which team would pick higher in the first round. The Clippers were awarded the 25th pick, the Grizzlies the 26th. Memphis, in turn, gets the higher pick in the second-round at No. 55 while the Clippers get No. 56.
That incremental change was enough to trigger the Grizzlies' top-55 protection on the pick.
Had the drawing gone to Memphis, they would have had the higher first-round choice along with the 56th pick, which would then go to the Lakers.
Instead, any obligation from the Grizzlies to the Lakers related to the Mihm trade has been removed.
Additionally, the Lakers' first-round pick will go to the Cleveland Cavaliers as part of the Ramon Sessions trade. In return, the Lakers will reroute the Miami Heat's first-round pick from Cleveland to the Phoenix Suns as part of the Steve Nash deal.
The Lakers also received a second-round pick from the Denver Nuggets in the 2011 Chukwudiebere Maduabum trade, but that too goes to the Suns for Nash.
The Lakers do have the 48th pick in the June 27 NBA draft -- their own in the second round.
Technically the Dallas Mavericks have the rights to swap positions with the Lakers in the second round from the Lamar Odom trade. Given Dallas has the 44th pick, it would seem unlikely the Mavericks exercise that option.
The Lakers do have their own first-round pick in 2014. Their 2014 second-round selection will go to the Minnesota Timberwolves through the Suns via the Steve Nash and Wesley Johnson trades.
ALSO:
Lakers are given long odds to win the NBA championship
Steve Nash, Jordan Hill return to practice -- Hill 'out' for Spurs series
Metta World Peace, brother Daniel Artest at odds over Lakers, Spurs
Email Eric Pincus at eric.pincus@gmail.com and follow him on Twitter @EricPincus.
---
All things Lakers, all the time.
Get all the Lakers news you need in Dan Woike's weekly newsletter.
You may occasionally receive promotional content from the Los Angeles Times.