Steve Nash trying to figure out 'what kind of player I am now'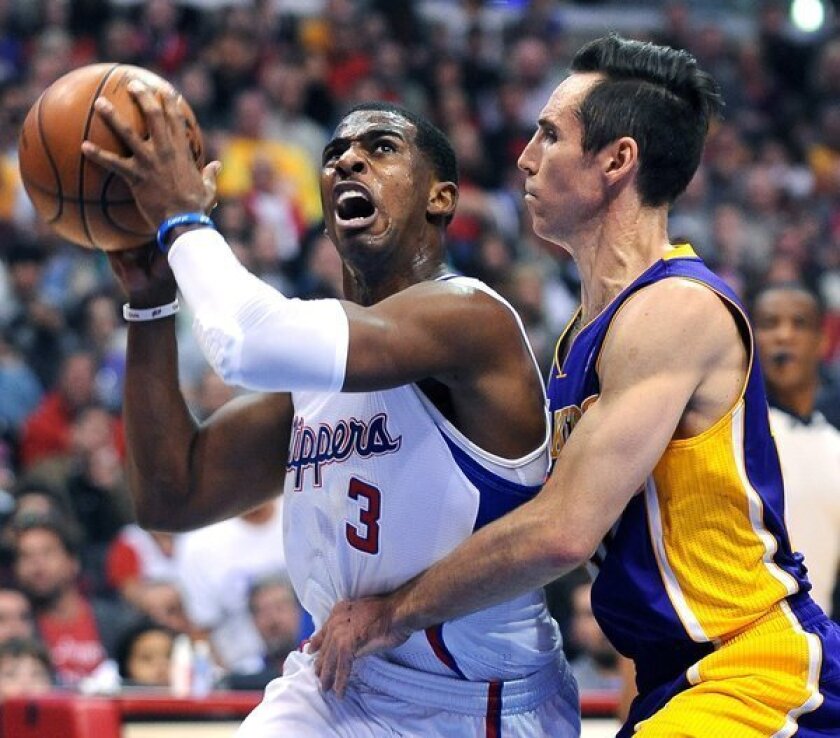 At 39 years old, how much does Steve Nash have left to offer?
After an injury-ridden debut season with the Lakers, the veteran point guard isn't entirely sure.
"We'll see. I've got to go out and find what kind of player I am now," he said after practice Wednesday. "Even I'm still trying to figure out, after all the injuries and everything."
Nash broke his leg in the second game of the season. Hip, hamstring and back problems lingered, eventually knocking him out of action again late in the year.
Off-season rehab has gotten him back to health, but he said he still doesn't quite feel like he did a few years ago.
"It's been a difficult 12 months of injuries and stuff," he said. "[I'm] a little bit [limited] but not necessarily anything that I can't overcome."
Nash missed 32 games overall, averaging 12.7 points with 6.7 assists per game. He still shot the ball exceptionally well at 49.7% from the field, 43.8% from three-point range and 92.2% from the line.
By the time the Lakers hit the playoffs against the San Antonio Spurs, Nash barely had anything to offer before shutting it down completely.
Through two preseason games this past week, Nash has looked more to pass than to score -- tallying just four total points and 11 assists.
"I'd like for him to shoot more but that's also a product of the team," said Coach Mike D'Antoni. "We're just moving the ball around right now."
Nash is also trying to get used to playing basketball again after taking the summer off, which has been his custom throughout most of his career. Instead, he played soccer, worked on his conditioning and rehabbed his injuries.
"I've played two basketball games since [May], if you count the two playoff games where I limped around. It's been a while," Nash said. "It takes time to get your rhythm and timing and kind of feel confident and comfortable out there."
The Lakers hope to get a strong year out of Nash. To help make sure he doesn't overextend himself, the team brought back Jordan Farmar. Along with Steve Blake, the Lakers have three capable, veteran point guards.
Coming into last season with Dwight Howard and Nash added to the team, the Lakers were thought by many to be title contenders. A year later, with Kobe Bryant rehabbing a devastating Achilles' tear and Howard in Houston with the Rockets, the season may be more about chasing a playoff spot than a championship.
If Nash can recapture some of his youth with a strong, healthy season, the Lakers may exceed expectations.
ALSO:
Are the Lakers better than the Denver Nuggets?
Lakers waive centers Dan Gadzuric, Eric Boateng
Mike D'Antoni impressed by chemistry of Pau Gasol and Chris Kaman
Email Eric Pincus at eric.pincus@gmail.com and follow him on Twitter @EricPincus.
---
All things Lakers, all the time.
Get all the Lakers news you need in Dan Woike's weekly newsletter.
You may occasionally receive promotional content from the Los Angeles Times.