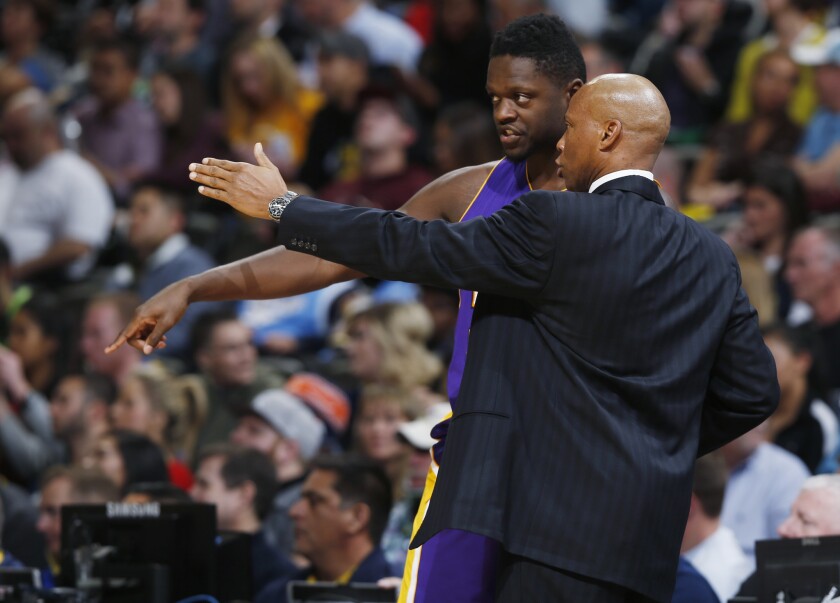 Sacramento —
Byron Scott has a "great" relationship with Julius Randle, the Lakers coach said Thursday.
Even though Scott told reporters earlier this week that Randle was acting immature and needed to grow up, Scott said he and the young power forward get along just fine.
"If you want to believe all the reports out there, then obviously, if you read them, then we've got a terrible relationship," Scott said. "But if you want to know the truth, we've got a great relationship. He knows that at times, as I've told him, because I care about him so much as a basketball player and as a person, I'm going to be hard on him. And I expect him to be disappointed in certain things.
"But I expect him to learn and I expect him to be a great player in this league. That's what it's all about. All the popular [opinions] on me being not a great communicator with my young guys, him and I got a great relationship. D'Angelo [Russell] as well. That's all I'll say about it. We'll leave it at that."
Scott's relationship with Russell was "absolutely" like a father and son.
"The thing that I told him is that he's probably never had adversity in his life on a basketball court because he's been so good everywhere he's been," Scott said. "This is the first time that he's had to face it. I told him, 'You're going to have to deal with it. And the way you deal with it is going to determine how great you're going to be as a basketball player.' "
Earlier this week, Scott said he didn't like the way Randle reacted when getting removed from games. Randle pouted on the bench after getting taken out of last Sunday's 97-77 victory over Phoenix.
"He's got to grow up. Simple as that," Scott said Monday. "I chalk it up to immaturity and just being inexperienced in this level. It's going to happen again. I'm going to take him out of other games that he's not going to like."
Randle couldn't immediately be reached for comment Thursday.
Randle chafed when removed from the starting lineup a month ago and said last Sunday he didn't enjoy being singled out by Scott for his poor defense after the Lakers beat Phoenix.
Russell, like Randle, was also irritated last month when Scott demoted him to reserve status. But Russell has played better than Randle in recent weeks.
Scott poked at Russell's youth Thursday when asked if the 19-year-old would return to the lineup against Sacramento after missing Tuesday's game against Golden State because of a sore throat.
"No relapse, besides just still playing young and dumb," Scott said jokingly. "Nah, he's fine. He had a lot more of a pep in his step this morning than the usual D'Angelo that I'd seen. Wanted to make bets and tell jokes and all that good stuff. So he's back to normal."
Twitter: @Mike_Bresnahan
---