D-Fenders ready for season with five former Lakers on roster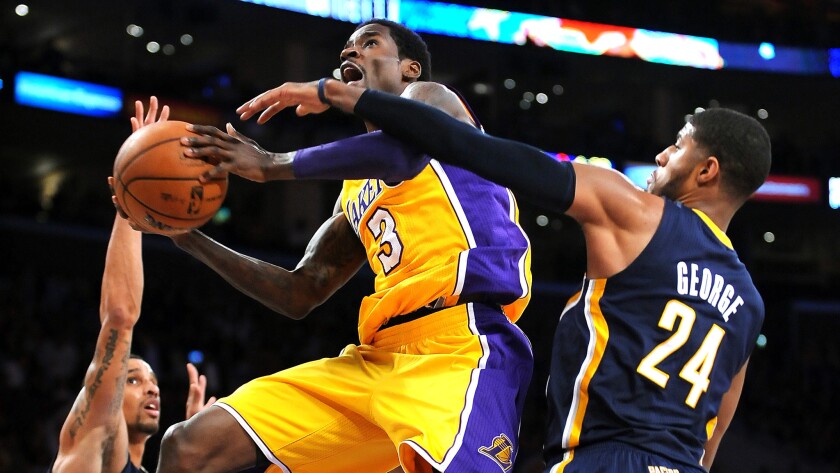 The D-Fenders held their annual media day on Tuesday in preparation for the 2015-16 season, which will open Friday night in Reno against the Bighorns.
This year's squad features five former Lakers, including guards Manny Harris and Vander Blue, who were midseason call-ups by the Lakers; and center Robert Upshaw and guard Michael Frazier, who both went through the preseason with the team last month.
The fifth is forward Malcolm Thomas, who briefly went through training camp with the Lakers in the lockout-shortened preseason of 2011. He has since played for five NBA teams, including 17 games with the Philadelphia 76ers last year.
"We've got a lot of good guys," said Blue. "Me, Manny, Robert, [point guard] Josh Magette. We're loaded. We've got great vets like [guard Andre Ingram] coming back [and] Malcolm. We just need to put it together."
See the most-read stories in Sports this hour >>
The team is coached by Casey Owens, who served as an assistant with the D-Fenders under Bob MacKinnon during the 2013-14 campaign.
"Casey is good. He's about business, but he's also a player's coach," said Harris. "He stays on me about defense."
Owens says his aim is to help each player improve, be it for an NBA call-up or an overseas opportunity.
"My goal is to get these guys into a better place than they are right now," said Owens. "We want to be able to show them off on both sides of the ball, because these guys are scouted every night."
The difficulty in coaching a D-League franchise is that players come and go. Contracts are nonguaranteed on both ends; players can be cut or they can choose to leave on their own.
With roster fluidity, Owens can only implement a subset of Lakers Coach Byron Scott's system.
"There's an entire kind of early offense that has a different feel to it in the D-League than in the NBA," said Owens. "When we need to execute in the half court, Byron's stuff comes in very handy, and that's where I'm able to put in the classic NBA stuff that he runs.
"The true Princeton offense is really hard to implement, and Byron is such a great teacher of it, but with his young team, it's going to take time. When he had Jason Kidd running the Princeton [with the New Jersey Nets], it looked pretty good, and they had vets. As these [Lakers] kids get older, and they get accustomed to a read-based offense, things are going to look smoother and smoother."
The NBA Development League is fast paced and high scoring. Upshaw stands out as a rare D-League 7-footer, but Owens thinks he'll find a way to make an impact.
"I think he can because of his ability to run the floor. If he'll commit to running the floor on both ends, he can affect the game defensively," said Owens. "He's not your typical plodding big man."
"Anyone with size that can do anything is [in Europe] or in the NBA already," he continued. "This kid's close. He's going to have a shot. We just need to see if he can put some games together. Can he put a season together?"
Upshaw went undrafted after getting kicked off two college programs (Fresno State and Washington) for team violations.
Owens and his staff will work to make sure Upshaw gets the attention he needs to mature.
"When you're 7 foot in high school and everyone is catering to you, begging you to play, and now it's a man's sport and it's a job, and there are no guarantees -- you need to learn how to be a professional and put in that work every day," said Owens. "It's a challenge that we're up to, trying to help him become a professional young man."
The D-Fenders also hope to bring along Frazier, who has a solid preseason with the Lakers as a combination guard/shooter.
Frazier enjoyed his time with the team, although Scott's training camp was even more challenging than advertised.
"That was definitely one of the hardest things I've gone through in my life," said Frazier. "This was a whole 'nother level but I'm glad I got to experience it ... a lot of running, a lot of mental fatigue. [Scott] wants to push you mentally, and see what guys are going to break."
"I was very fortunate to be part of the Lakers organization," he continued.
Get the latest in sports with our free newsletter >>
Blue, who the Lakers needed to play a full 48-minute game on the final day of the season against the Sacramento Kings, is also fighting to get another opportunity.
"I feel like I'm an NBA player," said Blue. "Hopefully that happens sooner or later, but I'm just going to focus on getting better, helping the team here."
Harris, who played in Turkey last season, hopes to show he's improved as a defender.
"It's kind of tricky in the D-League. You come here and the team wants you to score points," said Harris. "My focus this year is going to be on the defensive end, not so much scoring a whole lot of points but having an all-around game.
"All my life, I've been known as a scorer ... I still want to show that I can score. I can be a knock-down shooter, but I'm going to focus on defense more than anything because I know that can get you a call up faster than probably scoring 30 or 40 points."
Owens sympathizes with each player's struggle.
"On one hand, will you get noticed if you're scoring 10 points a game and playing great defense?" he asked. "More than likely you get noticed because someone says, 'Well, we better go take a look at this player because he's averaging 31 a game.'"
"They're not saying we're going to call you up: 'We need you to fill in for Kobe and give us 40 tonight,'" he continued. "That's not what it is. It's filling a role."
The D-Fenders can be watched on the D-League YouTube channel. Twenty-four home games will be aired on Time Warner Cable SportsNet, starting with the home opener on Saturday against the Santa Cruz Warriors in El Segundo.
Email Eric Pincus at eric.pincus@gmail.com and follow him on Twitter @EricPincus.
MORE ON LAKERS:
For a night, Lakers' Nick Young seemed like his old 'Swaggy' self
Kobe Bryant is a sitting star, Lakers are sitting ducks in dismal loss to Miami Heat
Kobe Bryant questionable for Lakers' game against Orlando because of sore back
---
All things Lakers, all the time.
Get all the Lakers news you need in Dan Woike's weekly newsletter.
You may occasionally receive promotional content from the Los Angeles Times.