Kobe Bryant is a sitting star, Lakers are sitting ducks in dismal loss to Miami Heat
Reporting from MIAMI —
Kobe Bryant will not play all 82 games. Unfortunately, the Lakers will.
They kept coughing and wheezing Tuesday, a franchise in need of an on-court cure after a 101-88 loss to the savvier and stronger Miami Heat that looked worse than the final score.
Bryant skipped the game because of a sore back and the Lakers honored him by sitting out the second half.
Lakers Coach Byron Scott said there were trust issues among the players, the latest red flag in a season already filled with them. It was obvious as a 50-49 halftime deficit eventually mushroomed to 18 amid a series of highlight bloopers at American Airlines Arena.
After Luol Deng strolled in from the three-point line for a late layup with zero resistance, Julius Randle held out his arms and wondered how it happened. The quick answer was bad communication by the bad defense of a bad team.
Another lowlight: Marcelo Huertas was beaten badly by Tyler Johnson's crossover drive in the fourth quarter and Johnson completed a three-point play after getting fouled by Brandon Bass.
Hassan Whiteside looked like the next Bill Russell against the Lakers, going for 19 points on a surprising array of post moves and short shots. He added 15 rebounds and three blocked shots.
D'Angelo Russell (four points, four assists) sat out another fourth quarter and Randle didn't hold up well against veteran Chris Bosh, who toyed with him by scoring 30 points from inside and out while consistently getting to the free-throw line. Randle had seven points on two-for-six shooting.
The Lakers' offense looked like an assembly line of one-on-one isolation plays. Players were "not trusting each other," Scott said.
"You've got to find out now if you want to be in the foxhole with guys," he added. "We've got to get to the point where we trust each other on a night-to-night basis. And it can't only be when it's going good because things aren't going great. And when it's not going great, you've got to be even more of a team guy instead of trying to go as an individual."
Add another injury flare-up to the mix for Bryant, who initially was ruled out of the game because of "rest" reasons, according to the team. Then he revealed after the game that, actually, his back was bothering him.
"I had trouble walking," Bryant said. "I hurt the back a little bit during training camp. . . . It's just 20 years of running on the back. It's not back spams or anything like that. Just wear and tear."
Lakers star Kobe Bryant looks on during a game against the Miami Heat on Tuesday.
(Mike Ehrmann / Getty Images)
Lakers guard Jordan Clarkson and the Heat's Justise Winslow fight for a loose ball.
(Mike Ehrmann / Getty Images)
Heat guard Dwyane Wade looks on during a game against the Lakers at American Airlines Arena on Nov. 10.
(Mike Ehrmann / Getty Images)
Heat guard Goran Dragic loses control of the ball as Lakers guard Louis Williams applies pressure in the first half.
(Alan Diaz / Associated Press)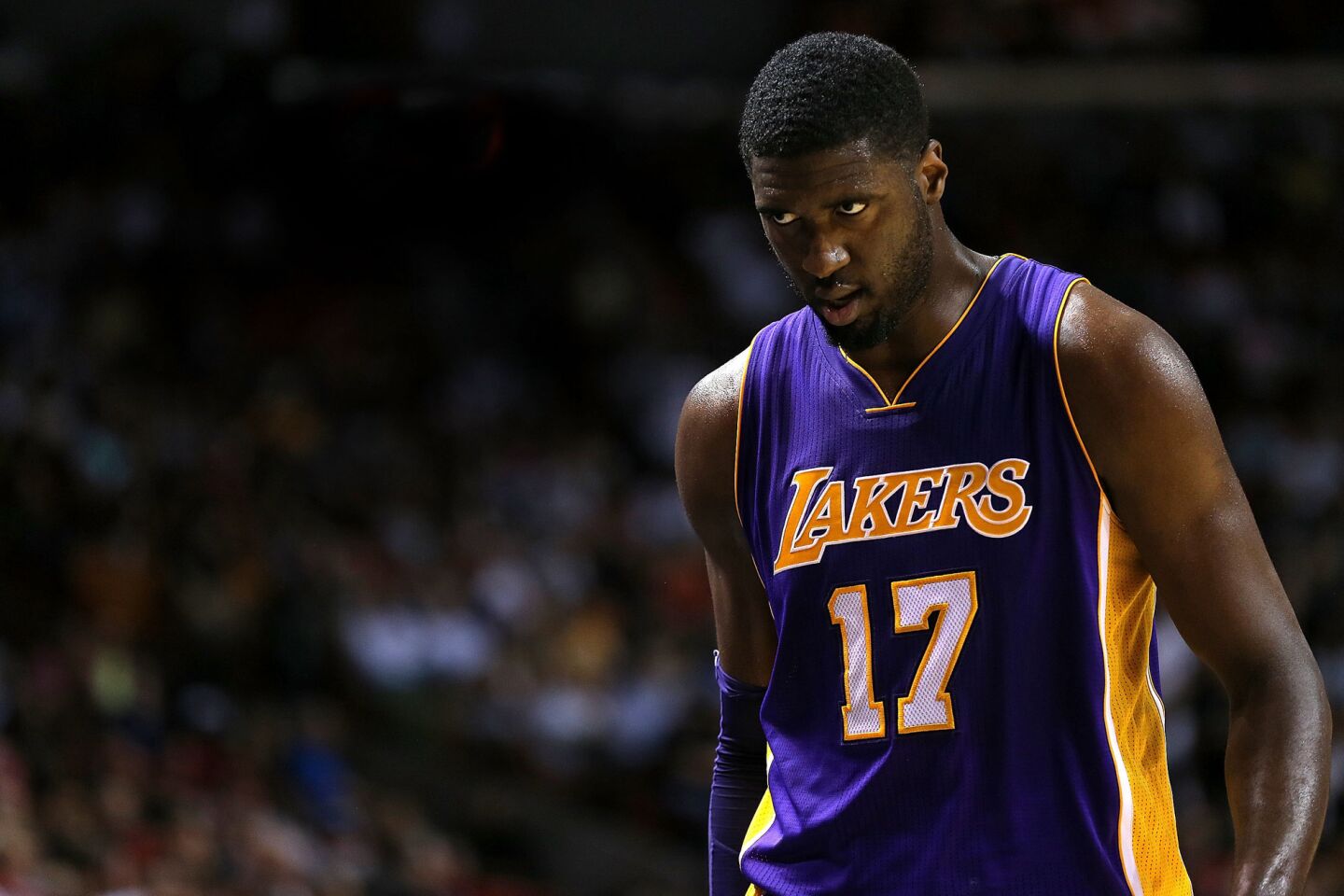 Lakers center Roy Hibbert looks on during a game against the Miami Heat at American Airlines Arena.
(Mike Ehrmann / Getty Images)
Heat point guard Goran Dragic drives on Lakers rookie guard D'Angelo Russell during a game at American Airlines Arena on Nov. 10.
(Mike Ehrmann / Getty Images)
Lakers guard Jordan Clarkson dives after the ball while battling with Heat guard Justise Winslow for a loose ball.
(Mike Ehrmann / Getty Images)
Coach Byron Scott watcher from the sideline while the Lakers take on the Miami Heat.
(Mike Ehrmann / Getty Images)
Lakers center Roy Hibbert blocks the shot of Heat guard Dwyane Wade with the defensive assistance of Metta World Peace.
(Mike Ehrmann / Getty Images)
How bad is it?
"It's like you've got to think about getting out of bed," he said. "Rolling over and getting up and getting out."
He chuckled when asked if there would be around-the-clock treatment to try to get ready for Wednesday's game against Orlando.
"It's been that way for the last three years," he said. "Now it's just focusing 90% of it on the back."
The whole thing was weird because Scott laid out an aggressive plan for Bryant earlier in the day. Scott said he wanted him to play against Miami and Orlando, testing his endurance in the first of 18 back-to-back sets this season.
It came a few days after Bryant, 37, told Scott he wanted to play all 82 games in what looks like his final NBA season.
Instead, Bryant sat against Miami. The Lakers were 1-5 at the time. Now they're 1-6.
The resting concept was not entirely new for Bryant but the timing was worth examining.
Before he went down with a torn rotator cuff last season, he'd sat out eight games to rest his aging body. But that didn't start until the 28th game of the season.
To need rest after six games is, yes, something new.
Metta World Peace took Bryant's place in the starting lineup and scored 14 points.
Bryant sat on the bench in a dark suit next to the Lakers' coaches. If this was his final trip to Miami, it was a marked change from just a handful of years ago.
Back in 2011, he scored 24 points on a poor shooting night (eight for 21) and was still angry about it half an hour after a 94-88 Lakers loss here. He returned to the court and shot a slew of three-pointers and midrange jumpers as three Heat ballboys fetched rebounds for him.
Bryant played almost 40 minutes in the game and added another 40 with his personal workout.
"It's my job," Bryant said at the time, his T-shirt soaked with sweat.
He wouldn't dream of exerting all that extra energy now.
It's just a sign of the times, as all the Lakers losses pile up again.
Twitter: @Mike_Bresnahan
All things Lakers, all the time.
Get all the Lakers news you need in Dan Woike's weekly newsletter.
You may occasionally receive promotional content from the Los Angeles Times.