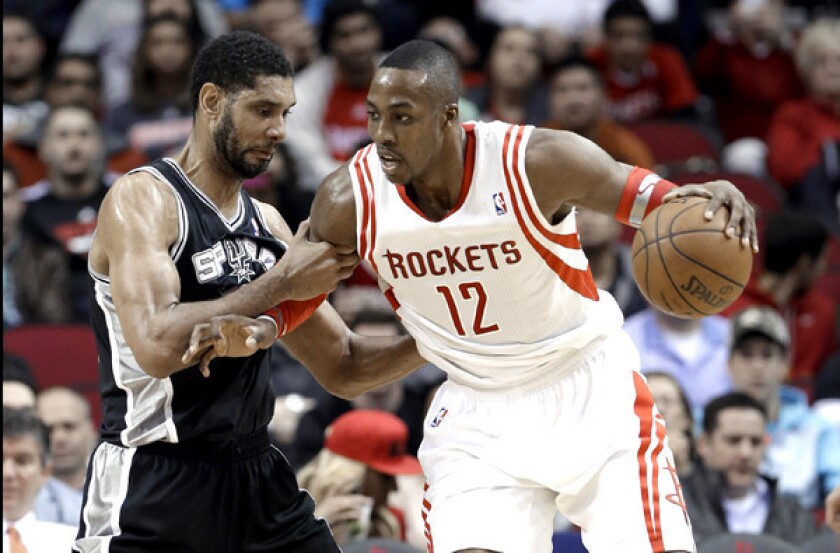 Dwight Howard was back in Los Angeles, this time to play against his former team.
He had a dress rehearsal a few months ago against the Clippers that didn't go well -- Howard was booed incessantly and his team lost badly -- but he'll go against the substantially less imposing Lakers on Wednesday night at Staples Center.
You know, the team he spurned last July, dismissing a five-year, $118-million contract offer in favor of the Houston Rockets' four-year, $88-million deal.
It's easy to predict the most popular three-letter word Wednesday at Staples: b-o-o.
"I'm going to get a lot of boos," Howard said Tuesday after the Rockets practiced at UCLA. "I know I'm going to hear it the whole game -- 'Coward,' whatever. There's not anything I can do about it. Just go out there and play.
"Thank God, this year I've been through it a lot in every city. There's Lakers fans everywhere. So I think I'm a little bit prepared for it."
Howard's stats have improved this season since joining Houston.
He's averaging 18.8 points and 12.5 rebounds while shooting 58.1%, increases from 17.1 points, 12.4 rebounds and 57.8% last season with the Lakers. His free-throw shooting improved to 54.6% after only 49.2% last season.
Howard was slowed last season by back pain and a shoulder injury. He says he feels "more explosive" these days.
"A lot of things that [fans] were accustomed to me doing, I couldn't do them," he said. "I think people were upset about that."
Howard said he made the right choice to sign with Houston.
"No doubt," he said. "I did what was best for me and at the end of the day, that's the only thing that matters. I have no regrets.
"I wasn't afraid of any bright lights or any pressure. I just felt like Houston was the best place for me."
The Rockets finished eighth in the Western Conference last season but vaulted to third last week after a seven-game winning streak that took their record to 36-17.
Meanwhile, the Lakers (18-35) have lost a team-record seven consecutive home games.
Howard said he hasn't kept track of his former team.
"I think I still might follow them on Twitter and that's about it," he said.
Howard chose Houston over the Lakers, Dallas and Atlanta last summer, ignoring the Lakers' very public campaign to keep him, including numerous billboards around greater Los Angeles with his image and the simple slogan "STAY."
"Dwight's one of those guys that I think he plays better when he's having a good time and comfortable," Houston Coach Kevin McHale said. "He's been tremendous for us and getting better all the time.
"When I watched him last year, he just looked out of sorts the whole year. What caused that? I would tell you that 70% of that was physical with his back and probably a third of that was environmental. I guess it was a funky environment."
McHale also had some advice for Howard before Wednesday's game.
"Fans are the fans. They don't score points," McHale said. "If they boo ya, they boo ya. You've just got to go play."
ALSO:
Preview: Lakers Week 17 predictions
---