Dwight Howard believes decision to leave Lakers took 'guts'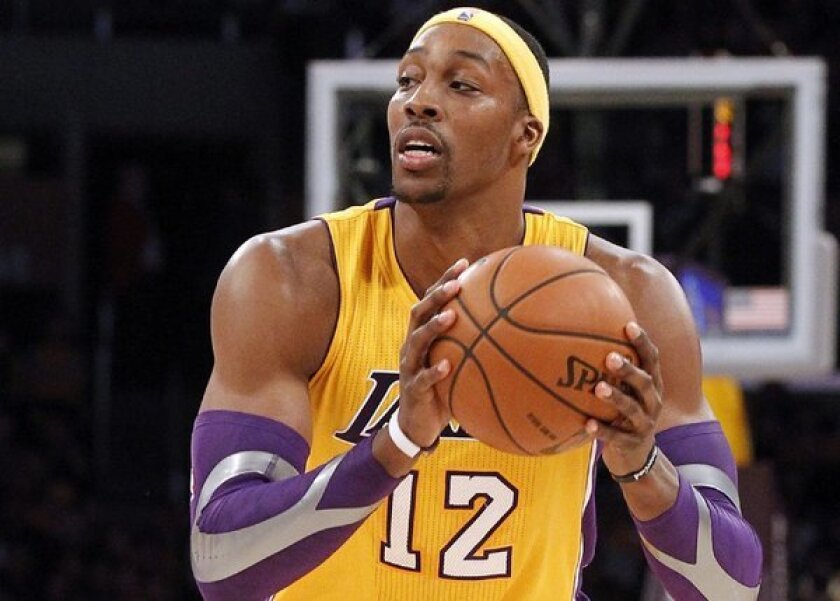 When Dwight Howard made the decision to leave the Lakers for the Houston Rockets in free agency this past summer, he knew he'd have a long list of detractors.
"Everybody's saying I was a 'coward' for leaving [the Lakers], and I knew I was going to get that," said Howard on Tuesday to the Orlando Sentinel. "But I think with the situation I had to do what was best for Dwight."
Howard spent one season with the Lakers after a trade from the Orlando Magic in 2012. Originally Howard was looking for a trade in 2011 but decided to opt in to the final year of his contract with the Magic.
"I know when I wanted to leave Orlando, and I decided to stay, I wasn't happy on the inside," he said. "I wanted to please everybody else and ended up hurting a lot of people by doing it the way I did. So this time it's like I had a second chance."
"I said, 'You know what? People are going to hate me for whatever reason, so I can't allow that to stop me from making my decision,'" continued Howard. "I thought that my decision took a lot of guts because everybody's saying, 'How could you leave the Lakers and 6 billion fans?' But I don't care about being an outcast or about being somebody that may look bad. All I've got to do is win now, and I'm in the right situation."
Howard also said he was bothered that his former team, the Orlando Magic, gave his jersey number (12) to Tobias Harris.
"I just think that despite whatever happened, there was a lot of things that I did and that we did as a team, and that number was special down there," Howard said. "And I was a little bit upset about that."
Howard seemingly expects the Magic to eventually retire his jersey after taking the franchise to the 2009 NBA Finals — where he lost to Kobe Bryant and the Lakers. They still may retire his jersey, after Howard retires as a player.
The Lakers won just 45 games last season with Howard, who spent much of the season trying to recover from back surgery. While he played 76 games for the team (averaging 17.1 points and 12.4 rebounds a night), he wasn't quite himself until later in the year.
Howard could have made an additional $30 million by signing with the Lakers instead of the Rockets. A deal with L.A. would have been for five years instead of four with Houston — but Howard can make up some of what was lost in his next contract.
ALSO:
Lakers may find it difficult to break into Top 8 in the West
Ryan Kelly gets 6 points in first exhibition game for Lakers
Former Laker Chris Duhon is struck by car after argument
Email Eric Pincus at eric.pincus@gmail.com and follow him on Twitter @EricPincus.
---
All things Lakers, all the time.
Get all the Lakers news you need in Dan Woike's weekly newsletter.
You may occasionally receive promotional content from the Los Angeles Times.