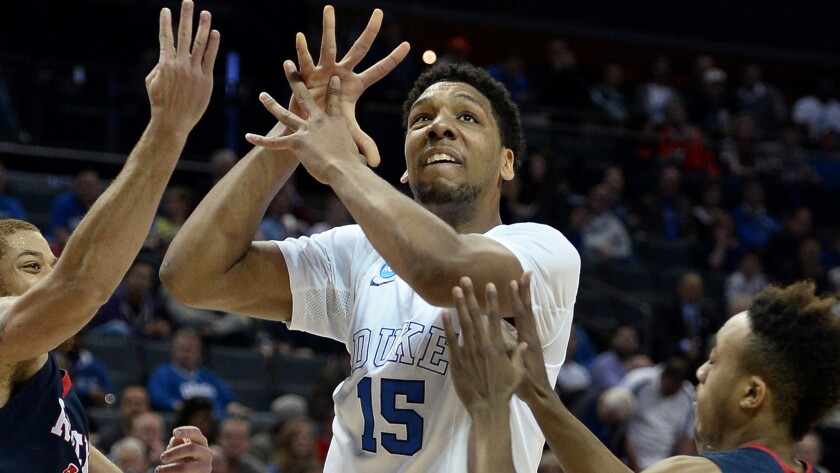 Duke's Jahlil Okafor powered the Blue Devils (1st seed) past the Robert Morris Colonials (16th) on Friday, scoring 21 points in his NCAA tournament debut.
Okafor hit nine of 11 shot attempts, while pulling down three rebounds and blocking two shots in just 21 minutes.
The 6-foot-11 center could go first in the 2015 NBA draft, should he choose to leave Duke after his freshman season.
Provided the Lakers successfully get through May's draft lottery, they will have a shot at one of the top prospects.
The Lakers traded their 2015 pick to the Phoenix Suns for Steve Nash, which has since been conveyed by Phoenix to the Philadelphia 76ers. If the pick falls below five, the Lakers lose it in June to the Sixers.
In addition to their own two picks, the Lakers will receive the Houston Rockets' first-rounder, and potentially the Clippers' second (only if it's in the 51-55 range) -- both received over the summer in the Jeremy Lin trade.
Okafor's teammate, forward Justise Winslow, also impressed on Friday. While he only scored six points, he dished seven assists with 11 rebounds. Winslow projects to be a lottery pick in June.
Duke will draw the San Diego State Aztecs (8th) on Sunday.
Wisconsin Badger (1st) Frank Kaminsky dominated the Coastal Carolina Chanticleers (16th), scoring 27 points on 10 of 14 shooting while pulling in 12 rebounds.
The seven-foot senior is also expected to be a top-14 selection in the draft.
His teammate, 6-foot-9 forward Sam Dekker, may be in range of the pick the Lakers receive from Houston. Dekker scored 20 points on eight of 15 shooting against Costal Carolina.
The Badgers will play against the Oregon Ducks (8th) on Sunday.
Kansas' Kelly Oubre was relatively quiet in the Jayhawks' (2nd) 75-56 win over New Mexico State (15th). The 6-foot-6 forward, a possible lottery pick, scored eight points with three rebounds in 22 minutes on Friday.
He'll have the opportunity to show off his talents on Sunday when the Jayhawks play Wichita State (7th).
---