Kobe Bryant, out most of season, still top guard in All-Star balloting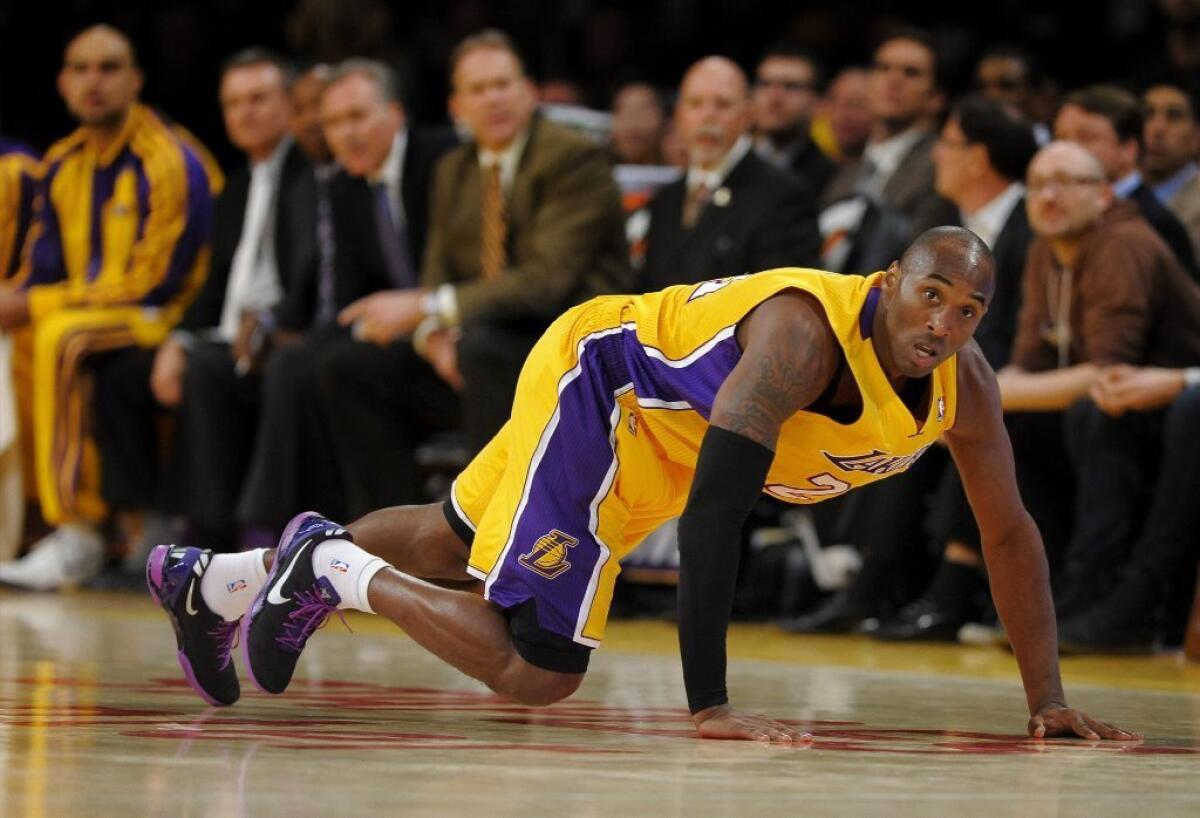 The Lakers' Kobe Bryant is still dominating the All-Star balloting, despite sitting out most of the season recovering from an Achilles' tendon injury.
Back just two games, Bryant leads all NBA guards with 501,215 votes. On Thursday, the league released the first set of returns in voting for the 63rd NBA All-Star Game.
For the second-straight year, the ballot has two categories: frontcourt (centers and forwards) and backcourt (guards).
Dwyane Wade of the Miami Heat was the top backcourt player in the Eastern Conference with 396,279 votes. Cleveland Cavaliers point guard Kyrie Irving was second in the East with 365,712.
The Clippers' Chris Paul was second in the West with 393,313 votes. The Lakers' Steve Nash, despite playing in just six games, was ninth in the West with 60,782 votes.
Miami's LeBron James led all vote-getters and frontcourt players with 609,336, followed by Kevin Durant of the Oklahoma City Thunder with 607,407.
The top three frontcourt players make the team.
Indiana's Paul George (489,335 votes) and New York's Carmelo Anthony (424,211) would represent the East with James, Wade and Irving -- if the voting trends continue through the Jan. 20 deadline.
Houston's Dwight Howard (295,120 votes) and the Clippers' Blake Griffin (292,925) would round out the West lineup with Bryant, Paul and Durant.
Pau Gasol placed seventh in the West with 133,199 votes.
The All-Star game will be held Feb. 16 in New Orleans.
ALSO:
Lakers dip to 12th in conference
Kobe Bryant is incrementally improving
Bad timing for struggling Lakers with busy trip ahead
Email Eric Pincus at eric.pincus@gmail.com and follow him on Twitter @EricPincus.
All things Lakers, all the time.
Get all the Lakers news you need in Dan Woike's weekly newsletter.
You may occasionally receive promotional content from the Los Angeles Times.