Lakers' Byron Scott on losing Nash for the season: 'Obviously it hurts'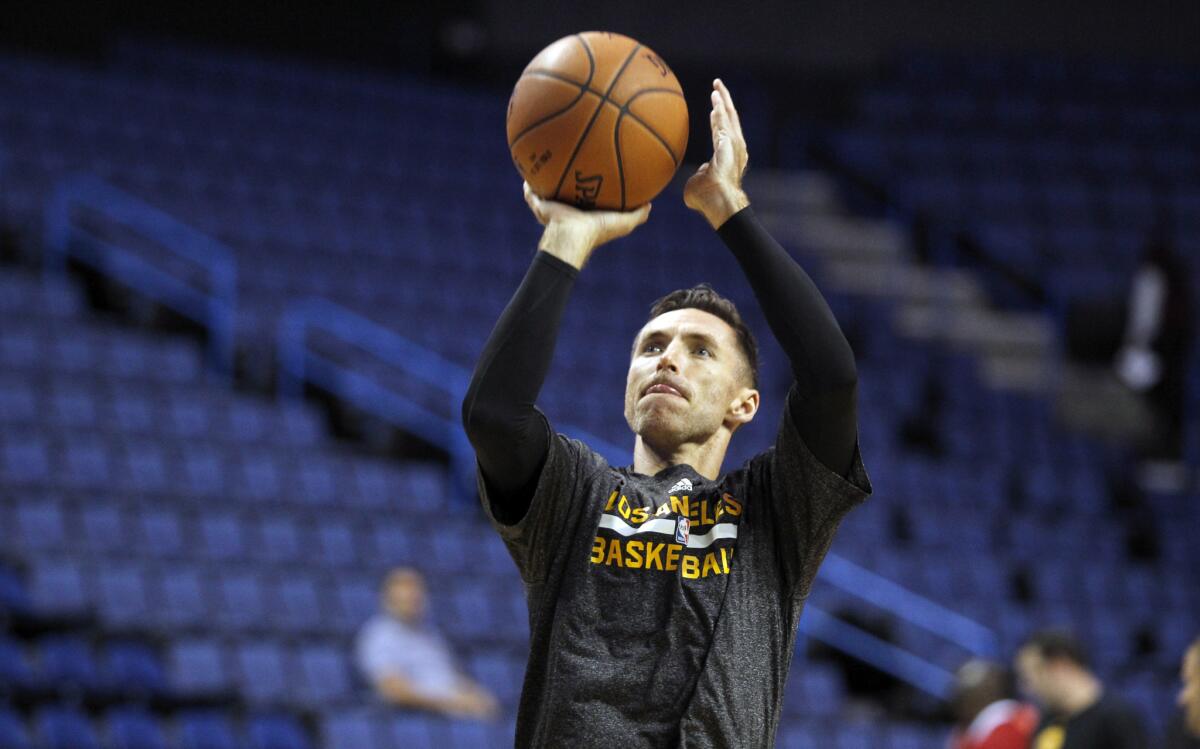 Reporting from Las Vegas —
Steve Nash wasn't going to play all 82 games this season. Or even 60. Or maybe even half that.
But Lakers Coach Byron Scott wasn't thrilled to hear Nash would miss the entire season because of recurring back problems.
"Obviously it hurts," said Scott, who penciled in Nash as the Lakers' starting point guard when training camp began. It lasted all of two games before Nash was eventually declared done for the season.
"It hurts the team because he's obviously the best point guard that we have and one of the best that's ever played the game," Scott said. "And I know it hurts him because [playing] is something that he wants to do and he loves the game of basketball."
Nash's absence would create a "huge chance" for Jeremy Lin, Scott said, though Ronnie Price was expected to start the Lakers' final exhibition Friday against Sacramento.
Scott was noncommittal when asked who would be the starter for Tuesday's opener against Houston.
Price has played well in exhibition season but Lin has vastly more experience as a starter. Lin said Friday he was pain-free after being sidelined almost two weeks because of two sprained ankles.
Lin wasn't sure he would get the start next week.
"One thing I've learned is, just, nothing's guaranteed in this league. Just because he's out doesn't mean I'll be necessarily playing a lot or the whole game," he said. "The reason why I say that is just kind of my whole experience in Houston. But if I do get a bigger role or a bigger chance, I'm definitely going to try to do everything I can with it and have fun with it."
Lin lost the starting job in Houston last season to Patrick Beverly. The Rockets had to include a first-round pick to get the Lakers to take Lin and his $14.9-million salary in a trade in July.
Nash played only 15 games last season and a mere 50 in his first season with the Lakers. He averaged 11.4 points and 6.4 assists in his Lakers tenure.
All things Lakers, all the time.
Get all the Lakers news you need in Dan Woike's weekly newsletter.
You may occasionally receive promotional content from the Los Angeles Times.