Lakers have been told that Dwight Howard remains undecided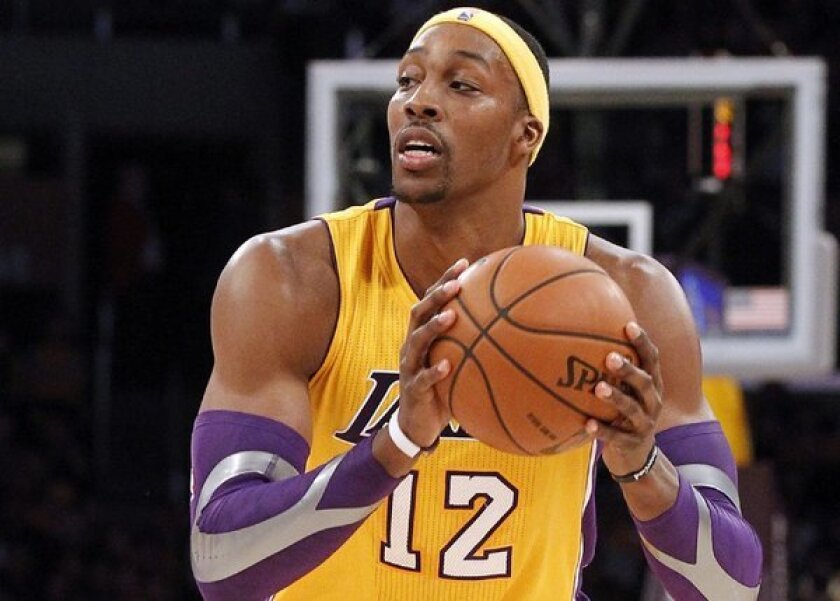 The Lakers have been told by members of Dwight Howard's camp that the free agent remains undecided on which team he will join next season.
Howard is weighing the Lakers and Houston Rockets, having already informed three other suitors he will not play for them.
"He hasn't made up his mind 100%," said a person familiar with the situation.
PHOTO GALLERY: Dwight Howard and the Lakers
Howard was leaning strongly toward the Rockets earlier Friday but hesitated because of the "enormous financial implications" he would lose by going to Houston, even though the state of Texas offers more favorable tax scenarios than California.
Howard can sign with the Lakers for five years and $118 million or with Houston for four years and $88 million.
Howard, 27, also weighed the financial difference while knowing he had surgery to repair a herniated disk in April 2012 and was slowed by related back issues most of last season.
In almost all cases, including Howard's, free agents are typically incentivized via the NBA's collective-bargaining agreement to stay with their teams by signing five-year contracts instead of a maximum of only four years with any other team.
Howard flew back to Los Angeles from Colorado on Friday afternoon after spending three days collecting his thoughts in Aspen. He plans to speak to Lakers General Manager Mitch Kupchak later Friday, potentially to inform him of his choice.
"He hasn't finalized his decision but we hope and expect him to make a decision today or tomorrow," said Dan Fegan, Howard's agent.
Howard told Atlanta on Wednesday he would not play for the Hawks, and followed it up Friday with similar phone calls to Golden State and Dallas.
ALSO:
Dallas out, Warriors still in running for Dwight Howard
Earl Clark agrees to a two-year deal with the Cleveland Cavaliers
Rockets GM Daryl Morey uses Twitter, YouTube to woo Dwight Howard
---
All things Lakers, all the time.
Get all the Lakers news you need in Tania Ganguli's weekly newsletter.
You may occasionally receive promotional content from the Los Angeles Times.